Home » ASIA TEAM ROMANIA
More Than Blue (2009)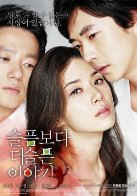 O elegie scrisa de un poet, cea mai impresionanta melodrama coreeana a ultimilor ani, "More than Blue" sau, dupa titlul original "A Story Sadder than Sadness" ("O poveste mai trista decat tristetea") e, in acelasi timp, o premiera in peisajul cinematografic asiatic: poetul Won Tae-yeon isi regizeaza propriul scenariu de film. A facut-o atat de bine incat filmul lui de debut s-a bucurat de un succes neasteptat: peste 3,5 milioane dolari incasari la box-office si o saptamana pe prima pozitie a podiumului. In rolul principal e starul din "Running Wild" sau "Fate", Kwon Sang-woon si actrita din serialul "Save the last dance for me", Lee Bo-young. Bugetul filmului a fost de sub 2 milioane dolari, ceea ce inseamna un profit obtinut din salile de cinematograf coreene de peste 1,5 milioane dolari. Cea mai mare parte a bugetului filmului s-a dus pe onorariul celor 3 vedete din rolurile principale. Rolul interpretat in film de Kwon Sang-woon l-a facut pe acesta sa mediteze asupra propriei sale casnicii: "Cred ca faptul ca sunt casatorit ma obliga sa ma gandesc mai profund la a interpreta partituri melodramatice. K (personajul interpretat de Kwon) isi infrunta cu curaj situatia dramatica de dragul iubirii, si cred ca as fi procedat la fel ca el daca as fi fost in pielea lui".
K (Kwon Sang-woon) este un producator al unei emisiuni muzicale de succes la un post de radio. Cream (Lee Bo-young) este o textiera de succes, colega de servici si, in acelasi timp, prietena chiar dinainte de anii liceului a lui K. S-au intalnit in niste circumstante triste, s-au placut, iubirea lor a rezistat de-a lungul timpului, iar acum locuiesc impreuna. Se iubesc, insa iubirea lor pare a nu avea nici o sansa in momentul in care K afla ca este bolnav de cancer. Acesta ascunde adevarul de Cream si incearca sa faca in asa fel incat sa iasa din viata iubirii sale intr-un mod demn. In acest sens, ii cauta acesteia un partener ideal care, in opinia lui, sa-i poata oferi tot ceea ce el nu-i va putea oferi vreodata.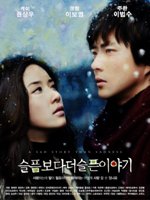 O poveste tulburatoare care aminteste de marele succes din 2004, "A Moment to Remember". Filmul se ridica la nivelul acestei melodrame de neuitat, iar maniera in care povestea este prezentata, ca si surpriza din final demonstreaza o data in plus originalitatea scenariului. In ultimii ani, ritmul realizarii de melodrame a scazut, ca urmare a unei aparente epuizari a cererii pe piata coreeana a acestui gen de povesti; toate spuneau cam aceeasi poveste, iar la un moment dat, cand serialele de televiziune au preluat reteta acestor filme, cu greu mai puteai, ca realizator, sa obtii profit pe o piata suprasaturata. "More than Blue" era o productie de care cinematografia coreeana (aflata in plina criza) avea mare nevoie. Nu e vorba de o relansare a unui gen, ci pur si simplu de necesitatea acestui film de calitate, care sa duca la mentinerea imaginii cinematografiei coreene in topul cinematografiilor mondiale. Un film trist, care lasa in urma lacrimi dar si admiratie si demnitate umana, o productie care nu dezamageste ci doar confirma inca o data valoarea filmului coreean contemporan.