Home » NOUTÃŢI
Mistere, crime şi corupţie în "Forest of Secrets"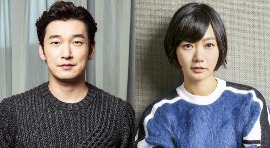 Actorii Cho Seung-woo (Assassination, God's Gift — 14 Days) si Bae Doo-na (Tunnel, Jupiter Ascending) au acceptat ofertele producatorilor de a juca in noul serial ce va fi difuzat la tvN, "Forest of Secrets". Cu un scenariu scris de Lee Soo-yeon, care a regizat in 2016 filmul "Thawing", serialul ar fi primul la care cei doi ar colabora. Initial, regizorul urma sa fie Kim Won-seok care a regizat si "Misaeng" sau "Signal", dar cei de la tvN au clarificat ca regizorul va fi Ahn Gil-ho, care a mai regizat "Mrs. Cop" si "Rooftop Prince".
2016 a fost un an bun pentru actorul Cho Seung-woo, care a jucat in mai multe musical-uri, precum "Sweeney Todd" si "Hedwig and the Angry Inch". Bae Doo-na a fost activa si ea in 2016, aparand in "Tunnel" si terminand de filmat sezonul II al seriei "Sense8", difuzat de Netflix.
Cho Seung-woo va fi un procuror rece si singuratic, care si-a pierdut abilitatea de a simti ceva dupa o operatie pe creier, din tinerete. Este singuratic pentru ca biroul procurorilor este plin de coruptie si in 8 ani a fost singurul care a tinut la integritatea sa. Intr-o zi, da peste un cadavru si fiind deja pe urmele unui criminal in serie, acesta ajunge sa se piarda intr-un labirint de mistere si coruptie de la nivelul departamentului sau. Bae Doo-na va fi o politista singuratica ce a absolvit Academia de Politie si care reuseste dupa multa munca sa isi castige pozitia intr-o echipa ce se ocupa de crime violente. Desi este de numai doua luni pe postul de detectiv, e respectata de veterani datorita priceperii sale. Este prima care ajunge la scena crimei dupa ce Cho Seung-woo descopera cadavrul, si ajung sa lucreze impreuna.
Shin Hye-sun se pare ca va juca si ea in serial, urmand sa fie o tanara procuror stagiar, cu un backround impresionant. Personajul este descris ca fiind foarte incapatanat si arogant, dorind cu ardoare sa-si demonstreze abilitatile.
Lee Jun-hyuk ("Naked Fireman") va juca un rol secundar, fiind colegul lui Cho Seung-woo, un procuror aratos si de succes, dar cu un complex de inferioritate din cauza trecutului sau.
Serialul va fi dufuzat in prima jumatate a lui 2017, in fiecare luni si marti, la tvN, dupa incheierea lui "The Liar and His Lover", si va fi, in intregime, pre-produs.
Articol realizat de chocolate_cleo – asiacinefil