Home » DIVERSE
Miracle: Devil Claus' Love and Magic (2014) – Nana Eikura şi Han Hyo-joo în cãutarea magiei Crãciunului
Inca din copilarie, Hikaru (Masaki Aiba) era pasionat de manga, realizand stangaci desene si un buletin informativ al carei unic adresant era Anna (Nana Eikura), o fata mai inalta ca el care tot timpul ii lua apararea in disputele cu ceilalti copii. Cei doi ajung cei mai buni prieteni, Hikaru cerandu-i mereu sfatul, chiar si la alegerea tortului de Craciun. Anna era o fetita puternica, ce a avut de suferit in copilarie in urma disparitiei neasteptate a tatalui ei, insa in ciuda acestor suferinte, a ingropat totul in sufletul ei si a gasit puterea de a merge mai departe si de a fi, la randu-i, sursa de fericire pentru ceilalti. Peste ani, ii regasim pe cei doi tot impreuna, locuind in Tokyo in case invecinate. Ea lucreaza ca designer de interioare, fiind foarte talentata, dar la fel de noncomformista si dintr-o bucata, in timp ce el e un timid autor de manga fara succes, inca dependent de Anna. Aceasta si-ar fi dorit mai mult de la Hikaru, dat fiind ca il cunoaste de atatia ani, insa timiditatea si imaturitatea lui se pare ca va mai impinge rabdarea Annei la multi ani de grea incercare in continuare. Si totusi, intr-o zi se intampla ceva: intocmai ca in manga la care lucreaza, in fata lui apare cea pe care Hikaru o considera Zeita Destinului, singura ce poate salva omenirea si implicit pe el insusi de la pieire, in persoana lui So Young (Han Hyo-joo)… Asa ca va incerca sa-i intre in gratii… spre dezamagirea Annei.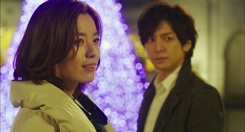 Filmul lui Isshin Inudo, "Miracle: Devil Claus' Love and Magic", s-a lansat in Japonia cu o luna inaintea Craciunului lui 2014, fara a reusi vreo performanta la box-office poate si datorita datei prea timpurii a premierei. Cu siguranta o lansare de sarbatori ar fi insemnat altceva, mai ales ca filmul este unul specific Craciunului, romantic si cu usoare accente comice specific japoneze. Inudo e un obisnuit al dramelor de familie, filme precum "Jossie, the Tiger and the Fish", "All About My Dog", "Bizan" sau "Yelow Rears", sau drama istorica "The Floating Castle", confirmand talentul acestuia in abordarea dramatica a unor subiecte precum viata de familie, relatia cu semenii si fiintele necuvantatoare ce ne inconjoara, dar si abordarea unor momente de cumpana din istoria Japoniei. De aceasta data, o poveste de Craciun nu putea fi altfel decat romantica si, in mod surprinzator pentru Inudo, elementul dramatic e abandonat aproape in totalitate pentru a lasa loc bunei dispozitii. Cu un scenariu inspirat din romanul omonim al lui Ko Nakamura, avand evidente influente hollywoodiene (coloana sonora cu cantece de Craciun occidentale, exceptand superba melodie de Craciun "Christmas Eve" a lui Yamashita Tatsuro, cativa actori americani de mana a 5-a, atmosfera hollywoodiana specifica filmelor de Craciun), "Miracle: Devil Claus' Love and Magic" spune o frumoasa poveste de iubire si prietenie axata pe clasica dilema a cinematografiei est-asiatice: iubirea din copilarie e si cea destinata ? Desi fata de industria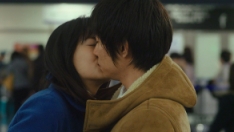 coreeana de film si de televiziune, abordarea acestui subiect e putin diferita, filmul este previzibil, usor de digerat de toate categoriile de varsta, neadresandu-se doar publicului feminin. Pentru un film de sezon, are tot ce ii trebuie, de la mici emotii de factura sentimentala la clisee romantice de inspiratie occidentala, filmul in ansamblul sau fiind o imagine clara a cat de mult Japonia generatiilor din zilele noastre priveste spre America ca spre un reper. Surpriza placuta din distributie o constituie actrita coreeana Han Hyo-joo, ce vorbeste atat coreeana, cat si japoneza si engleza. Indirect, rivala ei din film e Nana Eikura, pe care am mai vazut-o in "Her Granddaughter", "The Floating Castle" sau "Nobody's Perfect", a carei frumusete intr-adevar poate oricand rivaliza cu a oricarei actrite coreene. Masaki Aiba, din rolul principal masculin, e un membru al formatiei jpop Arashi, fara prea multa experienta ca actor, care insa interpreteaza perfect rolul unui mangaka (autor de benzi desenate) timid si lipsit de experienta in plan sentimental, ezitarile si nesfarsitele scuze pe care tot timpul si le cere celor din jur creionand felul sincer de a fi al personajului Hikaru. In rolul secundar masculin, "rivalul" indirect al lui Hikaru, prietenul acestuia din scoala, Kitayama, e interpretat de Toma Ikuta, un star in ascensiune in lumea filmului japonez, despre care vom mai auzi multe in viitor.
Un film perfect pentru sarbatoarea Craciunului, ce portretizeaza cum nu se putea mai bine spiritul Craciunului si asteptarile de la aceasta magica sarbatoare… universala.
Traducerea si adaptarea au fost efectuate in premiera in Romania de gligac2002 (Asia Team) pentru asiacinefil.
Prezentare realizata de cris999 – asiacinefil