Home » NOUTÃŢI
Mini-premierã în avion cu vedetele filmului "I love Hong Kong"

Dupa ce cu o seara inainte participase la promovarea filmului "Mr. and Mrs. Incredible", Sandra Ng, una din vedetele de top ale filmului taiwanez, acum in varsta de 45 de ani, a participat a doua zi la un alt eveniment promotional specific perioadei Anului Nou Chinezesc. In acest an, Sandra are doua premiere cinematografice in perioada Anului Nou Chinezesc, cunoscuta in China drept cea mai propice din an pentru premiere cinematografice deoarece majoritatea chinezilor au zile libere pe perioada sarbatorii. Este vorba de filmele "Mr. and Mrs. Incredible" si "I Love Hong Kong". Cu toate acestea, ea nu se teme de faptul ca isi face singura concurenta: "Nu ma tem, piata poate sa le digere. Daca piata imobiliara merge bine, atunci si piata filmului va merge bine. Daca economia merge bine, oamenii vor avea buna dispozitie si interes in a se uita la filme".
Sandra Ng are o fiica nascuta in 2006, impreuna cu cunoscutul regizor si producator Peter Chan. Cu acest prilej ea si-a exprimat intentia de a o lua pe fiica ei si de a o duce in Australia pe perioada Anului Nou Chinezesc, pentru a experimenta viata de acolo. Intrebata daca vrea ca filmul produs de sotul ei, "Mr. and Mrs Incredible" sa se descurce chiar mai bine la box-office, aceasta a raspuns: "Sper sa fie asa !" Ulterior, a incercat sa completeze ce a declarat, spunand: "Ei bine, "I Love Hong Kong" e si el un film foarte amuzant", incercand sa corecteze gafa comisa.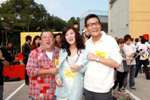 Acum cateva zile, actrita s-a intalnit cu Eric Tsang, Fala Chen si Samantha Ko in Singapore, unde a participat la promovarea filmului "I Love Hong Kong", tinand o mini-premiera a lui la 36.000 de mii de picioare inaltime in avion, in inaltul cerului. Toti cei care zburau cu acel avion au fost luati prin surprindere si au dorit sa faca poze cu vedetele. Sandra s-a prefacut pilot de avion si a citit prognoza meteo. Pentru prima data in viata a avut ocazia de a intra si in cabina capitanului. La randul lui, cunoscutul Eric Tsang a spus celor de fata ca si-ar fi dorit o premiera pe mare, pe uscat si in aer. Cat priveste celalalt film al Sandrei, acesta a spus: "Poate doar sa spere, pentru ca noi vom invinge ! 'I Love Hong Kong'e un film croit pentru oamenii din Hong Kong. Am mare incredere in succesul lui la box-office in Hong Kong, iar in China continentala, s-ar putea sa fie un succes."
Noul an chinezesc, ce corespunde in zodiacul chinezesc Iepurelui de Metal, va incepe pe 3 februarie 2011.
Articol realizat de cris999 – asiacinefil.com