Home » DIVERSE
Marry Him If You Dare (2013) – poate fi schimbat destinul cãlãtorind în timp ?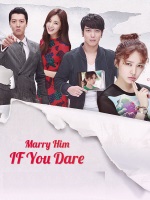 "Marry Him If You Dare" e un serial coreean ce se inscrie in moda recenta a k-dramelor ce implica elemente supranaturale, in incercarea disperata a producatorilor de a tine aproape publicul deja castigat din intreaga Asie. Serialul, inspirat din culisele lumii televiziunii, e un amestec de comedie, romantism si fantezie care ne va delecta pe durata a 16 episoade. La realizarea serialului au contribuit doi regizori, Kwon Gye Hong si Yoo Jong Sun, dintre care mai cunoscuta este Kwon Gye Hong pentru productiile "Bad Love" si "Crime Squad". Scenariul filmului a fost scris de Hong Jin Ah, cea care a realizat si scenariile la serialele de succes "The King 2 Hearts" , "Beethoven Virus", " Over the Rainbow" dar si al web-dramei "The Influence". Din distributie fac parte nume cunoscute , dintre care cap de afis este Yoon Eun Hye in rolul tinerei Na Mi Rae la varsta de 32 de ani. Despre Yoon Eun Hye cred ca a auzit toata lumea, nu se poate sa nu fi vazut macar un serial cu aceasta multi- talentata actrita, cantareata si model. Cariera artistica si-a inceput-o in anul 1999 ca si cantareata in grupul de copii k-pop, VOX. In anul 2005 a parasit grupul pentru a se dedica serialelor de televiziune. Primul sau rol a fost in serialul de succes, "Goong" (Princess Hours). Au urmat "The Vineyard Man", "Coffee Prince", "Take Care of the Young Lady", "Lie to Me" si "I Miss You", prestatia sa in aceste drame fiind recompensata an de an cu numeroase premii . Pe marele ecran a avut aparitii doar in doua filme, "The Legend of Seven Cutter" si "My Black Mini Dress". Dar, cel mai rasunator succes l-a avut cu drama "Coffee Prince", ea fiind aleasa una dintre cele zece stele Hallyu ale anului 2007, devenind la varsta de 23 de ani una dintre cele mai bine plătite actrițe de televiziune. Choi Myung Gil , cea care o intruchipeaza pe calatoarea in timp, Na Mi Rae la varsta de 57 de ani, este o actrita cu un bogat palmares. Printre aparitiile sale cele mai recente se numara serialele "King Geunchogo", "Miss Ripley ", "Glory Jane @ Man of Honor" , sau " I Summon You, Gold"! In rolul prezentatorului Tv, Kim Shin, este distribuit carismaticul actor, cantaret si model Lee Dong Gun,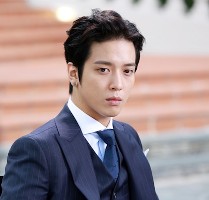 si el la randul lui cu o bogata activitate cinematografica, dintre care amintesc doar serialul "Lovers in Paris ", serial al carui OST "Lovers in Paris Forever" a fost interpretat chiar de el. Fermecatorul Jung Yong Hwa joaca rolul lui Park Sae Joo, mostenitorul retelei de televiziune. Si el, un tanar foarte talentat, este liderul grupului k-pop CN Blue , iar ca actor l-am putut vedea in productiile de televiziune de mare succes " You're Beautiful" si " You've Fallen for Me/ Heartstrings". Frumoasa actrita Han Chae Ah este distribuita in rolul tinerei reportere Seo Yoo Kyeong. Aceasta se poate mandri cu rolurile interpretate alaturi de actori renumiti precum Joo Won in "Bridal Mask", Shin Hyun Joon in "Ohlala Couple" sau Shin Ha Kyun in "All About My Romance" . Rolul lui Na Joo Hyun, fratele lui Na Mi Rae este interpretat de actorul Oh Jung Se care a jucat in cateva drame, dintre care si "I Miss You". Dar, punctul lui forte il constituie marele ecran, unde se poate lauda ca are la activ aparitii in aproape 60 de filme, precum Windstruck, Herb, Insadong Scandal, The Unjust , The Servant, Bestseller, Over My Dead Body, A Millionaire on the Run sau Running Man.
Subiectul serialului are ca tema principala revenirea in trecut pentru schimbarea unui destin nefericit. Na Mi Rae, o femeie in varsta de 57 de ani, este un calator in timp ce revine din viitor, din anul 2038 in anul 2013, spre a se intalni cu ea insasi la varsta de 32 de ani. Scopul este de a o impiedica pe ea din trecut a se casatori cu Kim Shin, un prezentator de televiziune care ii va ruina viata. Pentru a-si schimba viitorul in care sa duca o viata mai buna, Mi Rae – calatoarea in timp, ii da o multime de sfaturi sinelui sau mai tanar, cum ar fi pe ce trasee sa circule ca sa nu intalneasca "piaza rea", sa invete pentru examenul de functionar public (pesemne ca se platea bine) si impreuna cu o agentie matrimoniala alcatuieste o lista cu potentiali soti. In aceasta lista il descopera pe Park Sae Joo, pe care il considera sotul perfect, el fiind nepotul presedintei postului de televiziune YBS, nepot care peste ani va deveni un mogul media si va avea natiunea la picioare.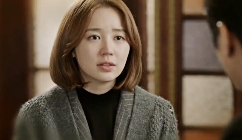 Na Mi Rae este o tanara ce pare a fi vesela si senina, care la varsta de 32 de ani nu are o meserie, nu stie inca ce drum sa-si aleaga in viata. Nu-si marturiseste cu voce tare nemultumirile personale si spune in permanenta "sunt bine". Ea locuieste cu fratele ei si lucreaza ca agent la un call center. Pana intr-o zi cand apare ceva neprevazut din viitor si-i schimba viata.
Kim Shin este un prezentator de stiri la o retea de televiziune, un bun profesionist, cu un caracter integru, vertical, ceea ce-l face prea inflexibil si arogant, fapt ce atrage antipatia colegilor de munca si nemultumirea presedintei postului tv.
Park Sae Joo este nepotul presedintei retelei de televiziune si viitorul mostenitor. El a urmat cursuri de film in America si s-a angajat incognito la YBS, ca simplu cameraman. Visul lui este de a realiza un comglomerat media.
Seo Yoo Kyeong – reportera la emisiunea de dimineata, este o tanara inteligenta cu un aspect placut, dar foarte vicleana si care ravneste la bogatul mostenitor.
Desi serialul nu s-a bucurat de o audienta prea mare in Coreea, ideea principala este foarte incitanta. Oare va ajunge stiinta si tehnologia in viitor la un asa nivel incat sa fie posibil a te intoarce in trecut pentru a-ti indrepta greselile? Va reusi Na Mi Rae sa-si schimbe destinul nefericit sau ramane universal valabil proverbul romanesc potrivit caruia " ce ti-e scris, in frunte ti-e pus"? Raspunsul la toate aceste lucruri il veti afla la capatul celor 16 episoade.
Traducerea a fost efectuata in exclusivitate pentru asiacinefil.com de Blue Sky, adaptare si revizuire text – uruma, retusare manuala timing – gligac2002.
Prezentare realizata de mialex – asiacinefil.