Home » DIVERSE
Love Story (1999-2000) – "Miss Hip Hop and Mr. Rock", Bae Doo Na şi So Ji Sub într-un recital actoricesc memorabil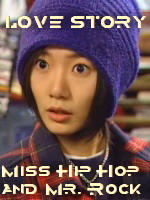 Povestea din "Miss Hip Hop and Mr. Rock", parte a seriei "Love Story" difuzata de postul coreean de televiziune SBS la sfarsitul lui 1999 si inceputul lui 2000 face o incursine in lumea aspirantilor la statutul de star din domeniul muzicii si dansului. Asa cum am vazut deja dintr-o alta productie din 1999 din lumea dansului, ce l-a avut pe Joo Jin-mo in rolul principal ("Dance, Dance…"), la sfarsitul anilor '90, inaintea declansarii Hallyu, exista o efervescenta in domeniu, multi tineri luand cu asalt auditiile organizate de producatori in cautarea de talente. Pe acest fundal nu este de mirare ca doi ani mai tarziu, succesul serialului "Winter Sonata" a propulsat intreaga industrie a show-biz-ului coreean, Valul Coreean revolutionand industria muzicala, schimbandu-i definitiv infatisarea. "Miss Hip Hop and Mr. Rock" doar prefigureaza ce urma sa se intample in cativa ani, iar figuri necunoscute publicului, precum So Ji Sub sau Bae Doo Na apareau in miniserie in roluri pe care astazi le-am considera cel putin bizare. La 23 de ani, So Ji Sub era inca un anonim; nu avea nici un rol in vreun film pentru marele ecran, aparuse in 2 seriale ce nu au avut mare succes, si nimic nu avea sa prefigureze stralucita cariera pe care o va avea in anii urmatori. Poate doar talentul, ce se poate observa usor inclusive din rolul din aceasta miniserie, care nu este unul principal ! In schimnb, Bae Doo Na e extraordinara in rolul unei iubitoare de hip-hop ce viseaza cu ochii deschisi. La doar 21 de ani, se afla si ea la inceput de cariera, insa interpretarea perfect naturala si plina de umor demonstreaza uriasul talent de care dispunea, viitorul neputand fi decat unul stralucit. Ea e personajul principal al povestii, o comedie romantica pe ritmuri de hip hop si rock, in care mai apare si Shin Sung Woo, un cantaret care la 32 de ani debuta in lumea filmului in rolul unui rocker ursuz.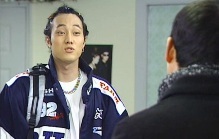 Ha Jung-woo (Shin Sung-woo) e un rocker a carui cariera e in cadere libera. Dupa 4 albume muzicale ce s-au bucurat de mare succes, transformandu-l intr-un idol pentru multi tineri, cariera acestuia ajunge in impas, rockerul rebel de altadata scotandu-i peri albi managerului sau, ce cauta orice mijloace pentru a-l readuce pe drumul cel bun. Cazut in patima alcoolului, intr-una din zile e la un pas sa loveasca cu masina o tanara aiurita, pe Moon Young-ee (Bae Doo Na). Aceasta il recunoaste si din acel moment se tine scai de el, doar e idolul copilariei sale. Reuseste chiar sa obtina un autograf, prietenul ei producator "Jerry" Chul-soo (So Ji Sub) facilitandu-i apropierea de star. Indragostit din copilarie de Young-ee, Chul-soo incearca sa-i faca o surpriza acesteia: stiind ca rockerul e idolul ei, propune crearea unei formatii din trei fete, din care sa faca parte si Young-ee, care sa fie instruite de rocker. Numai ca Young-ee e o mare pasionata de… hip-hop, pe cand "profesorul" ei nu accepta alt gen in afara rock-ului. Si totusi, dragostea pentru muzica dar si unele sentimente marturisite ii apropie pe cei doi…
O poveste frumoasa despre iubirea pentru muzica si a unui fan pentru idolul sau, cu o interpretare deosebita a actritei Bae Doo Na si a lui So Ji Sub, care cu siguranta vor constitui principala atractie la "Miss Hip Hop and Mr. Rock".
Traducerea, adaptarea si timingul au fost efectuate in premiera in Romania de cristinab (Asia Team) pentru asiacinefil.
Prezentare realizata de cris999 – asiacinefil