Home » DIVERSE
Kingdom of the Winds: în loc de epilog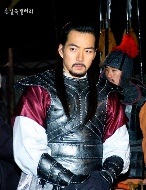 Kingdom of the Winds a oferit multe momente frumoase tuturor fanilor serialului, alternand romantismul cu actiunea, pe fondul unei povesti superbe despre onoare, sacrificiu si, nu in ultimul rand despre iubire. Despre iubirea fata de cei dragi: frati, parinti, copii, prieteni. Disperarea a alternat cu momentele fericite, infrangerile cu triumful, iar Binele si-a dus eterna lupta impotriva Raului.
In Coreea de Sud serialul a avut un rating, la nivel national, intre 15-20 %, insa vanzarea drepturilor de difuzare a serialului in Japonia a adus cele mai mari incasari pentru un film produs postului de televiziune KBS. Putina lume stie, timp de 45 de zile producatorii au filmat scene ale serialului tocmai in China.
Kingdom of the Winds a castigat urmatoarele premii ale KBS:

Cel ai bun cuplu de pe ecran (Song Il-Gook si Choi Jung-won/Muhyul si Yeon)

Premiul de excelenta pentru rol principal masculin (Song Il-Gook/Muhyul)

Premiul pentru excelenta (Jung Jin Young/Regele Yuri)

Premiul pentru excelenta (Choi Jung-won/Yeon)
Acum, la sfarsit de serial, ne-am gandit la o mica surpriza. Sa vedem si o alta fata a personajelor care ne-au incantat timp de 36 de episoade. Cine sunt eroii acestui serial si cum sunt ei in viata reala ?
  MARO – HYE AP – CHUBALSO – PRINTESA SERYU                        
Privind retrospectiv, singurii care pot spune ca au pierdut ceva au fost cei carora acest serial le-a scapat de la vizionare. Fiind si prima k-drama istorica tradusa in limba romana, Kingdom of the Winds si efortul echipei de traducatori ai Asia Team Romania de a duce la bun sfarsit munca de traducere a celor 36 de episoade (in ciuda piedicilor) va ramane deschizatoare de drumuri si, totodata, primul proiect de o asemenea amploare realizat in Romania pe latura de film asiatic. Pe aceasta cale se cuvin multumiri colectivului de traducatori care au acceptat sa-si sacrifice ore intregi pentru munca de traducere si corectare a traducerilor serialului. Unii dintre ei ne-au ajutat mai mult, altii mai putin, unii mai bine altii mai prost, unii ne-au parasit iar altii ni s-au alaturat pe parcurs. Indiferent de fiecare contributie in parte, fara sprijinul lor acest proiect nu reusea sa se implineasca si sa va ofere voua, tuturor fanilor, clipele frumoase petrecute in compania acestui serial. Este vorba de:
maman_12003

gligac2002

Lovendal

Indyero

Shakti

mAdALiNa

echipa de traducatori subs.ro