Home » NOUTÃŢI
Kim Jee-woon regizeazã o nouã versiune a celebrului "Jinroh"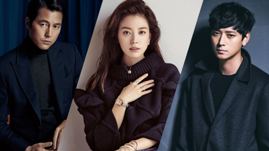 "Inrang", mult asteptatul film al lui Kim Jee-woon, un remake al celebrului anime japonez "Jinroh: The Wolf Brigade", si-a incheiat filmarile dupa opt luni. Filmul ii are cap de afis pe Gang Dong-won, Han Hyo-joo si Jung Woo-sung.
Povestea filmului (ce are la baza un scenario original scris de cunoscutul japonez Mamoru Oshii) se petrece intr-un viitor apropiat, intr-o lume in care guvernele Coreei de Nord si Sud sunt pe cale de a se reunifica dupa o separare de sapte ani. Cand demonstratiile tinute de opozantii unificarii devin din ce in ce mai violente, se formeaza o echipa speciala de politie pentru a tine in frau excesele.
Perioada neobisnuit de lunga a productiei urmeaza unei alte perioade la fel de lungi de dezvoltare a proiectului, filmul fiind anuntat pentru prima oara in 2013. Proiectul a fost oprit de mai multe ori pana cand regizorul Kim Jee-woon a revenit in echipa Warner Bros Coreea.
Gang Dong-won a fost vazut recent in filmul politic "1987: When the Day Comes" din 2017 si in "Golden Slumber". Han Hyo-joo a aparut si ea in "Golden Slumber", iar Jung Woo-sung a aparut in decembrie in "Steel Rain". In rolurile secundare joaca Gim Mu-yeol ("Forgotten", 2017), Han Ye-ri ("A Quiet Dream", 2016), Hu Joon-ho ("The Merciless", 2017) si Minho din trupa SHINee.
Cunoscut pentru "A Bittersweet Life" (2005), "The Good, The Bad, And The Weird" (2008) si "I Saw the Devil" (2010), regizorul Kim Jee-woon a regizat in 2016 "The Age of Shadows", primul film care a fost finantat si distribuit de Warner Bros. Coreea.
Gang Dong-won este Lim Joong-kyung, un combatant veteran al celor mai speciale trupe, ce agonizeaza intre ordinul de a fi un monstru si umanitate, dupa ce asista la moartea unei fete ce facea parte dintr-o secta. Han Hyo-joo este Lee Yoon-hee, sora cea mare a fetei ucise de sectanti. Jung Woo-sung este Jang Jin-tae, seful fortelor speciale de la centrul de antrenament, Han Ye-ri este Goo Mi-kyung, un membru important al sectei si cea mai buna prietena a lui Han Hyo-joo, iar Minho este cel mai tanar din echipa fortelor speciale.
Desi se planuise ca filmul sa aiba premiera in vara lui 2018, tinand cont de timpul necesar pentru post-productie, distribuitorii nu au putut da o data exacta a premierei.
Articol realizat de chocolate_cleo – asiacinefil