Home » ASIA TEAM ROMANIA
K-20 Legend of the Mask (2008)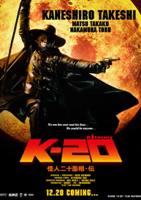 K-20 (sau Legend of the Mask) este un blockbuster japonez lansat in preajma Craciunului lui 2008, o fantezie exploziva care a adus incasari de peste 21 milioane de dolari in Japonia. Shimako Sato a regizat pana acum seriale si in special animatii inspirate din manga, insa de data asta personajele lui prin viata intr-un live action impecabil realizat. Filmul de peste 2 ore ii are in rolurile principale pe Takeshi Kaneshiro (unul din cei trei lorzi ai razboiului din "Warlords"), simpatica Takako Matsu (din The Hidden Blade) si cunoscutul Toru Nakamura (recent vazut in Shaolin Girl in rolul maestrului tinerei luptatoare interpretate de Kou Shibasaki). Kaneshiro, unul din cele mai bine cotate staruri japoneze ale momentului, are o prestatie care te lasa… masca, iar scenariul este atat de captivant incat nu te dezlipesti de film de le prima pana in ultima secventa a lui. O productie de prima mana ce nu trebuie ratata de fanii filmului asiatic, indiferent de varsta.
Intr-un trecut in care al doilea razboi mondial niciodata nu a existat (Japonia evitand dezastrul in urma incheierii unui acord cu Anglia si Statele Unite), in capitala imperiului japonez, Teito, in 1949, un misterios hot mascat pe nume K-20 ("Diavolul cu 20 de Fete") jefuieste elitele de bogatiile lor. Regasim o societate japoneza in care intre elite si paturile de jos exista o mare falie, si in care dezvoltarea tehnologica este apanajul catorva familii bogate, cu traditie. K-20 pune ochii pe un dispozitiv creat de celebrul Nikola Tesla, care ar fi constituit principala arma a viitorului si sursa de energie a lumii. Cel care ar fi stapanit acest dispozitiv ar fi putut avea lumea la picioarele sale. Insa in urma unor evenimente neasteptate, Heikichi (Takeshi Kaneshiro), care era un simplu acrobat de succes la Circul Mare, ajunge inamicul public numarul unu. Incercand sa-si demontreze nevinovatia, drumurile acestuia se intersecteaza cu cele ale… temutului K-20, ajungand ca amandoi sa fie haituiti de autoritati.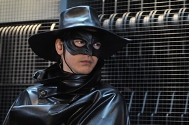 "Fantomas", "Masca lui Zorro" sau "V for Vendetta" sunt doar cateva din filmele occidentale a caror tema e reluata in "K-20": un erou aparent negativ mascat, care lupta pentru a-si demonstra nevinovatia si pentru a-si apara idealurile. Efecte speciale de senzatie, o coloana sonora antrenanta, un scenariu elaborat si o prestatie deosebita a lui Takeshi Kaneshiro, toate transforma "K-20" intr-un posibil inceput de trilogie. Filmul a avut mare succes in Japonia, fiind pozitiv primit de critici. Un film de care era nevoie in peisajul cinematografic al acestui an, aratand o data in plus ca Asia a invatat reteta succesului de la occidentali. Un film care nu va dezamagi publicul din Romania !