Home » DIVERSE
Journey to the West: The Demons Strike Back (2017) – un succes de box-office marca Tsui Hark golit de substanţã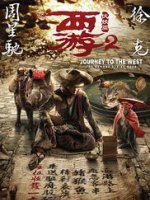 "Journey to the West" a devenit in ultimii ani tema predilecta a filmelor de aventura fantastica chinezesti, celebrul roman al literaturii chineze clasice fiind exploatat la maxim de cinematografie odata cu progresele inregistrate pe segmentul de grafica si efecte vizuale. De la primele filme chinezesti in care erou era celebrul Rege Maimuta (alb-negru, desigur), si in care personajul era imbracat din cap pana in picioare intr-un costum de maimuta aproape primitiv, pana la aceasta ultra-spectaculoasa ecranizare, in care Regele Maimuta isi schimba infatisarile cu ajutorul graficii pe calculator, povestea e aceeasi, doar timpurile si modul in care aceasta e spusa s-au schimbat. "Journey to the West: The Demons Strike Back" e sequel-ul productiei din 2013, "Journey to the West: Conquering the Demons", ce a fost o lovitura uriasa de box-office (215 milioane dolari incasari). Daca filmul din 2013 l-a avut la timona pe Stephen Chow, de aceasta data Chow a scris scenariul si a produs filmul, in timp ce regia a fost lasata pe mana prietenului sau, Tsui Hark, ce are multa exprienta in materie de filme de aventura (The Taking of Tiger Mountain, Young Detective Dee si Detective Dee, The Flying Swords of Dragon Gate, ca sa amintim doar cateva productii de succes ale ultimilor ani). Pornind de la un buget urias,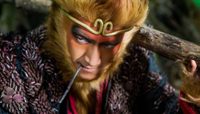 de 65 milioane dolari, sequelul lui Tsui Hark a dat o lovitura mai mare la box-office, obtinand incasari de 247,6 milioane dolari. Asta si pentru ca a avut premiera, strategic, de Anul Nou Chinezesc, insa si pentru ca fanii filmului din 2013 au avut mari asteptari de la o continuare a aventurilor eroilor lor preferati. 14 milioane de dolari au fost incasati numai din prevanzarea de bilete, altfel spus au fost achizitionate bilete in aceasta suma inainte ca filmul sa se lanseze in cinematografe. "Journey to the West: The Demons Strike Back" a devenit, astfel, cel mai de succes film al lui Tsui Hark sub aspectul incasarilor din cariera, si filmul din seria adaptarilor dupa "Journey to the West" cu cel mai mare succes de casa. In rolurile principale vedem actori ajunsi, deja, la un nivel ridicat de celebritate nu doar in China, ci si pe plan international, precum Kris Wu (in rolul calugarului Tang) sau Lin Gengxin (din Sword Master, Young Detective Dee) in rolul Regelui Maimuta.
Continuandu-si calatoria spre Apus si spre luxurianta Indie, locul unde se afla sutrele buddhiste, tinta calatoriei, calugarul Tang (Kris Wu) si ai lui companioni, Porculetul, Nisiposul si Regele Maimuta incearca sa castige un ban pentru a avea de-ale gurii dand reprezentatii… de circ. Doar ca infatisarea ciudata a Nisiposului (odata general in Rai, alungat in exil de Imparatul de Jad pe pamant si devenit un peste gigant) si flirturile nesfarsite ale Porculetului la vederea oricarei femei aduc buclucul asupra circarilor de ocazie, ce abia reusesc sa stranga un banut pentru mancare. In lungul lor drum spre Apus, acestia insa se mai delecteaza cu ceva: cucerirea demonilor. Iar cum demonii se gasesc peste tot pe Pamant, deghizati in oameni, acestia trebuie sa fie tot timpul cu ochii in patru. Desigur, disputele din cadrul grupului, invidia si interesele diferite ale celor 4 tovarasi de ocazie de calatorie, ii expun, tradandu-le slabiciunile si facandu-i vulnerabili in fata demonilor. Trecand printr-o serie de aventuri spectaculoase, cei 4 calatori ajung in Regatul Bi-Qiu, unde Regele, luand pastila reintineririi, da in mintea copiilor. In haosul existent, cineva profita…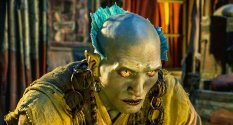 Filmul lui Tsui Hark a fost laudat de critici pentru efectele sale vizuale si sonore, pentru grafica pe calculator, si nici coloana sonora nu e de neglijat. Din pacate, insa, scenariul si naratiunea sunt punctele slabe ale productiei. Se petrec prea multe segmente de aventuri intr-un timp mult prea scurt (nici 110 minute nu are filmul), si fara a avea legatura intre ele. Astfel, nu putem vorbi de un scenariu coerent, iar daca e sa te uiti la firul epic, acesta constati ca e un amalgam de aventuri nelegate intre ele, puse cap la cap doar pentru a justifica notiunea de aventura, fara continuitate. Din aceasta cauza, are de suferit si coeziunea personajelor, care sunt insuficient dezvoltate. E adevarat ca publicul chinezesc si cel international care are o cat de mica curiozitate si afinitate fata de "Calatorie spre Apus" e familiar cu personajele celebrului roman popular, insa acest lucru ar fi trebuit accentuat in film prin intamplari care sa aiba o logica, in masura a pune in evidenta defectele sau calitatile fiecarui membru al grupului. Asa ceva lipseste in acest film. Iar daca adaugi, firesc, numarul mare de personaje episodice ce ies in calea aventurierilor, putem intelege de ce sub aspect epic filmul a dat gres. Altfel, privit per ansamblu, filmul e spectaculos, o productie tipic Hollywoodiana pe o tema clasica orientala, la care te uiti strict pentru relaxare, in special ca productia e plina de umor de situatie pe alocuri destul de reusit. In nici un caz filmul nu-si justifica uriasele incasari, insa se pare ca lumea care merge la cinema nu are foarte multe pretentii sub aspectul calitatii scenariului, relaxarea si adrenalina fiind cele care conteaza. Iar Tsui Hark le ofera din plin…
Traducerea si adaptarea au fost efectuate in premiera in Romania de gligac2002 (Asia Team) pentru asiacinefil.
Prezentare realizata de cris999 – asiacinefil