Home » NOUTÃŢI
Joo Won şi Yoo Hae Jin vor juca împreunã într-un nou thriller, "That Man"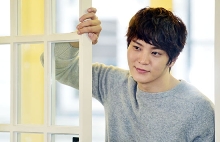 Dupa ce s-a zvonit ca actorii Joo Won si Yoo Hae Jin vor aparea impreuna intr-un film, la sfarsitul lunii trecute cei doi au fost confirmati ca tinand capul de afis al unui nou thriller numit "That Man" (sau "That Guy", titlul nu e inca definitiv). O sursa din partea echipei filmului "That Man" a spus celor de la TV Report ca "Joo Won si Yoo Hae Jin sunt actorii cu care se va incepe munca la productia filmului incepand din luna martie, acest an." Aceeasi sursa a continuat: "Filmul deja atrage atentia datorita lui Joo Won, unul din putinii actori tineri care vand biletele, si a lui Yoo Hae Jin care este un mare actor; acest film ar putea deveni un mare thriller, diferit de alte filme din acelasi gen." "That Man" va fi debutul regizoral al lui Yoon Joon Hyung, avand ca tema trauma unui om care va incerca sa-l urmareasca pe ucigasul fratelui sau mai mic.
Joo Won nu e nimeni altul dcat celebrul ofiter de politie din indragitul "Bridal Mask", actorul fiind cunoscut si din serialele" King of Baking", "Kim Takgu","Ojakgyo Family" si "Good Doctor".
Yoo Hae Jin este cunoscut din seriile "Public Enemy" si "Tazza" de pe marile ecrane si din recentul "The Pirates", precum si "Mapado" si "King and the Clown".
Putini actori din tanara generatie, deveniti celebri pe micul ecran, au si reusit sa faca pasul cu succes in productiile pentru marele ecran ce au iesire pe piata internationala. De obicei filmele in care sunt distribuiti sunt un fiasco sub aspect financiar, demonstrand o data in plus ca atunci cand vine vorba de deplasarea fanilor din fata micului ecran intr-o sala de cinematograf, nu orice actor are capacitatea de a umple salile de cinematograf. Cum Joo Won e extrem de indragit de tanara generatie, iar Yoo Hae-jin, trecut de mult de prima tinerete, e un actor de top cunoscut de toata lumea in Coreea pentru rolurile sale colorate, ca e vorba de roluri negative sau de roluri comice, asteptarile de la acest film sunt foarte mari. Ramane de vazut ce va iesi din aceasta combinatie si daca promisiunile producatorilor vor incununa "That Man" cu calificative pozitive si cu multe milioane de dolari la box-office.
Articol realizat de chocolate_cleo – asiacinefil