Home » DIVERSE
"I Give My First Love To You" (2009) – cronica unei prime iubiri eterne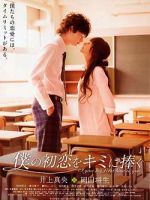 "I Give My First Love to You" este una din placutele surprize in materie de drame japoneze ale ultimilor ani. Industria japoneza de film s-a axat mult pe drame, genul in jurul caruia au pivotat restul genurilor, mai putin reprezentative pentru filmul japonez contemporan. Si, spre deosebire de dramele istorice ale lui Kurosawa de pe vremuri, aceste drame inspirate din viata cotidiana a Japoniei au adus faima filmului japonez al zilelor noastre: "Departures", "Tokyo Sonata" sau "Confessions" sunt doar cateva exemple. "I Give my First Love to You" are la baza manga omonima a lui Kotomi Aoki si a fost regizat de Takehiko Shinjo (Heavenly Forrest). Rolul principal a revenit actritei Inoue Mao, care a fost remarcata dupa prestatia din serialul Hana Yori Dango, in timp ce rolul principal masculin a fost interpretat de Okada Masaki. Anuntat ca proiect pe 1 decembrie 2008, filmarile nu au inceput decat in martie 2009, dupa ce actrita Inoue Mao a absolvit Universitatea Meiji. Dupa lansare, incasarile filmului l-au plasat pe pozitia a 17-a in Japonia pe anul 2009, cu 2,15 miliarde yeni obtinuti. Din cele 4 premii castigate, 2 i-au revenit actorului Masaki Okada, pentru interpretarea de exceptie.
Takuma este un baietel timid, aparent fericit, dar care isi petrece intreaga copilarie prin spitale. Sufera de o boala rara de inima care ii ingradeste orice libertate de miscare. Nu are voie sa depuna efort fizic, trebuie sa tina un regim alimentar privativ, iar medicul curant ii da un verdict necrutator: nu va apuca sa implineasca 20 de ani. Urmand tratamente chinuitoare in spitale, Takuma o cunoaste intr-o zi, in curtea spitalului, pe Mayu, fiica medicului care il tine sub observatie. La cei 8 ani pe care ii are, se imprieteneste si se indragosteste de Mayu, promitandu-si unul altuia ca atunci cand vor fi mari se vor casatori. Dar intamplarea face ca Takuma sa auda discutia dintre parintii sai si doctor, si sa stie ca inainte de a implini 20 de ani va parasi aceasta lume. Drept urmare, incearca sa accepte acest lucru si sa pretuiasca fiecare clipa a vietii sale. Anii trec, si-i regasim pe cei doi – tineri adolescenti aflati in cea mai frumoasa perioada a vietii lor. Au ramas tot impreuna: Mayu ocrotindu-l, iar el tanjind la afectiunea lui Mayu. Insa viata face ca drumurile lor sa se desparta in momentul in care Takuma se decide sa se inscrie la un colegiu elitist, unde Mayu nu avea cum sa intre datorita notelor slabe. Dar aceasta piatra de incercare e incomparabil mai putin dureroasa decat invingerea bolii necrutatoare a lui Takuma. Va birui in cele din urma iubirea implacabilul sfarsit ?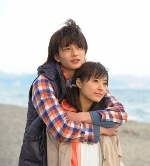 "I Give My First Love to You" este un film intai de toate despre iubire. Despre acea iubire pura si inocenta numita "prima iubire", care rezista asaltului timpului nu doar in suflet ci si fizic. Cei doi tineri frumosi se cunosc din copilarie, de la varsta la care a-ti face planuri de casatorie este o naivitate pur copilaroasa. Odata cu iubirea, acestia pastreaza vii in suflet fiecare clipa petrecuta impreuna, momente transformate in frumoase amintiri ale trecutului lor comun. Suferinta lui Takumi nu poate decat sa o induioseze pe Mayu pentru ca e cea mai in masura sa inteleaga ce inseamna singuratatea, deseori stand singura in curtea institutiei unde lucra tatal ei si facand pozne asistentei. Mai mult, din momentul in care afla ca prietenul ei Takumi e grav bolnav, aceasta se supara pe adultii care dau acest verdict si incearca mereu sa se razbune pe ei. Pe de alta parte, odata cu trecerea anilor, sentimentele acesteia fata de Takumi nu s-au schimbat, din contra, s-au aprofundat si au ramas reciproce. Iubirea din acest film e acel gen de iubire perfecta, in care amandoi partenerii sunt facuti unul pentru celalat. Doua suflete pereche ce-si traiesc putinele clipe de fericire la maxim, fara regrete. Povestea celor doi tineri capata viata magistral datorita interpretarii lui Inoue Mao (ce ne aminteste de siguranta unei Makino Tsukushi din "Hana Yoru Dango") si de Masaki Okada, iar acestora li se adauga o interpetare de senzatie intr-un rol secundar a lui Yoshihiko Hosoda in rolul prietenului celor doi, Kou. Scenariul are profunzimea unor filme de succes precum "Be With You" sau "A Moment to Remember", iar coloana sonora are parte pe langa cateva instrumentale superbe si de melodia "Boku no hatsukoi wo kimi ni sasagu" ("I Will Fall in Love with You"), tema muzicala principala a filmului, interpretata de Hirai Ken.
Un film plin de sensibilitate, care se ridica la nivelul memorabilei productii "Koizora", si care incheie un sezon de vara cu multe filme superbe traduse in premiera in limba romana de Asia Team. Cu siguranta, vara lui 2011 va ramane una plina de amintiri frumoase pentru asiacinefili… Urmeaza o toamna plina de surprize. Pana atunci, vizionare placuta la "I Give my First Love to You", una din cele mai impresionante melodrama japoneze din toate timpurile.
Articol realizat de cris999 – asiacinefil.com