Home » DIVERSE
Hwayi: A Monster Boy (2013) – Kim Yun-seok şi Yeo Jin-goo într-un thriller tulburãtor şi violent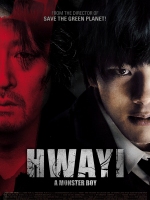 Parerile celor ce vor viziona filmul vor fi in mod obligatoriu impartite, din cauza violentei acestuia. Da, intr-adevar, avem de-a face cu un film violent, pentru ca protagonistii lui isi duc deliberat viata intr-un mediu al crimei si al cruzimii; este singurul mod de a trai pe care-l cunosc, si chiar daca ar vrea sa se schimbe ei nu mai sunt in stare s-o faca. Tragismul existentei lor e scos in evidenta de faptul ca fiecare dintre cei cinci membri ai grupului criminal ascuns in mijlocul padurii (Seok-tae, seful bandei, carismatic dar rece, Ki-tae, expertul in conducerea masinii, Jin-seong, creierul bandei, cel ce planuia loviturile, Beom-soo, expert in arme, si Dong-beom, priceput in arte martiale) e prezentat nu unilateral, ci in complexitatea lui umana, cu ganduri, trairi, temeri proprii.
Dar tema principala a filmului e prezenta in mijlocul lor a tanarului de 16 ani Hwayi, pe care cei cinci l-au crescut si l-au antrenat ca sa devina asasinul perfect, relatiile acestora cu el, felul in care el se raporteaza la ei (pe toti ii considera tata), si mai ales misterul aparitiei lui in mijlocul bandei, in conditiile in care la inceput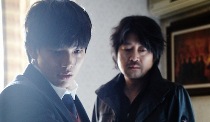 il vedem maltratat de catre toti. El este rezultatul unui santaj ratat, in urma caruia cei cinci rapitori se trezesc cu alternativa de a scapa de el pentru totdeauna sau de a-l creste. Asa hotarasc sa-l invete sa devina ucigas, in loc sa-l trimita la scoala. Desi pare adaptat la acest stil de viata, copilul tanjeste dupa o viata normala de adolescent, care pentru el pare imposibila.
Copilul era folosit pentru a intra in casele pe care cei cinci "tati" urmau sa le praduiasca. Intr-o astfel de casa, Hwayi e incitat de Seok-tae sa-l omoare pe proprietar. Abia dupa aceea observa o fotografie care i se pare cunoscuta. Aceasta il infatisa pe el inainte de rapire, si-si da seama ca cel pe care tocmai l-a ucis era de fapt tatal lui. Asa descopera uriasul secret al destinului lui. De acum incolo, nu mai are decat un singur gand: sa se razbune pe tatii lui intr-ale crimei, folosindu-se de abilitatile deprinse intr-o viata de ucigas.
Filmul a castigat 3 premii si a avut 3 nominalizari, vedeta lui fiind, in mod poate surprinzator, nu celebrul Kim Yun-seok (Tazza: The Hidden Card, Sea Fog, The Yellow Sea), ci tanarul Yeo Jin-goo, ce s-a remarcat in anii trecuti in roluri de personaje de seriale tv aflate la tinerete, si care a ajuns, iata, la primul rol serios din cariera, pentru care a fost recompensat cu 2 premii, din care unul a fost acvordat de Asociatia Criticilor de Film din Coreea ! In ciuda violentei sale, "Hwayi: A Monster Boy" ramane unul din cele mai bune filme coreene ale ultimilor ani, ce nu trebuie ratat de fanii thriller-urilor intunecate.
Traducerea a fost efectuata de selaflaure.
Prezentarea: selaflaure – asiacinefil