Home » CIVILIZATIE ASIATICA
Hallyu 6: adaptarea la globalizare (1)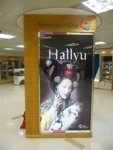 Valul Hallyu se adapteaza trendurilor schimbatoare ale timpurilor prezente. In conditiile in care numarul expatriatilor in Coreea a depasit un million de personae anul trecut, noi figuri incearca sa patrunda in zilele noastre in serialele de televiziune coreene, celebrele k-drama. Aceste figure noi sunt fie coreeni de peste hotare, fie personae doar pe jumatate coreene, fie expatriati nerabdatori sa-si incerce sansa de a fi vedete in Asia. Cata lume din afara Coreei stie, de exemplu, faptul ca Lee Charm, primul cetatean coreean naturalizat de origine germana a fost o celebritate in lumea televiziunii, si care, la acea vreme, aparea in seriale coreene de televiziune ? Anul trecut, acesta a fost numit presedintele Organizatiei Coreene de Turism, devenind primul cetatean naturalizat numit intr-o inalta functie guvernamentala.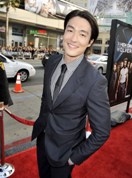 Unul din semnele timpurii ale marelui potential al actorilor de peste ocean a aparut in anul 2005, odata cu k-drama "My Name is Kim Sam-soon". Pe atunci, Daniel Henney, un model american a carui mama era nascuta in Coreea, a interpretat rolul prietenului intelegator ce-si sustine fata pe care o iubeste. Henney, cu aspectul sau fizic placut si cu rolul incantator pe care l-a interpretat, a devenit imediat o vedeta care s-a aflat pe buzele tuturor, odata cu serialul in care a fost distribuit. Au urmat si alte roluri in seriale ca Spring Waltz si multe reclame de televiziune. Cu o limba coreeana serios imbunatatita, a obtinut si roluri principale in cateva filme, precum "Seducing Mr. Perfect" si "My Father", iar aceasta cariera i-a deschis portile Hollywoodului: a interpretat rolul Agentului Zero in "X-Men Origins: Wolverine" si il interpreteaza pe dr. David Lee in serialul CBS "Three Rivers".

Calcand pe urmele succesului lui Henney, mai multi actori de peste ocean au inceput sa-si faca aparitia in emisiuni ale unor posturi locale coreene sau in seriale. Julien Kang, un actor franco-canadian al carui tata a fost coreean, a inceput cu roluri minore in seriale precum "Celebrity's Sweetheart" (2008) si "Dream – 2009" (2009). In present isi face un nume in sitcom-ul "High Kick Through The Roof", interpretand un indrumator de peste ocean.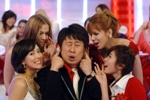 Dar nu e vorba doar de seriale de televiziune. Talk-show-ul saptamanal "Beauties Talk", in care femei din diferite natiuni isi exprima parerea fata de cultura coreeana si o compara cu a tarii lor, a fost de la premiera ei din 2006 una din marile atractii ale serilor de joi de pe micul ecran din Coreea. Emisiunea matinala de duminica a postului MBC, "Surprise", are in rolul protagonistilor actori si actrite ce incearca sa recreeze evenimente si intamplari misterioase petrecute pretutindeni in lume, inregistrand ratinguri ridicate de cand a inceput sa fie difuzata acum 8 ani. De asemenea, a devenit un lucru aproape comun ca alte emisiuni de divertisment sa aiba ca protagonisti sau cel putin ca invitati speciali actori din strainatate, care stiu sa vorbeasca cat de cat limba coreeana.

Acelasi lucru este valabil si pentru serialele istorice, in care actorii occidentali de obicei nu au un rol de jucat datorita contextului istoric care nu implica prezenta lor sub nici o forma in scenariu. Ultimul trend in materie de seriale pe tema istorica este redarea perioadei Joseon (1392-1910), iar in acest context, actorii straini apar in fata camerelor de luat vederi ca negustori veniti din Persia, Roma sau alte tinuturi. "Queen Seon-Deok", serialul ce insista asupra unei perioade din istoria regatului Shilla, e plin de astfel de negustori interpretati de actori straini. Insa cea mai "dramatica" experimentare s-a produs cu serialul de 20 de episoade "Tamra, the Island" (2009), in momentul in care producatorul a distribuit in rolul principal un actor strain. Pierre Deporte (avand numele coreean de adoptie Hwang Chan-bin), francez de origine dar care vorbeste fluent coreeana datorita mamei sale vitrege coreene, interpreteaza un englez care naufragiaza pe insula Jeju in secolul XVII (Tamra fiind numele vechi al insulei). Cu toate ca serialul a avut un rating scazut (ca sa nu il calificam drept un rateu), acesta a reusit sa atraga lauda multora prin ideile sale noi si prin bogatele experiente aduse de acest nou actor.
Articol realizat de cris999 (c) www.asiacinefil.com