Home » ASIA TEAM ROMANIA
Flower Island (2001)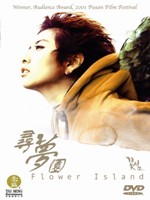 Inainte de a regiza "Spider Forest" si "Feathers in the Wind", Song Il-gon a cunoscut succesul cu drama "Flower Island". Filmul a castigat 6 premii international (Pusan, Fribourg), intre care si 'CinemAvvenire', premiul acordat la Festivalul International de Film de la Venetia in 2001 pentru Cel mai bun film de debut. Distributia cuprinde 3 actrite destul de cunoscute in Coreea, Seo Ju-hie jucand ulterior in "You are my sunshine", iar Kim Hye-na devenind o vedeta pentru rolurile din "Into the Mirror", "Love so Divine", "Redeye" sau recentul horror "Yoga Class". Desi e primul film de lung metraj al regizorului Song Il-gon, premiile recomanda talentul acestuia, stilul noncomformist si viziunea limpede exprimata in spatele povestii filmului. De la socant si trist, la amuzant si frumos, de la lacrimi la zambete, de la realitatea sumbra la fantezia poetica, asta reuseste Song sa aduca in fata spectatorilor in primul sau film. Deseori acest film – mai exact impactul acestuia asupra cinemtografiei coreene contemporane – a fost comparat cu "Christmas in August", filmul de debut al unui alt regizor coreean devenit celebru, Hur Jin-ho. Insa "Flower Island", in comparatie cu "Christmas in August", promite mai mult pentru viitorul cinematografiei coreene in lume. Oricine vede cele 2 filme, poate sa inteleaga si de ce. Song are un stil aparte de a prezenta o poveste, care se regaseste in filmele lui viitoare.
Filmul prezinta, in paralel, 3 destine a 3 femei condamnate de soarta. Una este o adolescenta de 17 ani, victim a unui viol, care decide sa avorteze intr-un wc public. A doua este o fosta interpreta de opera care afla ca are cancer faringian in stadiu terminal, si decide sa se sinucida. A treia este o femeie trecuta de prima tinerete care se prostitueaza pentru a strange bani si a-i cumpara fiicei sale un pian, pierzand, astfel, sustinerea familiei sale. O intamplare a destinului le aduce impreuna pe acelasi drum, catre asa-zisa Insula a Florilor. Se spune ca in acel loc nu exista suferinta, si toate nefericirile dispar, sufletul redevenind pur. Acel loc le va ajuta sa-si invinga tristetea, sa-si intareasca speranta si sa cimenteze prietenia care treptat incepe sa se lege intre ele.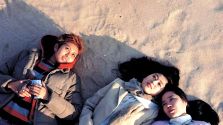 "Insula Florilor" semnifica mai mult decat un simplu nume. E o metafora a Paradisului terestru, al locului unde timpul se opreste in loc si toate grijile dispar. Calatoria spre eacest loc este, la randu-i, o metafora a vietii, a caii alese de fiecare dintre noi pentru a ne gasi fericirea. Pentru ca fericirea e un loc indepartat, in care doar cei curajosi, optimisti si increzatori in propriile forte pot ajunge. Impactul emotional al filmului vis-à-vis de personajele principale este extraordinar; ai impresia, la inceput, ca totul e ca intr-un basm cu ingeri inaripati, care, treptat, e invadat de decadenta vietii reale. Ca si in filmul lui Shinji Aoyama, "Eureka", nimic nu se intampla intr-un mod conventional, insa atmosfera, performanta actoriceasca a interpretelor, coloana sonora si imaginile de o rara frumusete ating sufletul spectatorului mai mult decat orice cuvant sau scenariu. E genul de film care te pastreaza lipit de el prin alte metode decat filmele obisnuite. De ce ? Pentru ca regizorul a avut talentul de a reda suferinta tacuta a fiecarui personaj nu prin cuvinte, ci tocmai prin absenta lor.
E greu sa explici farmecul acestui film aparte. Fie te lasa apatic, fie te atinge si te marcheaza profund. E genul de film poetic in stilul lui "Paris, Texas" al lui Wim Wenders, in care atmosfera si personajele sunt mult mai importante decat subiectul in sine. Coloana sonora e cruciala, in absenta ei filmul avand mult de suferit. E un film despre importanta vietii, a interactiunii dintre oameni, despre importanta luptei pentru viata si speranta in fata mortii si a deziluziilor. Un "must see" pentru amatorii filmelor artistice adevarate.