Home » FESTIVALURI
Festivalul de film din Hong Kong la a 28-a ediţie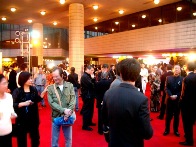 Festivalul de Film din Hong Kong (HKFA – Hong Kong Festival Awards) este cel mai prestigios festival de film din Hong Kong si unul dintre cele mai apreciate din cadrul festivalurilor de film din China (China continentala, Taiwan, Hong Kong). Fondat in 1982, festivalul isi decerneaza premiile in luna aprilie a fiecarui an. Nominalizarile se fac pe categorii, asemeni tuturor festivalurilor de film importante, iar regulile sunt stricte. Astfel, se accepta nominalizari ale unor filme care:
1. au fost realizate in Hong Kong – in sensul ca se indeplinesc minim 2 din 3 conditii:
a) regizorul filmului e cetatean al Hong Kong-ului;
b) cel putin una din companiile producatoare este inregistrata in Hong Kong
c) cel putin 6 persoane din stafful de productie sunt cetateni ai Hong Kong-ului.
2. au o durata minima de 60 de minute, inregistrate pe o pelicula de 35 mm sau format digital
3. filmul trebuie sa fie realizat in intervalul 1 ianuarie/31 decembrie al anului ce precede festivalul, cu o regula a cel putin 5 proiectii publice intr-o saptamana.
Exista 19 categorii la care se acorda premii, iar una dintre ele este "Cel mai bun film asiatic", adica realizat inclusiv in afara Hong-Kong-ului, sectiune introdusa in concurs in anul 2002.. Votarea se face in doua runde, rezultatul final fiind consecinta unui sistem de votare destul de complicat, care cuprinde specificari clare pentru votantii fiecarei categorii, acestia avand o pondere procentuala din rezultatul final al rundelor de votare. Prima runda de votare, din ianuarie a fiecarui an, aduce cu sine cele 5 nominalizari la fiecare sectiune (doar in mod exceptional exista 6 nominalizari), anuntate in februarie. A doua runda de votare are ca urmare desemnarea castigatorului, rolul acesta revenind strict profesionistilor domeniului. Fiecare grup de votanti va reprezenta un procent din decizia finala pentru fiecare nominalizat la fiecare categorie. Actualul staff al festivalului a fost ales pe o perioada de 2 ani (2007-2009), avandu-l ca presedinte pe cunoscutul regizor Gordon Chan, unul dintre vice-presedinti fiind Eric Tsang.
Istoria statistica a acestui festival dezvaluie cateva recorduri demne de mentionat. Astfel, cel mai premiat film din toate editiile festivalului a fost "Comrades: Almost a Love Story", film care in 1997 a castigat 9 premii, inclusiv cel mai bun film, regizor, scenariu, si actrita in rol principal. Pe pozitia secunda se situeaza "Crouching Tiger, Hideen Dragon" (2001) si "Warlords" (2008) cu 8 premii castigate fiecare. Cel mai nominalizat regizor a fost Johnnie To (de 13 ori intre 1990 si 2007), iar cel mai nominalizat actor a fost Chow Yun-Fat (tot de 13 ori, intre 1985 si 2007). Dincolo de nominalizari, nimic nu se compara cu prestigiul dobandit in urma castigarii marelui premiu. Astfel, statistica consemneaza ca cei mai premiati regizori ai Festivalului de film din Hong Kong au fost Johnnie To si Allen Fong, ambii cu 3 premii castigate. Cel mai premiat actor a fost Tony Leung Chiu Wai (5 premii la 5 editii diferite), iar cea mai premiata actrita – Maggie Cheung (tot 5 premii). Marele ghinionist al acestui festival este nimeni altul decat… Jackie Chan, care a avut parte de 10 nominalizari intre 1985-2005, fara a castiga vreodata un premiu !
Intre filmele care au castigat trofeul suprem de-a lungul timpului, se afla titluri cunoscute deja cinefililor din intreaga lume, precum: "A Better Tomorrow", "Days of Being Wild", "Chungking Express", "Comrades: Almost a Love Story", "Crouching Tiger, Hidden Dragon", "Shaolin Soccer", "Infernal Affairs", "Kung Fu Hustle", "Election" sau "The Warlords". In acest an, anuntarea listei nominalizatilor indica noi recorduri: "Red Cliff" conduce lista nominalizarilor, cu 15 categorii la care a fost selectat, urmat de "Ip Man" si "Painted Skin", cu 12 nominalizari. Premiile vor fi acordate pe 19 aprilie.
Lista completa a nominalizarilor din 2009 poate fi consultata AICI.
Articol realizat de cris999 © www.asiacinefil.com