Home » NOUTÃŢI
Feng Xiaogang va regiza un film despre cutremurul din 1976
Shu Qi, actrita din rolul principal, si reputatul regizor Feng Xiaogang au tinut o conferinta de presa la Beijing, cu ocazia premierei filmului "If You Are the One". Xiaogang, care in prezent se afla intr-un turneu de promovare al noului sau film, comedia romantica "If You Are the One", a vorbit, intre altele, si de proiectele sale de viitor, intre acestea aflandu-se comedia "The nobles" dar si un film despre devastatorul cutremur din Tangshan din 1976. Filmul, care va fi produs de Huayi Bros Pictures, nu este motivat de tragicul cutremur de 7,8 grade magnitudine ce s-a produs la 12 mai 2008, a declarat Xiaogang. "M-am decis asupra subiectului inainte ca cutremurul din 12 mai sa se petreaca. Am primit solicitari din partea municipalitatii din Tangshan si, pe de alta parte, am gasit si un roman care se preteaza la o adaptare". Regizorul si-a mai exprimat increderea si speranta ca va reusi sa faca "un film profund".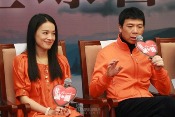 Conform unei stiri difuzate de "Oriental Morning Post", presedintele Huayi Bros, Wang Zhonglei, a dezvaluit in timpul Festivalului International de Film de la Tokyo faptul ca filmul se va baza pe romanul "Aftershocks" al autorului chinezo-canadian Zhang Ling, care spune povestea efectului cutremurului din Tangshan asupra vietii unei fetite de 7 ani.
Filmarile vor incepe in 2009, iar filmul, despre care Wang Zhonglei spune ca ar fi "un film uluitor despre spiritul national", este asteptat a ajunge pee crane in 2010.
La 28 iulie 1976, un cutremur de mare amplitudine a lovit orasul Tangshan, in nordul provinciei Hebei, omorand cel putin 240.000 de oameni si cauzand rani grave altor 164.000. Acesta este considerat cel mai devastator cutremur de pamant al secolului XX din intreaga lume.
Articol realizat de cris999 © www.asiacinefil.com