Home » DIVERSE
Emergency Couple (Emergency Man and Woman) (2014) – un nou serial tradus în premierã de Asia Team !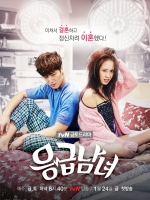 "Emergency Couple" (cunoscut si ca "Emergency Man and Woman") reprezinta provocarea inceputului de an pentru postul de tv cablu din Coreea TVN in materie de k-drama, care de cativa ani incearca sa se strecoare printre cei 3 "mari", KBS, SBS si MBC si sa ofere o oarecare concurenta. Difuzand de-a lungul anilor seriale mai degraba modeste, cu cate vreun idol in rolul principal, unele dintre acestea bucurandu-se de un oarecare succes in special in randul tinerilor (cum a fost cazul lui "Flower Boy Ramen Shop") ce inghit orice productie de televiziune indiferent de calitatea acestora, TVN a inteles in cele din urma ca fara o distributie solida, oricat de bun ar fi scenariul, o adevarata concurenta nu poti face unor colossi din televiziune, cu ani de experienta si legaturi solide cu agentiile de impresariere ale actorilor de top. Asa ca pentru inceputul lui 2014, TVN a deschis larg punga pentru a aduce impreuna pentru prima data intr-un serial de televiziune doi actori cunoscuti si apreciati: Song Ji-hyo si Choi Jin-hyuk. Pe prima o tinem minte din serialul de debut, "Princess Hours" (unde a interpretat personajul negativ Min Hyo-rin), din "Gye Baek", unde rolul Concubinei Eun-go i-a adus premiul pentru Cel mai bun actor/actrita desemnat de regizori la MBC Drama Awards 2011, dar si din filme precum "A Frozen Flower", "Codename: Jackal" sau "New World". Partenerul ei de carturi si impacari din noul serial propus de asiacinefil e Choi Jin-hyuk, mai tanar cu 4 ani,vazut recent in "The Heirs" si "Gu Family Book", premiat la sfarsitul anului trecut cu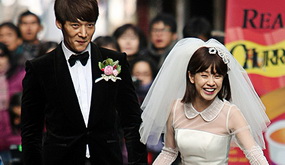 "New Star Award" la SBS Drama Awards pentru rolul Won din "The Heirs". Celor doi populari actori li se adauga Choi Yeo-jin (ce a interpretat rolul de procuror in "Incarnation of Money"), Lee Pil-mo (un actor ce pana acum nu a prins un rol care sa-l propulseze in cariera) si Clara (o coreeanca nascuta in Elvetia, ce de peste 6 ani isi incearca norocul in seriale de televiziune, aparand in diverse roluri secundare). "Emergency Couple" e preconizat a avea 20 de episoade, iar filmarile au inceput cu o luna inaintea difuzarii primului episod pe 24 ianuarie 2014. Scenarista serialului, Choi Yoon-jung, scrie scenario din 1994, dar cu exceptia lui "Wedding Dress" din 1997, care a avut ceva notorietate la vremea sa, niciunul din celelalte 13 seriale realizate pe baza scenariului ei nu au ajuns prea cunoscute si apreciate. Probabil la atat s-au limitat fondurile TVN alocate scenaristei; ramane de vazut cat de bine va prinde povestea acestei comedii romantice cu tenta medicala despre un cuplu divortat ale caror tumultoase sentimente unul pentru celalalt se aprind din nou cand ani mai tarziu cei doi se reintalnesc in ipostaza de stagiari in acelasi spital. Serialul e regizat de mai experimentatul Kim Cheol-kyu, ce are la activ un serial istoric de succes, "Hwang Jin-yi" si comedia romantica de doar 12 episoade "She is Wow", produsa anul trecut tot de TVN. "Emercency Couple" nu e un serial care sa inregistreze ratinguri extraordinare dintr-un motiv foarte simplu: canalele tv transmise exclusiv prin cablu, in Coreea, sunt condamnate din start la a avea un numar mult mai mic de telespectatori decat canalele digitale transmise prin satelit (KBS, SBS, MBC), ce au o acoperire nationala. Asa se face ca primul episod a avut un rating de doar 2,4% la nivel national.
Pe cand aveau in jur de 25 de ani, vietile lor pareau a le oferi o multime de oportunitati. Oh Chang Min (Choi Jin-hyuk), un student la Medicina, si Oh Jin Hee (Song Ji-hyo), o nutritionista, visau cu ochii deschisi din clipa in care s-au cunoscut si s-au indragostit. Casatoria a urmat ca ceva firesc, insa aceasta a fost facuta impotriva vointei familiei lui Chang Min – o respectata familie de medici, instarita, cu multe conexiuni, ce nu o considera pe Jin Hee perechea potrivita pentru fiul lor. Parintii lui Chang Min, odata pusi in fata faptului implinit si vazandu-si fiul casatorindu-se de capul lui, decid sa-i taie fondurile, lasandu-l fara o letcaie. Pentru a se intretine, pe sine si pe sotia lui, Chang Min decide sa renunte la visul sau de a deveni doctor si se angajeaza ca agent de vanzari in domeniul farmaceutic. Greutatile si umilintele la care e supus, precum si adancirea complexului de inferioritate al sotiei sale pe fondul atitudinii de superioritate a familiei lui la adresa ei aduc momente tensionate in interiorul cuplului. De la faza "lapte si miere" se ajunge la certuri cotidiene, iar in final cei doi ajung, inevitabil, sa divorteze. Timpul trece, iar peste 6 ani destinul ii aduce din nou pe cei doi fosti soti pe acelasi drum. Chang Min se intoarce la Medicina, pentru a-si duce la bun sfarsit visul, lucru pe care il face si Jin Hee. Printr-un context de evenimente, cei doi ajung medici stagiari la acelasi spital, unde vor lucra impreuna la Urgente timp de un an de zile. Ce va urma intre cei doi e usor de banuit…
Traducerea serialului este efectuata in premiera in Romania de uruma (Asia Team) pentru asiacinefil.
Prezentare realizata de cris999 – asiacinefil