Home » DIVERSE
Door to the Night (2013) – ultimul rol pentru o legendã a filmului coreean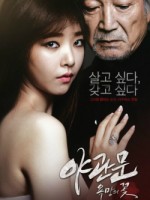 "Door to the Night" (2013), cunoscut si ca "Flower of Desire", e cel mai recent film al regizorului lui "Diary of June" si "Can't Live Without Robbery", Im Kyung-soo, aflat la prima colaborare cu scenaristul debutant Kim Je-in. Filmul e o productie cu buget redus si cu o poveste simpla, fara prea multe pretentii. Si totusi, productia are un farmec aparte datorita prezentei in film a unui monstru sacru al filmului coreean. E vorba de Kang Shin Sung-il, care in prezent are 80 de ani (76 de ani la data filmarilor). Amatorilor de filme coreene din Romania acest nume probabil nu le spune nimic. Si asta pentru ca in 1995 a aparut in ultimul rol intr-o pelicula. Era apusul unei cariere extraordinare ce a inceput in 1960, cand Kang Shin Sung-il a devenit popular in filme pentru tineretul acelor vremuri. In anii '60 si '70 era cel mai cunoscut actor sud-coreean, reusind sa-si pastreze popularitatea si in anii '80. Actor de legenda, acesta a aparut in peste 500 de filme (!), ulterior devenind si producator, si regizor. A fost distribuit, de-a lungul carierei sale, in cele mai importante filme coreene ale tuturor timpurilor (sa nu uitam ca cinematografia coreeana si-a avut epoca ei de aur in anii '60), si poate cel mai frumos compliment primit vreodata de acesta a venit de la un regizor contemporan, arhicunoscut in intreaga lume, Park Chan-wook. Acesta spunea: "Daca Japonia il are pe Toshiro Mifune, Italia pe Marcello Mastroianni, Statele Unite pe Gregory Peck si Franta pe Alain Delon, noi, coreenii, il avem pe Shin Sung-il. In toate timpurile si in toate locurile de pe mapamond, nu a existat vreo tara in care atat industria de film cat si arta sa fie atat de dependente de o singura persoana. Fara a-l intelege pe Shin Sung-il, e greu sa intelegi istoria filmului coreean sau istoria culturala moderna coreeana." 19 premii are la activ acest actor genial, iar in 2013 s-a lasat induplecat sa revina, pentru ultima oara, pe marele ecran, in "Door to the Night", o productie discreta in care isi ia ramas-bun de la publicul care i-a fost alaturi in cei 35 de ani de cariera ca actor. A cochetat spre apusul vietii si cu politica, fiind ales un mandat deputat in Adunarea Nationala. Partenera lui din film e actrita Bae Seul-ki, o actrita de categorie B, ce a aparut in cateva seriale si filme in roluri minore.
Jong-sub (Kang Shin Sung-il) e un fost decan de mult pensionat, ce-si traieste ultimele luni din viata retras in resedinta sa dintr-o zona linistita a Seulului. Sufera de cancer gastric in stadiu terminal, o boala ce vine ca o pedeapsa divina pentru greselile comise in viata, pentru incapatanarea de care a dat tot timpul dovada in relatiile cu ceilalti, si ca o accentuare a suferintei sufletesti ce o poarta de decenii cu el. Sotia pe care o iubea foarte mult s-a stins timpuriu, lasandu-i pe cap grija cresterii si educarii unicului sau fiu, Jung-hwan. Soarta a fost cruda cu el si pentru a doua oara, luandu-l pe fiul sau de langa el in urma unui accident nefericit. Avand doar cateva luni de trait, fostul decan apeleaza la un birou specializat pentru gasirea unei ingrijtoare. Cea care urmeaza sa se ingrijeasca de boala lui in ultimele luni de viata se dovedeste o tanara atragatoare de 28 de ani, Yeon-hwa (Bae Seul-ki), care accepta supusa aroganta si tonul sever al angajatorului ei. In scurt timp, se intampla o serie de lucruri neasteptate, care bulverseaza viata batranului decan…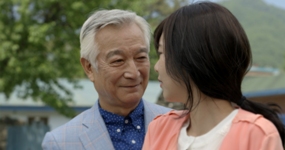 "Door to te Night" aminteste prin subiectul sau partial de "A Muse" (un fel de "Lolita" coreeana), insa tema unei presupuse relatii nepotrivite intre un septuagenar si o tanara de 28 de ani e doar un pretext pentru evolutia unei povesti dramatice. Kang Shin Sung-il interpreteaza un fost decan ce sufera de o boala incurabila ajunsa in ultima ei faza. Drama actorului este ca la 4 ani de la acest rol, in aceasta vara, a fost diagnosticat cu un cancer pulmonar, asta dupa ce sotia lui, in varsta de 81 de ani, suferise in 2015 o operatie pentru cancer la san. Astfel ca probabil acest rol a fost ultimul pentru indragitul actor, care reuseste sa impresioneze chiar si la aceasta varsta inaintata. Personajul sau e unul macinat nu doar de boala, ci si de regrete, piarzandu-si sotia si mai apoi fiul, invinovatindu-se pentru aceste nenorociri. Yeon-hwa apare in viata lui atunci cand acesta nu se mai astepta, luandu-si repede in primire rolul de ingrijitoare a acestuia. Desigur ca lumea incepe sa barfeasca, gura lumii vorbind de o relatie tata-fiica sau chiar sot-sotie, lucru care il deranjeaza pe fostul profesor, un om de altfel extrem de artagos, ce pune mare pret pe propria imagine. In ciuda povestii relativ simple, filmul nu este lipsit de o latura misterioasa adusa de personajul Yeon-hwa al actritei Bae Seul-ki, care pare tanara inocenta si tacuta ce se supune ordinelor celui ce o plateste, dar care in mod evident ascunde ceva. Iar acel ceva e atat de bine disimulat in spatele simplitatii povestii incat si atunci cand incepi sa banuiesti unele lucruri, nu ai certitudinea ca acestea stau cum crezi. La asta a contribuit accidental si actrita Bae Seul-ki, a carei chimie cu protagonistul e inexistenta, lucru care in mod pur intamplator sporeste misterul. Finalul, desi oarecum previzibil, e unul emotionant, marcand parca dinadins iesirea din scena lumii filmului a acestui mare actor care este Kang Shin Sung-il. Un film de categorie B reusit, ce reuseste sa te atinga la suflet si sa te surprinda tocmai cu acele lucruri simple la care nu te-ai fi gandit. Si, poate cel mai important, regizorul da o nota melodramatica discreta unui subiect pe care probabil alti regizori il transformau intr-o ploaie de lacrimi, accentuand latura artistico-dramatica a productiei si evitand prabusirea in derizoriu.
Traducerea si adaptarea au fost efectuate in premiera in Romania de gligac2002 (Asia Team) pentru asiacinefil.
Prezentare realizata de cris999 – asiacinefil