Home » DIVERSE
Detective K: Secret of the Lost Island (2014) – primul detectiv al Coreei intrã din nou în acţiune !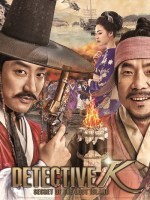 Intr-o formula mai redusa numeric decat in productia din 2011, "Detective K – Secret of the Lost Island" reia aventurile celor doi detectivi buclucasi aflati in slujba Regelui Jeonjo. Seo Pil (Oh Dal-soo) si Kim Min (Kim Myung-min) isi continua existenta periculoasa, deghizandu-se si infiltrandu-se intr-o periculoasa banda ce se ocupa cu contrafacerea argintului. La 1795, cand se petrece actiunea, Joseonul se baza in intregime pe importuri din Japonia, moneda de schimb fiind argintul. Cand o mare cantitate de argint contrafacut ajunge in circulatie, periclitand grav economia Joseonului, Regele ordona omului sau de incredere, cel dintai detective al tarii, Kim Min, sa cerceteze discret. Infiltrati in randul bandei ce se ocupa cu contrafacerea, cei doi sunt in cele din urma deconspirati, dar reusesc sa scape cu viata. Autorii sunt capturati, iar linistea se instaureaza din nou in Joseon. 6 luni mai tarziu, il regasim pe detective in exil pe o insula. Mana Noronilor si-a spus cuvantul, intrigile factiunii obligandu-l pe rege sa-l exileze pe cel mai de incredere om al sau, iar pe raufacatori sa fie repede scapati din temnita. Astfel ca Kim Min se trezeste cu vizita amicului Seo Pil, care ii aduce o veste ce-l va face sa iasa din inertie: argintul contrafacut a reinceput sa circule prin tara. Tot acum, o fetita dintr-un sat de pe o alta insula inoata zilnic pana pe insula exilatului pentru a-i cere saii gaseasca, ca mare detectiv, sora disparuta. Urmeaza evadarea de pe insula, cautarea de indicii si rezolvarea celor doua cazuri, dupa numeroase aventuri hazlii.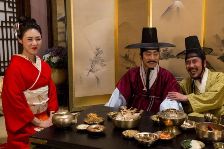 "Detective K – Secret of the Lost Island" e un sequel destul de reusit al productiei din 2011 "Detective K: Secret of the Virtuous Widow". Buna dispozitie urmareste aventurile celor doi protagonisti, la fel de amuzante si delicioase pe alocuri ca in filmul din 2011. Numarul personajelor e mai mic (in prima parte eroii pozitivi erau la gramada), acum se simte ca tot greul e dus de doar 2 actori, iar varsta acestora (Kim Myung-min si Oh Dal-soo nu mai sunt de mult la prima tinerete) a facut ca multe din cadrele filmului sa fie statice, regizorul mizand pe umorul de situatie ce reiese din dialogurile savuroase ale celor doi buclucasi. Filmul are un ritm bun, umorul e uneori aproape parodic, scenariul e destul de consumat, prea putine lucruri originale, insa pentru un film de aceasta factura pe care te pui sa-l vizionezi cu gandul sa razi, nu sa rezonezi cu drama personajelor, e suficient, nu trebuie nimic mai laborios. Iar publicul coreean a apreciat productia, aproape 4 milioane de coreeni vizionandu-l la cinematograf. Cu cele aproape 28 de milioane de dolari incasari, "Detective K – Secret of the Lost Island" a fost unul din succesele de casa ale acestui an. Asteptarile de la acest sequel au fost mari si nu au fost inselate prea mult de realizatori, chiar daca filmul are pe langa comedie si o latura dramatica grava, ce ne preda lectia de mult stiuta ca de-a lungul timpului, viata omului de rand a contat prea putin in raport cu cea a unui nobil. Detectivul K e la fel de idealist, abonat la ideea egalitatii oamenilor intr-o lume marcata de privilegiile nobiliare, e un om al altor timpuri care pe langa dragostea de tara mai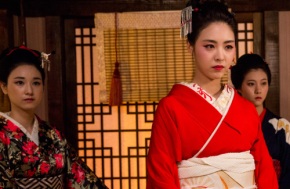 are si latura umana a dragostei pentru semeni. Amicul lui Seo Pil e mai cu picioarele pe pamant, pus mereu pe sotii si responsabil cu buna dispozitie tot timpul. Cei doi formeaza un cuplu perfect cand vine vorba de aventura, treburi murdare lucrate sub acoperire sau misiuni secrete primite de la Rege. De remarcat si prezenta consistenta in acest film a actritei Lee Yeon-hee (pe care ne-o amintim din East of Eden sau din productia noir M, ce i-a adus si singurul premiu din cariera), in rolul unei misterioase japoneze implicate in afaceri necurate, al carei traseu se va intersecta de mai multe ori cu cel al simpaticului Sherlock Holmes de Coreea. Departe de originalitatea filmului din 2011, "Detective K – Secret of the Lost Island" ne ofera doua ore captivante de aventura, umor si drama, intr-o fictiune pur comerciala recomandata pentru intreaga familie.
Traducerea a fost efectuata in pemiera in Romania de laedan si gligac2002 (Asia Team) pentru asiacinefil.
Prezentare realizata de cris999 – asiacinefil