Home » DIVERSE
Detective K: Secret of the Living Dead (2018) – Kim Myung-min şi Oh Dal-soo la vânãtoare de vampiri !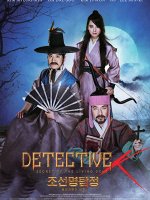 In plina epoca iluminista in Europa, pe cand in Franta debuta Revolutia ce avea sa schimbe mai mult decat soarta unei natiuni, in Joseonul medieval tot felul de lucruri irationale pareau a teroriza masele. Cel putin in scenariul celei mai noi realizari din franciza "Detective K", a treia ecranizare din serie ce are la baza un roman scris de Kim Tak-hwan, publicat de aceasta data in 2003, "The Banggakbon Murder Case". Romancierul e cunoscut pentru romanele sale inspirate din perioada tarzie a Joseonului, ecranizate cu succes pe micul si marele ecran un Coreea: "Gabi", "Hwang Jin-yi", "Detective K: Secret of the Virtuous Widow". Este al treilea film din seria "Detective K" regizat de acelasi Kim Sook-yoon, ce ii aduce din nou impreuna pe cei doi nastrusnici protagonisti, duo-ul neinfricat Kim Myung-min si Oh Dal-soo. In doua roluri secundare avem ocazia sa ii revedem pe Lee Min-ki, la primul rol pe marele ecran dupa revenirea din armata din 2016, si pe Kim Beom, un actor cunoscut mai ales din seriale precum "That Winter, the Wind Blows", "Padam, Padam", "Jung Yi Goddess of Fire". Primul film din serie, "Detective K: Secret of the Virtuous Widow", a avut incasari de 32,3 milioane dolari, in timp ce sequelul "Detective K: Secret of the Lost Island" a incasat 27,8 milioane dolari. Aceasta a treia parte – posibil si ultima – se incadreaza in trendul descendent al francizei, obtinand incasari de doar 18,6 milioane dolari.
La 1789, un monstru insetat de sange isi face aparitia in Joseon, semanand panica in tara. Mai multi nobili isi pierd viata intr-un mod straniu, arzand de vii de la un foc invizibil. Departe de tumultul vietii capitalei, detectivul Min (Kim Myung-min) si al sau loial servitor Seo-pil (Oh Dal-soo) isi vad de grijile de zi cu zi: Seo-pil sa-si incaseze chiria de la stapanul sau, detectivul Min sa isi gaseasca o sotie pe care sa o si iubeasca, intrand in conflict de principii cu tatal sau. Plictiseala e mare, iar ca sa-si omoare timpul detectivul Min studiaza despre… vampiri, creaturile occidentale ce sug sangele oamenilor nevinovati pentru a trai, ale caror rani se vindeca instantaneu si care sunt nemuritori. Fascinat de miturile despre acestia, devine obsedat sa afle raspunsul la intrebarea: chiar exista vampiri ? In momentul in care o misterioasa domnita ii face o vizita si ii solicita ajutorul intr-un complicat caz de crime comise de cineva al carui portret seamana perfect cu cel al unui… vampir, detectivul Min accepta fara ezitare provocarea. Dar ceea ce la inceput parea o joaca in masura a-i potoli curiozitatea legata de existenta vampirilor, se transforma intr-un caz complicat in spatele caruia se ascunde o poveste petrecuta in urma cu 30 de ani…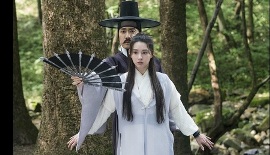 In mod paradoxal, "Detective K: Secret of the Living Dead" s-a dovedit o productie cu o poveste mult mai dinamica si mai imprevizibila decat "Dectective K: Secret of the Lost Island", dar a avut un succes de box-office mult mai mic. Realizatorii au dat dovada de multa imaginatie si au incercat sa puncteze acolo unde a doua parte a seriei a dat gres. Mai exact au realizat un film cu mai multa actiune si mister, s-au departat de coordonatele realiste si exagerat de dramatice din "Lost Island" si au redat publicului buna dispozitie, simtul de aventura si numerele comice ale celor doi protagonisti, elementele de baza ale primei productii din serie. Kim Kyung-min si Oh Dal-soo dau din nou un recital actoricesc, reusind sa starneasca hohote de ras prin gagurile lor unice, prin umorul de situatie si prin parodierea unor productii coreene celebre, si nu numai (Oldboy, The Servant, Meet the Parents). Ceea ce probabil nu a placut publicului coreean e tocmai doza de fantezie inserata in poveste, adica exact acele elemente care prind atat de bine la publicul occidental. Si ne referim aici evident la vampiri. In Coreea nu exista o traditie legata de vampiri, e un element relativ nou introdus in serialele tv si in filmele coreene sub presiunea influentelor dinspre Hollywood. Nefiind prea familiarizat cu aceasta tema, publicul coreean nu a gustat povestea, de aici si succesul moderat al productiei, ce pune sub semnul intrebarii o eventuala continuare a francizei. Insa ca realizare, filmul nu dezamageste, este peste nivelul sequelului "Lost Island", mult prea ancorat in realitate, care a tradat ideea de baza a francizei: aventura, umor si mister. Asadar, daca doriti sa va relaxati in compania unui film amuzant, in mod sigur "Detective K: Secret of the Living Dead" e alegerea potrivita. Sa speram, totusi, ca franciza nu va muri aici si ca cei doi protagonisti vor accepta o noua provocare in anii urmatori, seria "Detective K" fiind deja una celebra la nivel international, cunoscuta drept seria detectivului "Sherlock Holmes" al Coreei.
Traducerea si adaptarea au fost efectuate in premiera in Romania de gligac2002 (Asia Team) pentru asiacinefil.
Prezentare realizata de cris999 – asiacinefil