Home » DACA DORITI SA REVEDETI...
Dacã doriţi sã revedeţi… The Sun Also Rises (2007) – subtitrare în românã asiacinefil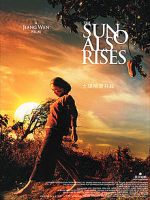 "The Sun Also Rises" este unul din cele mai stranii filme chinezesti ale ultimilor ani, si totodata unul ale carui sensuri nu se intrevad de la prima vizionare.Asta pentru ca povestile aparent simple nu duc niciunde si se incheie… in coada de peste. Insa ca spectacol cinematografic, filmul e o delectare. Poate si pentru ca vorbim de o pelicula regizata, scrisa si produsa de marele Jiang Wen (Let the Bullets Fly), care nu se incadreaza nici unui gen standard de clasificare. E un amestec de umor negru chinezesc, romantism, drama si fantezie ce are la baza romanul… nu, nu "The Sun Also Rises" al lui Hemingway ci "Velvet" ("Catifea") al lui Ye Mi. Filmul e format din 4 segmente ce se leaga intre ele, patru povesti plasate in China, din care trei la sfarsitul Revolutiei Culturale. Eroii lor sunt niste personaje excentrice si neobisnuite, puse in niste situatii bizarre aflate la limita fanteziei, dar inradacinate intr-o realitate politica si emotionala usor de recunoscut. Criticii au vorbit de "The Sun Also Rises" ca fiind "o noua estetica a realismului magic", "o poezie vizuala".
Filmul e compus din 3 povesti. Prima e plasata in China rurala a anului 1976, unde intr-un sat, o mama singura viseaza intr-o noapte o pereche de pantofi pe care a doua zi ii cumpara, darcare dispar. Femeia incepe sa aiba un comportament straniu incercand sa-si recupereze pantofii, lucru care ii creaza probleme fiului ei, pe care tot satul il compatimeste. Pana intr-o zi cand mama nebuna dispare, iar fiul o cauta cu disperare. A doua poveste e plasata intr-un campus univrsitar, unde doi prieteni vechi – profesorul Liang si Batranul Tang – isi vad prietenia pusa la incercare din cauza rivalitatii pentru o femeie (doctor Lin). In ultima poveste il regasim pe Batranul Tang – vanator in timpul liber – casatorit cu o tanara sotie ce incepe o aventura cu fiul fmeii nebune din prima poveste. Cel de-al patrulea segment implica toate personajele celor 3 povesti aduse intr-un peisaj ce pare un vis care rezuma drama vietii fiecaruia.
Un film frumos, cu o coloana sonora placuta, ce nu trebuie ratat de iubitorii de arta cinematografica.
Articol realizat de cris999 – asiacinefil.com
Nume film: The Sun Also Rises
Tara: China/Hong Kong
An: 2007
Gen: Drama/Fantezie/Comedie
Regia: Jiang Wen
Distributie: Jaycee Chan, Anthony Wong, Jiang Wen
Durata: 116 minute
VIZIONARE ONLINE:
PARTEA 1
PARTEA 2