Home » DIVERSE
Circle of Atonement (2015) – o dramã despre ispãşire şi iertare, cu Sung Dong-il şi Kim You-jung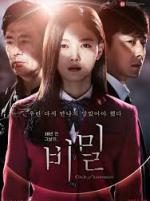 Filmul de debut al regizorilor si scenaristilor Lee Dong-ha si Park Eun-kyung, "Circle of Atonement" (cu titlul literal "Secret") (2015) a marcat primul rol principal intr-un film pentru marele ecran al indragitei actrite-copil Kim You-jung. Cunoscuta din numeroasele roluri din k-drame, unde interpreta personaje istorice feminine in copilaria lor, Kim You-jung reuseste la doar 15 ani (cat avea la data filmarilor) sa faca pasul spre primul un rol principal serios dintr-un film de lungmetraj. A mai avut roluri secundare in comedii romantice sau drame pentru televiziune, dar de aceasta data rolul ei e mult mai profund si mai serios, impresionand prin incarcatura emotionala pe care reuseste sa o transmita prin interpretarea sa. Veteranul Sung Dong-il se afla in fata unuia din cele mai bune roluri din cariera, daca nu poate chiar cel mai bun, personajul sau, un politist ce actioneaza intempestiv si care trebuie sa suporte consecintele propriei fapte fiind atat antipatic cat si simpatic deopotriva. Triunghiul protagonistilor povestii e completat de Son Ho-jun (cunoscut din serialele Mrs. Cop, Blow Breeze sau Go Back Couple), un actor ideal pentru roluri gri si negative, avantajat de aspectul fizic derutant, ce a mai colaborat cu Sung Dong-il in serialul "Reply 1994", in care a si debutat, in 2013. "Circle of Atonement" nu a rulat decat 2 saptamani in cinematografe, sumele derizorii obtinute la box-office in acest interval (putin peste 300.000 de dolari) determinandu-i pe producatori sa decida limitarea pierderilor prin promovarea filmului in mediul online si pe dvd. Castigurile obtinute de film sunt surprinzatoare, data fiind calitatea productiei si a jocului actorilor, chiar daca scenariul nu este tocmai unul lipsit de clisee.
Micuta Ki-jung traieste impreuna cu mama ei divortata pe unde apuca, tatal ei, Shin Ji-chul, fiind condamnat la 5 ani de inchisoare. Acesta din urma reuseste sa evadeze si isi terorizeaza fosta sotie, cerandu-i sa-i dea voie sa sarbatoreasca cu ea si cu Ki-jung ziua de nastere a acesteia. Pe urmele evadatului se afla detectivul Lee (Sung Dong-il), care se ciocneste de refuzul mamei de a colabora cu el, aceasta fiind prea speriata de sotul ei fugar. In urma unei pande, Shin Ji-chul e prins in flagrant, tocmai cand da buzna intr-o noapte in casa neajutoratei femei, iar in urma interventiei detectivului Lee, un incident duce la impuscarea mortala a mamei lui Ki-jung. In paralel, doi tineri indragostiti, Chul-woong (Son Ho-jun) si Yoo-shin, ce urmeaza sa se casatoreasca, se cearta aparent din nimic, Chul-woong abandonandu-si viitoarea sotie pe inserat la marginea autostrazii, intr-o zona pustie. Ceea ce initial parea o criza de nervi datorata unor orgolii prostesti se transforma intr-o tragedie, iar Chul-woong e considerat de toata lumea autorul moral al nenorocirii ce se intampla. Intr-un fel cum numai destinul poate dicta, cele doua tragedii din viata micutei Ki-jung si a lui Chul-woong au un element comun, care le leaga pentru totdeauna intr-un cerc vicios al neputintei, in care vinovatii cauta vinovati, uitand de necesitatea propriei cainte…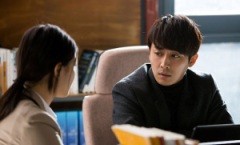 "Circle of Atonement" e un thriller dramatic construit pe tema clasica a cautarii razbunarii, o cautare care, mai direct decat alte filme de gen, conduce in cele din urma spre cainta si urmarea fireasca a acesteia, iertarea, fara insa a se reusi evitarea consecintelor sale tragice, dupa principiul "Cine sapa groapa altuia…" Scenariul este unul ofertant, chiar daca previzibil inca de pe la inceputuri. Cu fiecare pas inainte al povestii, lucrurile devin tot mai evidente, nu se pastreaza nimic ca surpriza de final, dar cu toate acestea povestea reuseste sa ramana captivanta. Rolul crucial in aceasta privinta le revine actorilor, ce au priza la public si talent cu carul. Sung Dong-il interpreteaza exceptional un politist marcat de o greseala comisa in trecut, macinat de remuscari si dispus sa plateasca toata viata pentru propriul pacat. Este cand amuzant, cand intunecat, insa tot timpul spontan, emanand un sarm inconfundabil. Son Ho-jun e versatil, cand amabil, cand misterios, reusind sa atraga suspiciunile tuturor asupra personajului sau framantat, in timp ce Kim You-jung la randul ei completeaza acest triunghi al personajelor schimbatoare, fiind o fire plina de viata dar care ascunde ceva in spatele inocentei sale aparente. Cum fiecare personaj are ceva misterios, filmul nu isi pierde nici un moment din atractivitate, dovedindu-se o realizare ce merita atentia iubitorilor de thriller-uri dramatice coreene.
Traducerea si adaptarea au fost efectuate in premiera in Romania de gligac2002 (Asia Team) pentru asiacinefil.
Prezentare realizata de cris999 – asiacinefil