Home » DIVERSE
Blade of the Immortal (2017) – Takuya Kimura şi sabia rãzbunãtoare a eternului Takashi Miike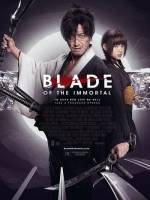 Manji (Takuya Kimura) e un nemuritor ce-si doreste un singur lucru: sa moara. Traind peste un secol, a cunoscut o multime de oameni dragi care s-au stins sub ochii lui, el ramanand mereu tanar si in putere. O astfel de persoana a fost Machi, o tanara pe care a adoptat-o ca sora dupa ce i-a ucis barbatul in urma unui complot, si dupa ce aceasta si-a pierdut mintile. Dar Machi e ucisa de un bandit chiar sub ochii lui Manji, macelul care a urmat nereusind sa-i stearga profunda mahnire a pierderii unei fiinte dragi. Grav ranit, acesta e in sfarsit la un pas sa moara, insa o batrana misterioasa, Yaobikuni, isi face aparitia si ii introduce in organism niste viermi sacri ce ii regenereaza trupul la fiecare rana capatata. 50 de ani mai tarziu, Manji traieste intr-o zona izolata din Edo, si destinul ii e din nou marcat de aceeasi batrana nemuritoare de 800 de ani, Yaobikuni. La sugestia acesteia, tanara orfana Rin, ce cauta sa-si razbune parintii ucisi de ambitiosul sef al scolii de scrima Itto-ryu, maestrul Anotsu, il angajeaza pe Manji ca garda ei de corp. Si astfel, Manji revine la situatia din urma cu 50 de ani, avand sub protectie o tanara ce seamana leit cu Machi. Va reusi, de aceasta data, sa impiedice repetarea istoriei ?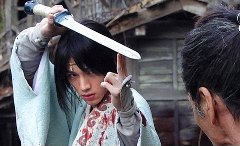 "Blade of the Immortal" e un film eveniment pentru prolificul Takashi Miike, ajuns la al 100-lea film al carierei ! Dupa "13 Assassins" si "Hara-kiri: Death of a Samurai", in fapt doua remake-uri dupa filme clasice, Miike iese putin din cadrul strict al istoriei si paseste pe taramul fictiunii, al fanteziei, fara a abdica de la principiile care i-au calauzit cariera pana la aceasta impresionanta borna. "Blade of the Immortal" e, probabil, una din cele mai reusite productii ale carierei sale, insa in ciuda acestui fapt, la box-office, filmul – finantat in colaborare cu Warner Bros – a obtinut doar 6,8 milioan dolari incasari. Cunoscutul Takuya Kimura se afla la prima colaborare cu Miike, intrand perfect in rolul nemuritorului justitiar, avand o interpretare memorabila. Doi actori tineri, mai putin cunoscuti pe marele ecran, reusesc sa se ridice la nivelul jocului actoricesc al protagonistului, e vorba de Hana Sugisaki si Sota Fukushi, cei doi adversari disproportionati. In rolurile secundare negative, surprinzator, doi actori de top: Ebizo Ichikawa si Erika Toda, obisnuiti ai rolurilor pozitive, care de aceasta data sunt in tabara celor rai. Filmul are la baza o manga de succes, publicata din 1993 pana in 2012, iar in mod cu totul surprinzator, filmarile au durat doar 2 luni. Miike e obisnuit cu productii cu buget redus, filmate in perioade scurte de timp, insa de aceasta data a avut la dispozitie un buget consistent si, daca ne uitam la produsul final, extrem de bine filmat si realizat, ne dam seama de profesionalismul echipei de productie condusa de Miike, ce a reusit sa mobilizeze o intreaga armata de actori care de cele mai multe ori n-au avut nevoie de duble. Iar filmul are nu mai putin de 2 ore si 20 de minute !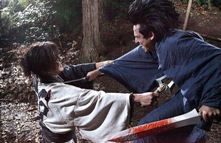 Pasionatii de fantezie, actiune si aventura vor descoperi in "Blade of the Immortal" o poveste captivanta construita dupa tiparul specific al filmelor japoneze de aventuri, stabilit de clasici: o asociere intre cel putin 2 persoane, ce pornesc la un drum lung la capatul caruia de obicei se afla razbunarea sau dobandirea dreptatii, drum pe parcursul caruia apar tot felul de obstacole, personaje inselatoare ce le pun la incercare vigilenta si increderea, consolidand apropierea dintre protagonisti. Desigur, Miike nu scapa ocazia sa exceleze in ceea ce se pricepe sa redea mai bine – violenta de dragul spectacolului, care in combinatie cu cadrele gri si cu atmosfera apasatoare condimentata de croncanitul ocazional al corbilor reuseste sa transmita o stare propice plasarii supranaturalului in poveste. Fara efecte speciale, filmat profesionist si cu un scenariu care te tine in priza din primul pana in ultimul moment (cata deosebire de filmele istorice japoneze, in care totul este static, lent, iar actiunea apare doar la final, in cateva cadre), "Blade of the Immortal" este, fara indoiala, unul din cele mai asteptate filme japoneze ale acestui an, pe care multi amatory de adrenalina si aventura il vor savura.
Traducerea si adaptarea au fost efectuate in premiera in Romania de gligac2002 (Asia Team) pentru asiacinefil.
Prezentare realizata de cris999 – asiacinefil