Home » ASIA TEAM ROMANIA, Uncategorized
Black Ransom (2010)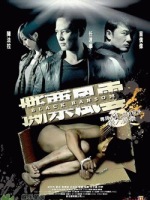 "Black Ransom" este inca un film de actiune "made in Hong Kong" care a reusit sa faca cinste acestui gen practic patentat in Hong Kong. Keung Kwok-Man, regizorul peliculei, e doar la a doua experienta in aceasta calitate, dupa "Bullets and Brains" din 2007. Insa are o mare experienta in lumea filmului in special in calitate de regizor de imagine. A colaborat la principalele productii realizate in Hong Kong in ultimii ani, aflandu-se in spatele camerei de filmat a unor filme precum "I Corrupt all Cops", "Future X Cops", "Protege", "Seven Swords" etc. Aceasta experienta acumulata in calitate de director de imagine e reflectata din plin in "Black Ransom", un film de actiune incitant, plin de tensiune. Scenariul este coerent, iar filmul reuseste sa capteze de la inceput atentia dupa reteta clasica a filmelor de acest gen. In rolul principal atentia e monopolizata de Simon Yam, si poate pentru prima oara intr-un film se pot vedea cei 55 de ani ai actorului. Si nici nu e ascuns acest lucru, fiind primul rol in care apare ca un politist "obosit", considerat "depasit" de colegii lui mai tineri, bun tocmai sa iasa la pensie. Probabil pe masura inaintarii in varsta, vor urma si alte roluri similare, intocmai cum si Jackie Chan sau Jet Li au ajuns la o varsta in care rolurile din filmele de actiune in care isi puneau in valoare vitalitatea si energia debordanta au devenit o amintire.
Cheung Mann (Simon Yam) este un detectiv experimentat, insa luat peste picior de colegii lui mai tineri din Echipa A. In momentul in care este numit un nou superintendent, Echipa B condusa de Mann primeste ca misiune anchetarea disparitiei bruste a mai multor capi ai mafiei locale, in timp ce Echipa A, formata din detectivii tineri increzuti, primesc cazul disparitiei unui mafiot local, Qing, care fusese rapit si pentru care s-a cerut o rascumparare. Mann, vulpoi batran, stabileste o conexiune intre cele doua cazuri, si ajunge la concluzia ca cineva ar rapi capi ai mafiei locale cerand rascumparari grase. Si astfel incepe o cursa contra cronometru pentru gasirea celor care se afla in spatele rapirilor, si mai ales a creierului din spatele operatiunilor.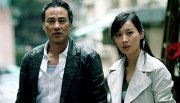 Un bun film de actiune, cu o prestatie excelenta a lui Simon Yam. Nu trebuie uitat nici scenaristul filmului, reputatul Jing Wong, maestrul scenariilor de film din Hong Kong. Acesta are la activ 145 de scenarii de film, dintre care merita amintite "Kung Fu Mahjong", "Color of the Loyalty", "Operation Undercover", "Future X Cops", "I corrupt all cops" sau "To Live and Die in Mongkok". "Black Ransom", desi are mai multe povesti colaterale, nu se indeparteaza de firul principal si nici o clipa nu ai impresia ca te ratacesti prin problemele personale ale eroilor. Toate firele secundare ale povestii se unesc in scena din final si se intersecteaza cu firul principal, in prezenta tuturor personajelor (care reusesc sa scape cu viata), o scena aproape ironica. Un film ce ofera 90 de minute reconfortante si captivante, ce merita vazut.