Home » DIVERSE
Bank Attack (2007) – jaful secolului comis de tãntãlãii secolului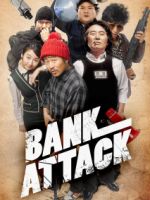 Viata lui Bae Gi-ro (Lee Moon-sik) e data peste cap in momentul in care afla ca fiica lui, Yeon-hee (Kim You-jung adorabila), pe care o creste singur dupa ce mama ei s-a prapadit intr-un accident, are nevoie de o operatie urgenta pentru a supravietui. Traieste din pictarea de panouri publicitare, locuind intr-o asa-zisa casa, inchiriata deasupra unui bloc. Incearca sa obtina un imprumut de la banca, dar e refuzat din lipsa de garantii. Sansa ii surade cand un camatar caruia oricum ii e indatorat accepta sa incheie o intelegere ca in schimbul banilor de operatie acesta sa gireze restituirea sumei cu un organ. Dar banii ii sunt furati, si Gi-ro se trezeste intr-o situatie disperata, mai ales ca fiica lui isi pierde cunostinta si e salvata in ultimul moment. Asa ca recurge la o solutie extrema, hotarandu-se sa jefuiasca o banca din apropiere. Surprizele abia acum incep, caci nu e singurul cu un astfel de plan…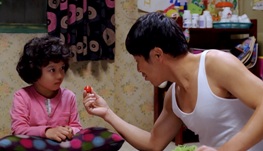 Regizorul si scenaristul Park Sang-joon debuta in 2007 cu "Bank Attack" (7 ani mai tarziu incerca o revenire in prim plan cu "For de Emperor", insa productia a esuat lamentabil), o comedie dramatica la moda pe atunci despre o spargere pusa la cale de un amator, care insa nimereste din lac in put si nu face decat sa-si complice si mai mult situatia personala. In rolurile principale au fost distribuiti doi actori indragiti, ce sunt departe de ideea de sex-simbol sau vedete in functie de care sunt in ziua de azi distribuiti protagonistii, e vorba de Lee Moon-sik, ce activa pe atunci de mai bine de un deceniu in industria de film, remarcat fiind pentru roluri comice din filme precum Make it Big, Reversal of Fortune, Oh, Brothers sau Detective ODD, si Baek Yoon-sik, un actor in plina ascensiune la cei 60 de ani cat avea la data filmarilor (e greu de crezut varsta actorului, pe care nu o arata deloc !), ce a devenit celebru dupa doar cativa ani de actorie, cu rolul din urma cu un an din succesul de box-office "Tazza: The High Rollers". Un deceniu mai tarziu, ne impresiona cu prestatia din filme precum "The Last Princess", "Inside Men" si "The Chase", chiar daca fizic e total schimbat, aproape de nerecunoscut, cu aceeasi voce inconfundabila al carei timbru l-a ajutat mult in cariera. Rolurile secundare abunda de figuri cunoscute, multi actori veterani de roluri secundare din comedii in special, precum Woo Hyeon, Kim Sang-ho, Ra Mi-ran sau Jang Won-young. O mentiune speciala pentru micuta Kim You-jung, ce interpreteaza rolul fetitei bolnave a protagonistului (interpretat de Lee Moon-sik). Pe atunci avea doar 8 ani, debutase de un an pe micul ecran intr-o k-drama, insa aparuse deja in 6 filme pe marele ecran, avand si e aceasta data o prestatie induioatoare.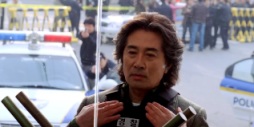 Filmul e realizat dupa tipicul cinematografiei coreene de dinainte de occidentalizarea sa, adica cu un buget decent, cu un scenariu original (atat cat se poate cand vine vorba de o astfel de tematica) care te tine captiv in fata ecranului de la inceput pana la sfarsit si cu o echipa de actori de mare calitate, fara staruri nascute peste noapte din industria k-dramelor care in ziua de azi ajung sa ne intoxice cu prezenta lor pana si in productiile pentru marele ecran. Toate aceste lucruri au facut ca atmosfera sa fie una mai mult decat placuta, cu care iubitorii filmelor coreene sunt familiarizati din filmele de dinainte de 2005, insusi scenariul urmand tipicul coreean (comedie ce e transforma treptat in melodrama). Doar ca de data asta nota de umor e pastrata in cea mai mare parte din timp, si in ciuda subiectului pe alocuri dramatic, spectatorul nu va fi dezamagit la capatul celor aproape 2 ore, ramanand cu o impresie foarte placuta. In mod paradoxal, Lee Moon-sik, un actor prin excelenta de comedie, interpreteaza poate cel mai dramatic personaj al filmului. Dramatic si realist, pentru ca e un tata disperat, fara prea multa scoala si calificari, simplu si onest, care ajuns la limita disperarii e nevoit sa treaca linia de demarcatie dintre Bine si Rau in vederea salvarii vietii fiicei sale. Baek Yoon-sik e un politist abil, ce stie sa cada tot timpul in picioare. E vanat de doi agenti de la Afaceri Interne, fiind banuit de afaceri ilegale, dar face ce face si reuseste sa fie premiat de UNICEF, al carui ambasador devine. El va fi cel care va prelua cazul jafului de la banca si se va ocupa de negocierile pentru eliberarea ostaticilor, insa preia cazul tot din interes, iar aici e lucrul care face filmul si mai interesant. Intreaga echipa de actori din rolurile secundare face o treaba excelenta, contribuind din plin la intretinerea bunei dispozitii. Una peste alta, un film bun, captivant si amuzant deopotriva, o mostra de originalitate coreeana pe care azi cu greu o mai gasesti in scenariile mult prea fade si cosmetizate dupa tipic Hollywoodian de care parca ne-am cam saturat. Intoarcerea in vremurile bune ale filmului coreean nu poate fi decat de bun augur tot timpul.
Traducerea si adaptarea au fost efectuate in premiera in Romania de gligac2002 (Asia Team) pentru asiacinefil.
Prezentare realizata de cris999 – asiacinefil