Home » DIVERSE
Attack on Titan: Counterattacks's Beacon (2015) – miniseria de 3 episoade ce leagã povestea celor 2 live-action-uri de succes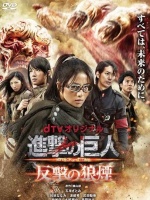 Putini stiu – fanii manga si anime-ului cu siguranta da – ca deja celebra manga a lui Hajime Isayama, "Attack on Titan", care anul trecut a fost ecranizata sub forma unui live-action in doua parti, a avut parte si de o miniserie de 3 episoade: "Attack on Titan: Counterattack's Beacon". Aceasta a fost difuzata in august 2015 pe un site de streaming online din Japonia, dorindu-se un element de legatura intre cele doua parti ale filmului de pe marele ecran, ce au avut incasari totale de 41,7 milioane dolari, pornind de la un buget initial de aproape 27 de milioane de dolari. Miniseria a fost realizata la standardele unui film pentru marele ecran, cu alte cuvinte imaginile sunt de calitate, exista efecte speciale si cu cateva exceptii (cea a protagonistilor din live-action-uri, Eren, Mikasa sau Armin), distributia e cu aceeasi actori. O revedem, astfel, pe nebunatica Hange Zoe (cunoscuta si ca Hans) cu ai ei ochelari, pe Sasha, mancatoarea de cartofi mereu nesatula, pe Lil, Hiana dae si pe Izuru, care in aceata miniserie e un personaj cheie, dar care nu a aparut in manga, fiind inventat special pentru serial. Ca structura, fiecare episod are 30 de minute, acestora adaugandu-li-se un bonus de 7 minute ce le precede, cu o introducere in subiect. Fiecare episod e regizat e un regizor diferit. Episodul 1 il are ca regizor pe Adachi Kimiyoshi, care a mai lucrat ca asistent de regie la celelalte 2 filme "Attack on Titan", dar si la 13 Assassins, The Last Princess sau Shinobi. Episodul 2 il are la timona pe Katsuro Onoue, regizor de efecte speciale la 13 productii japoneze, activ si ca asistent de regie, in timp ce ultimul episode il are ca regizor pe Yoshihiro Nishimura, cunoscut pentru filme de categorie B precum Helldriver, Mutant Girls Squad sau Tokyo Gore Police. Tema muzicala a miniseriei e intitulata "Blade of Counterattack" si e interpretata de Wagakki Band.
Miniseria spune povestea dintr-o perspectiva diferita de cea din film. Mai exact insista asupra cate unui personaj din poveste pe durata fiecarui episod. Aparand de nicaieri, aproape devorand rasa umana, Titanii lasa in urma o civilizatie imana pe cale de disparitie. Pentru a se proteja de Titani, supravietuitorii au ridicat 3 ziduri concentrice. In momentul in care un Titan gigant sparge Zidul Exterior, zona agricola fiind compromisa, oamenii se retrag in spatele Zidului de Mijloc. La 10 luni distanta, pe fondul unei crize fara precedent cauzata de lipsa hranei, Guvernul pune pe picioare Biroul pentru Siguranta Publica, care are ca scop pregatirea unui contraatac impotriva Titanilor, care sa duca la securizarea Zidului Exterior si la recuperarea zonei agricole, vitale pentru hrana. Seful acestui Birou, Izuru, e trimis in tabara speciala une e pregatita contraofensiva. Aici acesta avea sa o cunoasca pe Hange-san (Zoe, sau Hans, cum o stiu toti), care se prezinta la sedinta de alocare a bugetului cu un plan inedit pentru doborarea Titanilor, singurul plan realist dintre cele prezentate. Aceasta studiaza de luni bune Titanii, chiar a capturat odata unul, iar acum pune la cale un dispozitiv tridimensional, care se va dovedi crucial in recuperarea zonei pierdute. Tot aici, Izuru o cunoaste si pe Sasha, care in ciuda apetitului iesit din comun pentru mancare, e o tragatoare de elita cu arcul, aceasta demascand o ilegalitate ce o afecteaza durect. Nu in ultimul rand, aici o cunoaste si pe Lil, cea mai puternica luptatoare dintre recruti, care inainte de a se dovedi cruciala in viitoarele infruntari prin curajul sau, isi traieste povestea de iubire cu indraznetul Fukushi, avand de suportat persecutiile unui instructor diabolic.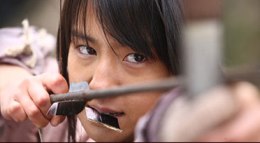 Daca durata relativ scurta a celor doua live-action-uri de anul trecut (sub 90 de minute fiecare parte) nu a permis spectatorului ce nu a intrat in contact cu personajele lecturand manga sau cu atat mai putin vizionand anime-urile sa se familiarizeze cu acestea, aceasta miniserie ofera exact ceea ce cele doua filme aveau nevoie: o analiza mai de aproape a catorva personaje cheie. Putem descoperi, astfel, pasiunea lui Hange-san pentru cercetare, o pasiune dusa nu de putine ori pana la extrem; talentul lui Sasha in manuirea arcului si drama personala ce o impinge spre Corpul de Cercetasi ce tocmai se creeaza; forta lui Lil si motivatia de a lupta impotriva Titanilor in prima linie, in ciuda faptului ca provine dintr-o familie buna, ce lucreaza pentru Guvern. Toate aceste povesti au o mare doza de umor in ele, fiind agreabile de urmarit. O miniserie bine realizata, plina de actiune, umor si fara scenele dramatice din prima parte a filmului, cu monstri ce inghit oameni, ce se ridica peste nivelul celei de-a doua parti a filmului, ce e golita de toate calitatile acestei miniserii.
Traducerea si adaptarea au fost effectuate in premiera in Romania de lasedan si gligac2002 (Asia Team) pentru asiacinefil.
Prezentare realizata de cris999 – asiacinefil