Home » DIVERSE
Attack on Titan (2015) – un live-action post-apocaliptic dupã o manga de mare succes în Asia
"Attack on Titan" este o ecranizare live-action a unei celebra manga japoneze, a carei popularitate a trecut de mult granitele Japoniei, fiind repede tradusa in tarile Asiei de Rasarit. Daca in Hong Kong, China si Taiwan, manga a fost foarte bine primita, in Coreea de Sud ea a fost aspru criticata, manga fiind acuzata ca transmite un mesaj militarist ce serveste intereselor politice ale primului ministru japonez Shinzo Abe. Totusi, in Hong Kong, manga a rezonat cu tineretul, care a vazut in invazia titanilor din poveste o metafora la adresa Chinei continentale comuniste. Autorul acestei controversate manga e Hajime Isayama, un artist manga ce are in prezent 28 de ani, ce a inceput publicarea povestii tocmai in 2006, la 20 de ani. Publicarea ei continua si in zilele noastre, inregistrand pana in prezent vanzari uriase de nu mai putin de 52,5 milioane de exemplare ! La sfarsitul lui 2011 s-a anuntat faptul ca un live-action este deja in stadiul de productie, iar un an mai tarziu, regizorul Tetsuya Nakashima, ce a regizat si celebrul "Confresions", a renuntat la proiect datorita unor "diferente creative considerabile" in raport cu scenariul si alte chestiuni, dupa spusele companiei distribuitoare Toho.Si asa a mai trecut un an, in demebrie 2013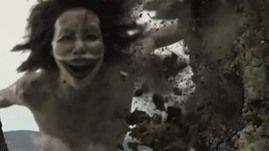 anuntandu-se ca Shinji Higuchi, regizorul lui Sinking of Japan, The Last Princess si The Floating Castle, va prelua regia filmului, urmand a se ocupa si de efectele speciale. Yusuke Watanabe (autorul scenariilor lui Gantz si 20 th Century Boys) si expertul in subcultura si criticul Tomohiro Machiyama au scris scenariul, in stransa colaborare cu Isayama, autorul mangai.Filmul a avut premiera pe 1 august 2015, cu doar 2 saptamani in urma, si e deja un succes de box-office in Japonia, castigand in prmul weekend de la lansare aproape 5 milioane de dolari la box-office. Parerile criticilor si fanilor mangai sunt impartite, insa dupa spusele lui Isayama insusi, filmul deviaza masiv de la povestea originala din manga, lucru ce poate starni si mai mult curiozitatea.
Intr-o Japonie post-apocaliptica, viata incearca sa-si revina la normal in ciuda persistentei pericolului inamic. In urma cu un secol, titanii, mitice creaturi gigant, au aparut din necunoscut si au devorat cea mai mare parte a omenirii. Supravietuitorii acestei tragedii au construit trei ziduri uriase pentru a impiedica viitoare invazii ale titanilor, ducand timp de aproape un secol o viata linistita. Dar aceasta perioada pare a se apropia de sfarsit. Eren e un pierde-vara preocupat de orice altceva decat sa munceasca si sa duca o viata obisnuita ca ceilalti locuitori ai districtului Monzen. Tocmai si-a incheiat socotelile cu ultima sa slujba, dupa nici o luna de chinuri. Ii place sa hoinareasca pe un deal unde se afla o bomba neexplodata si sa-i dea tarcoale, debusolat de viata dusa in spatele zidurilor de ciment. Aici il gasesc de fiecare data prietenul lui Armin si Mikasa, cea dupa care i s-au aprins calcaiele. Din vorba in vorba le dezvaluie acestora dorinta de a afla ce e dincolo de ziduri, in special ca gasesc o harta ascunsa care le sugereaza ca elesteul din spatele zidurilor ar fi, de fapt un ocean nesfarsit. Impinsi de curiozitate, acestia ajung langa Zid, evitand vigilenta paznicilor si incercand s ail scaladeze. Doar ca tocmai in acel moment se produce un cutremur, care in realitate se dovedeste un atac al unui titan urias. Mai inalt decat imensul zid de beton, acesta reuseste sa-l fisureze, iar titani de dimensiuni mai mici invadeaza linistitul tinut al oamenilor pasnici. Desi multi credeau ca amenintarea titanilor e o simpla legenda, ca acestia nu exista in realitate, neaparand de un secol, de aceasta data se conving ei insisi de amenintarea lor. Si astfel incepe o disperata lupta pentru supravietuire intre rasa umana si titanii mitici.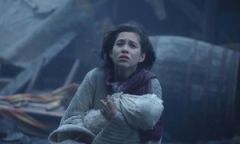 Desi a fost criticat ca s-a indepartat de manga originala – dupa declaratiile autorului mangai nici nu se intentiona o ecranizare fidela, care era imposibila dat fiind faptul ca manga e publicata de mai bine de 9 ani, avand multe fire epice, personaje si idei -, alti critici au elogiat aceasta realizare. Adevarul e ca raportat la durata extrem de scurta a primei parti (90 de minute), realizatorii au reusit sa sintetizeze foarte bine esenta, fara a scapa prea multe detalii importante. De la un film cu o durata atat de scurta, nu te poti astepta la o creionare prea reusita a personajelor, nici macar la o familiarizare cu acestea, cu atat mai mult cu cat vorbim de foarte multe personaje incluse in poveste. Probabil a existat un buget limita pentru aceasta prima parte, in care echipa de productie – in special cea de la efecte speciale – a trebuit sa se incadreze. Si din fericire acesta a facut o treaba foarte buna, reusind sa dea contur unei povesti captivante si misterioase, ce te face ca la final sa te intrebi: "S-a si terminat deja ?". Jocul actorilor e prea putin important in acest gen de film, in care efectele speciale iti iau ochii, insa echipa de actori tineri s-a descurcat foarte bine. De remarcat si coloana sonora semnata Sekai no owari, cu melodiile Anti-hero si SOS. Cum alte detalii nu trebuiesc dezvaluite, urmand a fi descoperite de fiecare odata cu vizionarea productiei, nu ne mai ramane decat sa savuram aceasta spectaculoasa realizare si sa asteptam cu nerabdare partea a doua a povestii, ce va avea premiera in Japonia pe 19 septembrie 2015.
Traducerea, adaptarea si timingul au fost efectuate de lasedan si gligac2002 (Asia Team) pentru asiacinefil.
Prezentare realizata de cris999 – asiacinefil