Home » DIVERSE
Attack on Titan 2: End of the World (2015) – înfruntarea finalã dintre Titani şi oameni dezamãgeşte aşteptãrile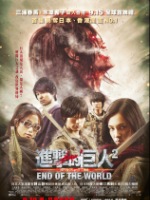 Daca prima parte a filmului "Attack on Titan" a fost o demonstratie a faptului ca fara un buget extraordinar se poate face un SF plin de fantezie adaptat dupa o manga care sa aiba un succes de aproape 28 de milioane de dolari la box-office, sequel-ul se dovedeste o crunta dezamagire pentru toti fanii benzilor desenate si ai filmului. Asteptarile au fost mari, dar "Attack on Titan 2: End of the World" a fost doar iluzia ca aceasta a doua parte poate termina povestea intr-un mod care sa fie pe placul fanilor. Ideea impartirii povestii in doua parti s-a dovedit neinspirata, datorita in primul rand duratei foarte scurte a partilor: prima parte a avut cu putin peste 90 de minute, iar aceasta a doua parte abia atinge 87 de minute. Ar fi fost mult mai bine sa se faca un singur film cu o durata mai extinsa, dar probabil interese financiare au dictat politica de promovare a filmului. Esecul acestei a doua parti e confirmat si de performanta slaba de la box-office, "Attack on Titan 2: End of the World" obtinand cu putin sub 10 milioane de dolari incasari. Probabil cei ce au platit biletul si au vizionat filmul in salile de cinema nu au mai recomandat prietenilor vizionarea lui, astfel explicandu-se interesul scazut al publicului japonez pentru acest sequel, care compromite orice sansa pentru o eventuala trilogie. Distributia si echipa de realizatori e identical cu cea din prima parte, insa scenariul este din start calcaiul lui Ahile al acestui sequel.
Tinuturile oamenilor ajung sa fie amenintate de Titani, care reusesc sa sparga Zidul Exterior ce proteja asezarea ultimilor oameni de pe planeta. O curajoaa echipa de luptatori se mobilizeaza pentru a lupta cu Titanii. Pe de o parte capitanul Shikishima conduce regimentul de cercetasi infiintat de Guvern pentru a lichida Titanii, avand ca mana dreapta pe Mikasa, iar pe de alta parte Eren si prietenii lui actioneaza pe cont propriu, pana cand la un moment dat sunt salvati dintr-o situatie fara iesire de… Mikasa si de capitan. Si astfel, Eren si Mikasa, indragostiti inainte de atacul Titanilor, se regasesc, Eren crezand-o pana in acel moment moarta pe Mikasa. In timpul ultimei infruntari cu Titanii, Eren isi pierde o mana si mai apoi e inghitit de un Titan gigant. In mod surprinzator, insa, Titanul care l-a inghitit incepe sa se comporte ciudat, atacandu-i si distrugandu-i pe ceilalti Titani. Intr-un final, Eren reuseste sa paraseasca trupul Titanului si este capturat de armata Comandantului. Suspiciunile incep sa ia nastere, lansandu-se ipoteza ca de fapt Eren ar fi un om care se poate transforma in Titan si viceversa. In concluzie, trebuie lichidat pentru evitarea eventualelor surprize neplacute in viitor. Prietenii ii iau apararea si incearca sa-l salveze, si astfel incepe aventura finala, scopul temerarilor fiind sa creeze o gaura in Zidul Exterior pentru a putea parasi lumea in care pana atunci au fost captivi si a scapa, astfel, de Titani. Desigur ca cineva li se va opune…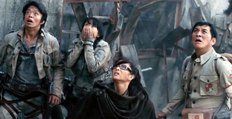 Partea a doua din "Attack on Titan" nu reuseste sa convinga nici macar pe cel mai putin pretentios fan al primei parti sau al mangai. Durata foarte scurta (87 de minute) si lipsa de inspiratie a scenaristilor au compromis total productia. Nimic din farmecul si soliditatea primei parti nu se regaseste in "Attack on Titan2: End of the World". Totul este superficial, inclusiv jocul actorilor, care pe alocuri e lamentabil. Tot ce prima parte a plusat la spectaculozitate acum se risipeste. Totul este previzibil, totul e spus din primele cadre ale celei de-a doua parti, cand prêt de un minut actiunea se muta in copilaria lui Eren. Lipseste orice doza de mister sau tensiune, care in prima parte existau din plin, totul fiind spus pe graba, intr-un galop de sanatate care nu a convins pe nimeni. Sa nu mai vorbim de faptul ca melodiile tematice din prima parte (Anti-Hero si SOS ale formatiei Sekai no Owari) nu se mai aud nici macar o secunda pe fundal, nici la genericul de final. E un mister cum tot ce era reusit la prima parte a fost indepartat, ramanand doar o productie superficiala si artificiala ce nu mai impresioneaza pe nimeni. Lipseste complet spectacolul vizual din prima parte, in care, trebuie sa recunoastem, acei monstri umanoizi cu aspect grotesc ce se infruptau din oameni au contribut din plin la sporirea tensiunii scenelor realizate pe calculator. Acum, acestia lipsesc cu desavarsire, locul lor fiind luat de monstrii giganti ce se lupta intre ei si nu mai masacreaza oamenii (probabil regizorul le-a aratat tot timpul ceasul, sa stie ca trebuie sa se incadreze fix in cele 87 de minute !). Lasand gluma la o parte, cine doreste sa urmareasca aceasta a doua parte in mod evident trebuie sa-si asume un risc. Cel de a irosi o ora si jumatate din timpul liber pentru a-si potoli o fireasca curiozitate. Sa speram ca nu va mai exista si ideea unei a treia parti, subiectul a fost complet epuizat dupa prima parte.
Traducerea, adaptarea si timingul au fost efectuate in premiera in Romania de gligac2002 (Asia Team) pentru asiacinefil !
Prezentare realizata de cris999 – asiacinefil