Home » DIVERSE
Along With The Gods: The Last 49 Days (2018) – mult aşteptatul sequel despre Viaţa de Apoi stabileşte noi recorduri !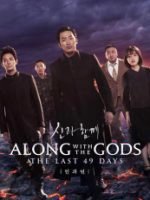 Partea a doua a productiei "Along With The Gods" nu a fost, ca realizare, mai prejos decat prima. Cu un buget similar, de aproximativ 18 milioane de dolari, filmarile la continuarea povestii s-au facut odata cu cele de la prima parte, durand aproape un an de zile, intre 2016 si 2017. Cu aceeasi protagonisti, mai putin Cha Tae-hyun (care si-a incheiat partitura la finalul primei parti), si cu doi actori de roluri secundare inlocuiti din distributie ca urmare a dezvaluirii implicarii lor in scandaluri de hartuire sexuala (Oh Dal-su) si viol (veteranul Choi Il-hwa), "Along With The Gods" – ambele filme – s-a dovedit una din cele mai de succes retete din cinematografia coreeana din toate timpurile. Daca prima parte a obtinut incasari de 108 milioane dolari, si aceasta a doua parte a confirmat asteptarile, incasarile obtinute fiind de 91 milioane dolari. O afacere exceptionala pentru producatori, care la o investitie totala de 36 milioane de dolari au obtinut 200 milioane dolari ! "The Last 49 Days" a fost doua saptamani lider de box-office si a stabilit cateva recorduri, fiind filmul coreean cu cea mai mare rata de rezervare a biletelor inaintea premierei din toate timpurile, circa 60% din totalul spectatorilor rezervandu-si biletele cu mult inaintea premierei ! Acest luru spune multe despre asteptarile de la aceasta continuare, iar acestea sub nici o forma nu au fost inselate, filmul egaland sau poate chiar depasind prima parte, beneficiind de un scenariu mai dinamic, plin de surprize si rasturnari de situatii greu de anticipat. Un alt record consemnat de acest film a fost cel privind numarul de spectatori din ziua premierei, 1,26 de milioane de spectatori fiind in salile de cinema diun Coreea pe 1 august 2018. Acest numar e aproape dublu decat numarul spectatorilor din ziua premierei primei parti. Dupa o luna de rulare in cinematografe, filmul a atins un numar de nu mai putin de 12 milioane de spectatori, devenind al 13-lea cel mai urmarit film din Coreea din toate timpurile. Vanzari si recorduri au fost inregistrate si in afara granitelor Coreei, in Taiwan, Hong Kong sau Statele Unite.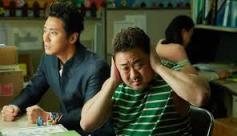 In "Along With The Gods: The Last 49 Days", avem parte de o poveste mult mai captivanta, in care regasim traseul prin cele 8 Iaduri al personajului aflat in cautarea reuncarnarii – de aceasta data fratele lui Kim Ja-hong, Kim Su-hong (interpretat de Kim Dong-wook), dar si o alta poveste spusa in paralel, ce se desfasoara in lumea celor vii, in care protagonist e Ma Dong-seok, in rolul unui zeu marunt in stilul unui Aladin, ce-si duce veacul intr-un vas ceramic, si care prinde viata pentru a ajuta un batran si pe nepotul acestuia amenintati cu evacuarea. Si ca totul sa fie si mai captivant, dezvaluirile pe care le va face acest zeu al gospodariei ne va da ocazia sa calatorim inapoi in timp, in perioada Goryeo, cu o mie de ani in urma, sa sa-i cunoastem pe cei trei ingeri pazitori in ipostaza pe care o aveau pe timpul vietii lor. Asadar, avem 3 povesti intr-una de ansamblu, foarte bine inchegata si echilibrata, efecte speciale, aventura si actiune, dramatism si sensibilitate, tot ce trebuie sa ofere o fantezie de proportii epice precum aceasta. Vestea buna e ca producatorii au discutat deja cu regizorul si scenaristul Kim Yong-hwa pentru continuarea povestii, partile 3 si 4 fiind preconizate a se filma in acelasi mod ca primele doua, insa probabil va trebui sa mai asteptam cativa ani pana le vom putea vedea. Pana atunci, nu ne ramane decat sa ne bucuram de aceste doua fantezii superbe cu ingeri, demoni si oameni, Viata de Apoi si reincarnare, pacate si modele de excelenta, fara a uita ca vorbim de primele doua productii de fantezie coreene de amploare pe tema Vietii de Apoi realizate vreodata.
Traducerea, adaptarea si timingul manual au fost efectuate in premiera in Romania de gligac2002 (Asia Team) dupa subpackul original, pentru asiacinefil.
Prezentare realizata de cris999 – asiacinefil