Home » NOUTÃŢI
Adevãr şi minciunã în "Children of a Lesser God"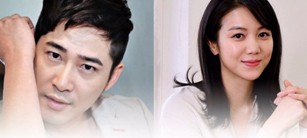 In distributia thriller-ului "Children of a Lesser God" difuzat de cei de la OCN se afla actorii Kang Ji-hwan ("Monster", "Big Man") si Kim Ok-bin ("The Villainess", "Yoo-na's Street", "Sword and Flower"). Serialul va fi un thriller in care personajele principale sunt doi detectivi de politie, dar nu avem de-a face cu un serial politist clasic; de-a lungul episoadelor exista o nuanta de supranatural. "Cand bat clopotele, un adevar iese la iveala", este scris pe posterele serialului.
In "Children of a Lesser God", doi detectivi se trezesc implicati intr-o intriga misterioasa ce presupune o tenebroasa organizatie criminala, si totul devine un amalgam de realitate si fantezie. Kang Ji-hwan este un detectiv de elita care lucra la Sectia Metropolitana din Seul, care crede in dovezi si metode judiciare si care are o intuitie fenomenala cand vine vorba de minciuna, castigandu-si titlul de "detector uman de minciuni". Este promovat cand reuseste sa elucideze misterul a trei crime nerezolvate, si cartea pe care o publica, in care dezvolta metodele si descrie experienta sa legata de criminalistica, devine un bestseller. Dar in ciuda prestigiului si averii castigate, din motive necunoscute, se decide sa renunte la stilul sau de viata.
Kim Ok-bin este un detectiv de la unitatea de investigari regionale a Birolului Provincial din Seul. Aceasta a crescut fiind numita "copilul posedat de fantome", dar este o persoana inimoasa cu abilitati extrasenzoriale care poate sa simta si sa experimenteze moartea unei persoane: cand aude un clopotel pe care nimeni altcineva nu-l mai aude, reuseste sa simta si sa afle fara greutate gandurile si amintirile victimelor, si poate sa adune amintiri care aduc indicii despre caz. "Am murit de 69 de ori pana acum", declara personajul ei.
"Children of a Lesser God" va urma la OCN dupa incheierea serialului "Bad Guys 2: City of Evil" si va avea premiera pe 24 februarie. Interesanta inconstanta si imprevizibilitatea lui Kang Ji-hwan cand vine vorba de alegerea rolurilor. Ajuns la aproape 41 de ani (varsta pe care o implineste peste o luna), cariera de pe marele ecran i-a intrat intr-un evident declin dupa "My Girlfriend is An Agent" din 2005, aparand in doar 3 filme in mai mult de un deceniu, in timp ce pe micul ecran nu a mai avut aparitiile constante de la inceputul carierei, aparand in 6 seriale (inclusiv acesta) intr-un deceniu. In ce o priveste pe Kim Ok-bin, acesta va fi primul ei serial din ultimii 4 ani, revenind anul trecut in forta si pe marele ecran cu rolul din "The Villainess". "Children of a Lesser God" va avea 10 episoade.
Articol realizat de chocolate_cleo – asiacinefil