Home » DIVERSE
A Korean in Paris (2016) – Cho Jae-hyun într-un "road movie" parizian profund, marca Jeon Soo-il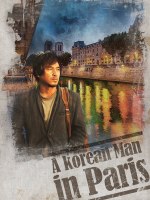 Sang-ho si Yeon-wha sunt un cuplu aparent fericit de coreeni aflat in luna de miere la Paris. Ca orice turisti, calatoresc cu autobuzul turistic vizitand locatii istorice, fapt ce il incanta pe Sang-ho dar o dezamageste pe Yeon-wha, ce doreste sa vada mai mult partea "insufletita" a Parisului, nu muzee si palate lipsite de viata. Avand un apetit sexual nepotolit, Yeon-wha manifesta o stranie curiozitate fata de niste prostituate pe care le vede pe strada. A doua zi, isi cearta partenerul pentru faptul ca nu poarta verigheta pe mana si observam pentru prima oara ca desi la prima vedere cuplul pare unul fericit, in realitate Yeon-wha este extrem de distanta din punct de vedere emotional. In momentul in care Yeon-wha dispare fara urma, Sang-ho suspecteaza ca aceasta a fost rapita. Doi ani de zile o cauta prin tot Parisul, ducand o viata de om al strazii si intrand in contact cu lumea prostitutiei, pana cand o cunoaste pe Chang, o prostituata de origine coreeana, care ii sugereaza o alta posibilitate…
Apreciatul regizor coreean de filme independente Jeon Soo-il ("Himalaya, Where the Wind Dwells", "With a Girl of Black Soil"), revine la 3 ani distanta de "El Condor Pasa" cu o noua productie artistica realizata dupa aceeasi reteta, "A Korean in Paris". Iar in rolul principal il revedem pe acelasi excelent Cho Jae-hyun din "El Condor Pasa", un obisnuit al filmelor independente, ce nu trebuie sa uitam ca a colaborat si cu Kim Ki-duk. Filmul a avut premiera la a 20-a editie a festivalului de film de la Busan, un festival familiar pentru Jeon Soo-il, Busanul fiind casa acestuia, locul unde si-a filmat majoritatea filmelor si locul unde de altfel preda la Universitatea Kyungsung, la facultatea de Teatru si Film. "A Korean in Paris" e un film mai personal, de Paris regizorul avand un atasament mai special, capitala Frantei fiind locul unde a studiat filmul ca student. Insa nu vom vedea decat partial imaginea unui Paris stralucitor, de vis, cu locatii mirifice, pentru ca majoritatea filmului atentia ne este furata de o lume intunecata, a migrantilor, a oamenilor strazii, a prostitutiei si a extremistilor nationalisti.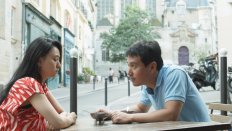 "A Korean in Paris" este povestea calatoriei unui coreean prin Parisul si Franta zilelor noastre, pornit de peste 2 ani in cautarea sotiei sale prin capitala, o calatorie dura si nu lipsita de pericole, pentru ca Sang-ho, eroul dramei, nu are vreun ban in buzunar, nu are haine de schimb si se adaposteste pe sub poduri, prin adaposturi pentru imigranti, cunoscand tot felul de personaje dubioase. Initial crede ca sotia lui a fost rapita si a ajuns in mainile unei retele de prostitutie, insa intrand in contact cu o prostituata coreeana, Chang, realizeaza ca mai crud ar fi adevarul pe care se teme sa-l auda, anume ca sotia lui l-a parasit pentru a se prostitua. Macinat de aceasta incertitudine, 2 ani rataceste pe strazile pariziene cu poza sotiei la el, aratand-o tuturor prostituatelor, in speranta ca va obtine un indiciu. In restul timpului doarme pe unde apuca, se imbata cu oamenii strazii ce-i tin companie, calatoreste cu metroul. Regizorul pune in contrast doua imagini: cea a unui Sang-ho luminos, in luna de miere, implinit, si cea a unui Sang-ho hoinar, vaduvit de absenta sotiei, ce umbla pe strazi rau-famate si intra in contact cu lumea interlopa, imaginea unui trecut stralucitor in contrast cu cea a unui prezent decrepit. Interesanta e dezvoltarea relatiei dintre Sang-ho si Chang, prostituata coreeana ce accepta sa-l ajute si sa discute cu el. Initial, ea e pentru el o interlocutoare ce are radacini in Coreea, iar acest lucru o apropie de aceasta. Pentru ea, el e un altfel de barbat, observand ca nu o trateaza ca pe o prostituata, ci ca pe o fiinta umana. Cand insa in peisaj apare "tatal" fetei, in fapt un client caruia aceasta ii ofera servicii sexuale, apare o evidenta tensiune implicit de natura sexuala in relatia dintre Sang-ho si Chang, mai ales dupa ce Chang refuza cererea acestuia de a face sex. Aceasta se simte tradata, e readusa cu picioarele pe pamant la adevarata ei conditie,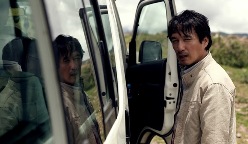 si realizeaza ca Sang-ho nu e cu nimic diferit de clientii ei, fiind cu atat mai imoral cu cat e in cautarea propriei sotii. Personajul Sang-ho, expresiv interpretat de Cho Jae-hyun, e intr-o evolutie continua sub aspect emotional, in ciuda mediului inuman in care se zbate. Finalul calatoriei se doreste unul misterios, ramanand la latitudinea spectatorului daca ceea ce vede este realitatea sau o himera datorata aburilor alcoolului. Jeon Soo-il impresioneaza din nou prin multitudinea de idei vehiculate pe parcursul filmului, prin imaginile contrastante ale unui Paris mai putin familiar si prin amalgamul cultural a ceea ce a devenit Franta secolului XXI, o tara cosmopolita, ce nu e intotdeauna Raiul pe pamant pentru imigranti. Un film de-o "frumusete stranie, dezolanta" cum il califica un critic, despre un Paris cu o atmosfera incetosata, ca si sufletul eroului deposedat si disperat ce rataceste pe strazile lui rau-famate pentru regasirea fericirii pierdute. Un "road-movie" ce nu ofera raspunsuri, dar care arunca o privire patrunzatoare in profunzimea relatiilor interumane in general si conjugale in particular, pe fondul unei lente alienari.
Traducerea si adaptarea au fost efectuate in premiera in Romania de gligac2002 (Asia Team) pentru asiacinefil.
Prezentare realizata de cris999 – asiacinefil