Home » DIVERSE
A Tale of Mari and Three Puppies (2007) – o lecţie de supravieţuire impresionantã inspiratã din fapte reale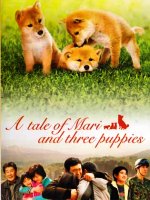 "A Tale of Mari and Three Puppies" este un film japonez de familie emotionant, despre prietenia dintre om si caine. Acesta se inscrie in lungul sir de filme celebre japoneze despre relatia extraordinara care se stabileste intre prietenul omului, cainele, si stapanul sau: "Hachiko Monogatari", "Nankyoku Monogatari" sau "10 Promises to My Dog". Filmul in sine este o fictiune, insa porneste de la fapte reale petrecute in 2004, lucru care, la incheierea vizionarii filmului, ridica intrebari oricarui spectator. In plus, subiectul lui este de actualitate, avand o oarecare legatura cu recentele evenimente din Japonia, care pe noi, romanii, ne pot face sa vedem acum cu alti ochi povestea lui.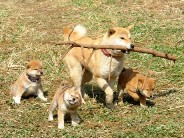 Pentru iubitorii de caini, trebuie spus ca rasa de caini din care face parte Mari este Shiba Inu, una din cele mai vechi rase de caini atestate din Japonia (secolul III i.e.n), din cele 6 rase specifice arhipeleagului nipon. Initial, cainii Shiba Inu au fost crescuri pentru vanatoare de iepuri sau pasari, insa in timpul celui de-al doilea razboi mondial, rasa aproape ca a disparut, ca urmare a epidemiilor si a razboiului. In 1936, Shiba Inu a fost recunoscut ca Monument Natural al Japoniei printr-un Act de Proprietate Cultural emis de guvernul imperialist, cu sprijinul Asociatiei pentru conservarea rasei cainilor japonezi. In 1954, un caine din aceasta rasa a fost dus in Statele Unite de un military american, iar in 1979 un prim Shiba Inu s-a nascut in Statele Unite, conform consemnarilor. Shiba Inu traieste intre 12-15 ani si este extrem de putin pretentios. E un caine in general independent si foarte inteligent. Dar despre ce este vorba in film ?
Yuichi lucreaza la primaria satului Yamakoshi, care in curand urmeaza a se integra in orasul Nagaoka. Acesta locuieste cu cei doi copii ai sai de scoala primara – Aya si Ryota -, cu tatal sau septuagenar Yuzo si cu sora nevestei sale. Sotia si mama lui Aya si Ryota a marut in urma unei boli, in spital, lasand toata povara pe umerii sotului si mai ales a lui Ryota, fratele mai mare al lui Aya. Intr-o zi, in timp ce se intorceau de la scoala, Aya si Ryota dau peste o catelusa abandonata pe un camp. Desi incearca sa scape de ea, aceasta ii urmareste si intra imediat la sufletul celor doi copii. Cu ajutorul bunicului Yuzo, acestia reusesc sa-si convinga reticentul tata sa acepte cainele in familie, si astfel acesta ia numele de Mari. Un an mai tarziu Mari devina mama, avand trei catelusi. Dar acestea au fost clipele fericite. Curand o nenorocire loveste intreaga familie, iar Mari isi va arata devotamentul pentru faptul ca a fost adoptata cu atata dragoste de familia celor doi micuti.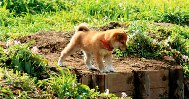 Un film care va delecta atat iubitorii de caini, cat si iubitorii de filme pentru intreaga familie, in care sentimentele de bucurie si tristete se impletesc atat de bine incat ca privitor greu reusesti sa-ti stapanesti emotiile. In realitate chiar a existat cainele Mari, care pe 23 octombrie 2004 a dat nastere la 3 catei in Yamakoshi. Dar 23 octombrie a fost ziua in care un puternic cutremur a lovit Niigata, iar Mari, fiind legata cu o lesa, nu a putut ajunge la puii ei ce au disparut. In cele din urma i-a regasit si i-a dus intr-un loc sigur. In ziua respectiva, bunicul din familia lui Mari era singur acasa, suferind de o boala neurologica. Cutremurul l-a surprins la etajul doi al imobilului, unde un dulap a cazut peste el. Mari a aparut in acel loc si a incercat cu labutele sa indeparteze obiectele de pe stapanul ei. Intr-un final, batranul a fost salvat, dar ca urmare a replicilor cutremurului si a ploilor ce au urmat, existand riscul alunecarilor de teren, intregul sat Yamakoshi a fost evacuat cu elicopterul. Mari a ramas in urma si a dus o lupta crunta pentru supravietuire, impreuna cu cei trei catei ai ei. Un film ce ne da o adevarata lectie noua oamenilor, o lectie de prietenie, loialitate si supravietuire in fata greutatilor vietii. Nu ratati acest film deosebit !
Articol realizat de cris999 – asiacinefil.com