Home » NOUTÃŢI
Yum Jung-ah se reîntoarce pe marele ecran în horror-ul "The Mimic"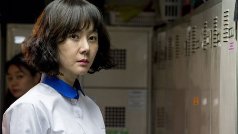 Actrita Yum Jung-ah se reintoarce pe marele ecran cu filmul horror "The Mimic", dupa 14 ani de la succesul thriller-ului cu accente horror, "A Tale of Two Sisters", din 2003. In "A Tale of Two Sisters" actrita a captivat audienta cu rolul odioasei mame vitrege. De aceasta data, actrita interpreteaza rolul unui tutore, Hee-yeon.
In "The Mimic", Hee-yeon paraseste orasul pentru a trai intr-un satuc de pe muntele Jang, dupa pierderea copilului sau. Acolo, intalneste o tanara fata care are acelasi nume si aceeasi voce cu a fiicei sale decedate. Hee-yeon decide sa se ocupe de fata si sa traiasca alaturi de ea, dar curand incep sa se intample lucruri misterioase.
Producatorul Huh Jung a declarat intr-un interviu ca nu s-a gandit la alta actrita, Yum Jung-ah fiind singura optiune pentru rolul principal – o femeie care este afectuoasa, sensibila dar si plina de nesiguranta.
"Am fost atrasa de film pentru ca are ca tema iubirea materna", a declarat actrita la conferinta de presa. "Am plans mult dupa ce am terminat de citit scenariul si am suferit mult dupa ce am terminat filmarile, nu din cauza groazei ci din cauza emotiilor pe care orice mama trebuie sa le simta, iubire materna pe care a trebuit sa o portretizez cu intensitate. Filmul acesta poate sa placa tuturor, nu doar celor care sunt incantati de genul horror-thriller."
Actrita care si-a castigat renumele de "regina a thriller-elor" dupa ce a jucat in "A Tale of Two Sisters" spune ca nu este mare fana a filmelor de groaza pentru ca se sperie usor cand le vizioneaza. La avanpremiera pentru "The Mimic" recunoaste ca nu i-a fost usor si ca ochii ei erau pe jumatate inchisi la multe din scene. "Desi am jucat rolul principal in 'The Mimic', a fost foarte infricosator. Sa vizionezi un film horror si sa joci in unul sunt lucruri total diferite."
Yum Jung-ah a debutat cu serialul "Our Paradise" in 1991, dar actrita declara ca "A Tale of Two Sisters" este cel mai notabil film din cariera ei pentru ca este filmul care a lansat-o. "La 20 de ani, doream cu ardoare sa devin o actrita buna, dar nu stiam cum sa fac. Cand l-am intalnit pe regizorul Kim Jee-woon (care a regizat "A Tale of Two Sisters"), am invatat cum pot actorii sa-si creeze personajul si sa-l integreze in poveste. Nu regret ca am devenit actrita si sunt recunoscatoare ca pot sa-mi continui cariera."
Mama a doi copii, Yum Jung-ah se simte recunoscatoare ca poate inca sa joace, desi multe femei nu au serviciu. "Sunt fericita ca sunt o mama care munceste si ca exista o slujba pentru mine, in afara rolului meu de mama si sotie."
Articol realizat de chocolate_cleo – asiacinefil