Home » NOUTÃŢI
Yoo Hae-jin, talent şi simplitate într-un film cu… de toate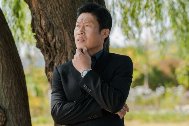 Umorul lui Yoo Hae-jin da roade. Actorul, in varsta de 46 de ani, joaca rolul principal din filmul "Luck Key", film ce a strans 2 milioane de cinefili in doar 4 zile de la premiera, fapt neobisnuit pentru o comedie.
Intr-un interviu recent, actorul declara cu modestie "De regula, sunt cel mai in varsta de pe platourile de filmare. In trecut aveam si alti actori mai veterani alaturi de care jucam, pe care ma puteam baza la nevoie, si presiunea nu era asa de mare, insa in ultimul timp se pare ca eu sunt veteranul. Simt presiunea acestui lucru, nevoia de succes a unui film, fie ca sunt sau nu intr-un rol principal. Nu pot sa fiu multumit doar cu munca mea. Trebuie sa ma gandesc la intreaga echipa si la cei ce investesc intr-un film."
Motivul pentru care actorul a ales acest film in defavoarea altora nu este pentru ca e vorba de o comedie, ci pentru un mesaj transmis de personajul sau, personajului jucat de Lee Joon (fost membru MBLAQ). "Ce vrea filmul sa transmita este ca nu exista o viata 'mizerabila'". Actorii mai in varsta de la care am furat meseria asta mi-au spus ca ar putea sa apara in calea mea un rol "mizerabil", dar ca viata nu este "mizerabila". Asta este mesajul pe care si eu vreau sa-l transmit."
Yoo Hae Jin este un alpinist inrait si acest lucru il ajuta atunci cand trebuie sa se concentreze mai bine asupra unor detalii ale rolului pe care il abordeaza, iar faptul ca acum locuieste aproape de Muntele Bukhan este un avantaj. "Am inceput sa joc in liceu. Mi s-a parut interesant, a fost un catarsis. Actorii de teatru sunt, de obicei, diferiti de oamenii obisnuiti, intr-un fel sau altul. Pentru mine, scena a fost locul unde am putut sa ma eliberez de stress, o purificare."
Dupa ce vede o piesa de teatru, la numai 14 ani, decide ca teatrul este ceea ce doreste sa faca in viata si urmeaza cursurile unui liceu de arte, dar din motive financiare se alatura unei trupe de actori. La inceput ajuta cu mici lucruri si incerca sa copieze ce vede pe scena. Dupa ce aplica de doua ori la un curs de teatru si film in colegiu, este respins din cauza chipului sau. Se incapataneaza si absolva colegiul, dar la Design. Pasiunea sa ramane, si datorita unui proces de selectare bazat doar pe notele obtinute, actorul reuseste sa fie acceptat la Institutul de Arte din Seul. Urmeaza sa joace mici roluri in teatru si filme si incet, incet incepe sa fie remarcat si distribuit in roluri ce ii arata dimensiunea talentului sau.
In trecut, actorul a jucat numai roluri secundare ("King and the Clown", "Small Town Rivals", "Jeon Woo-chi: The Taoist Wizard", "Moss", "The Pirates", etc), dar acum joaca roluri mari in filme pe masura, precum "The Classified File", "The Unfair" si "Veteran". Insa, cu simplitatea ce il caracterizeaza, declara ca va continua sa se multumeasca cu ceea ce ii ofera viata, fie rolul cat de mic.
"Luck-Key" e de doua saptamani liderul box-office-ului coreean, obtinand incasari de peste 31,4 milioane dolari. Filmul spune povestea unui tanar actor neexperimentat (Lee Joon) si a unui asasin (Yoo Hae-jin), care accidental ajung sa schimbe identitatile intre ei, de unde o multime de situatii hilare.
Articol realizat de chocolate_cleo – asiacinefil