Home » NOUTÃŢI
Uhm Jung Hwa şi Uhm Tae Woong pãrãsesc compania ce i-a fãcut celebri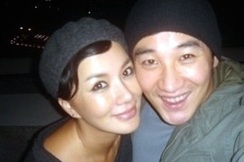 Starurile Uhm Jung Hwa si Uhm Tae Woong parasesc compania care ii manageriaza de mult timp, Shim Entertainment. Conform stirilor, cei doi actori si-au incheiat contractele pe 31 iulie.
Intr-o declaratie, Shim Entertainment a afirmat: "Dupa 11 ani de colaborare, fratii Uhm Jung Hwa si Uhm Tae Woong au ales sa se desparta de noi intr-un mod amiabil, dupa o lunga negociere privind viitorul acestora cat si al companiei. Desi nu ne mai ocupam de managementul acestora, am promis sa ne sustinem reciproc in viitoarele proiecte si vom continua sa ne aratam sprijinul."
De-a lungul anilor, Uhm Jung Hwa a devenit un nume foarte cunoscut, ca actrita de top in Coreea, cu filme precum "Princess Aurora", "Seducing Mr. Perfect", "Insadong Scandal", "Dancing Queen"si "Montage" si seriale precum "Get Karl! Oh Soo Jung" si ""He Who Can't Marry". Pe 13 august va avea loc premiera celui mai recent film al sau, "Miss Wife", alaturi de Song Seung Hun.
Fratele mai mic al actritei, Uhm Tae Woong, a devenit la randul sau foarte cunoscut si apreciat ca actor dupa ce a jucat in seriale precum "Resurrection", "Devil", "Queen Seon Deok", "Dr. Champ", "The Equator Man" si "7th Grade Civil Servant" si filme precum "Never Ending Story", "Cyrano Dating Agency" si "Introduction to Architecture", printre altele si dupa ce a ales sa fie gazda unor emisiuni de divertisment cu mare atractie la public precum "2 Days and 1 Night" pentru care a si castigat un Daesang in 2011 sau recentul "Superman Returns".
Desi bursa zvonurilor a dezvaluit ca cei doi ar fi negociat cu Mystic Entertainment pentru un contract exclusiv, compania a negat pe 7 august, spunand ca "Nu a existata nicio intalnire cu cei doi si zvonurile sunt total nefondate."
(Sursa: soompi)
Articol realizat de chocolate_cleo – asiacinefil