Home » ISTORIA CINEMATOGRAFULUI ASIATIC
Topul filmelor care au schimbat istoria cinematografiei japoneze (7)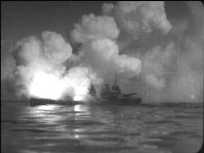 Pozitia a 4-a: The War at Sea from Hawaii to Malaya – Kajiro Yamamoto (1942)
Filmele de propaganda din timpul celui de-al doilea razboi mondial sunt putin cunoscute in zilele noastre. Implicarea unui fost asistent de imagine de 41 de ani (al regizorului legendar Teinosuke Kinugasa) a facut ca filmul japonez de propaganda sa-si castige o pozitie care avea sa schimbe cursul cinematografiei japoneze. In 1942, guvernul imperial a ordonat studiourilor Toho sa produca un film care sa comemoreze prima aniversare a gloriosului razboi japonez din Pacific. Toho nu s-a uitat la costuri, aproband un buget de 380.000 $, o suma de aproape 10 ori bugetul unui film obisnuit al acelor timpuri. Mentorului lui Akira Kurosawa, Kajiro Yamamoto, i-a fost incredintata misiunea de a pune pe ecran povestea epica a anilor de strategie si planuire care au dus la atacul asupra bazei americane de la Pearl Harbour.
Cu scopul de a descrie cat mai realist cu putinta evenimentele, Toho dorea sa aiba la dispozitie, sub forma unei machete, un model al unei nave de razboi americane. Aici a intervenit fostul asistent de imagine al lui Kinugasa, Eiji Tsuburaya. Acesta a fost deja implicat in crearea de machete si efecte speciale pentru alte filme "national-politice"; insa filmul lui Yamamoto – "The War at Sea from Hawaii to Malaya" ii va forta limitele talentului, ajungand intr-un teritoriu complet nou si incercand sa recreeze ziua binecuvantata de sansa in cel mai mic detaliu. Efortul lui a facut toti banii. Filmul a avut premiera pe 7 decembrie 1942, la exact un an dupa atacul japonez de la Pearl Harbor, fiind primit cu mare entuziasm si avand un mare succes financiar.
Talentul lui Tsuburaya nu a fost apreciat doar de catre audienta japoneza. In timpul Ocupatiei, americanii au gasit o copie a acestui film si, poate parea incredibil, au crezut ca au gasit o filmare clasificata "top secret" a atacului japonez de la Pearl Harbor. O data razboiul si Ocupatia Americana incheiate, studiourile Toho nu au uitat sa aprecieze acest prim "blockbuster" japonez si efectele speciale care au contribuit la succesul acestuia si au incercat capitalizarea lui pe piata.
Tsuburaya a fost rechemat de Toho pentru a pune in practica indemanarea ce a stat la baza succesului lui "The War at Sea", insa talentul urma sa vizeze, de data aceasta, un gen de film diferit: filmul fantastic. Incepand cu "Godzilla" lui Ishiro Honda, din 1954, Tsuburaya va da viata celebrei creaturi fantastice, intr-o vreme in care Toho lansa pe piata si alte filme de acest gen, precum "Mothra", "Ghidorah: The Three-Headed Monster" sau "Varan the Unbelievable". "Kaiju eiga" sau filmele cu monstri, ca gen cinematografic, au luat nastere.
VA URMA
Articol realizat de cris999 © www.asiacinefil.com