Home » NOUTÃŢI
The Technicians (The Con Artists) va avea un sequel !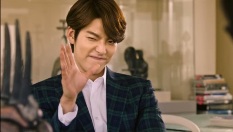 Febra sequel-urilor molipseste si industria coreeana de film. Cum un film cu vreun star sau idol in prim plan reuseste sa aiba un oarecare succes la public, imediat si producatorul cu geniala idee a unui sequel. Din pacate, exemple anterioare au demonstrat ca sequel-urile sunt neproductive (a se vedea cazul productiei Detective K, al carui sequel a lasat de dorit, sau Friend 2), la Hollywood toata lumea asociindu-le cu lipsa de idei originale. Ca sa va faceti o idee despre ce a ajuns Hollywood-ul in anul 2016, e suficient sa spunem ca in prezent sunt in lucru peste Ocean nu mai putin de 155 (!) de sequel-uri. Dar nu trebuie sa ne mire, Hollywood-ul a inchis de mult usa in nas scenariilor originale. Neaparat filmul coreean trebuie sa-i cale pe urme ?
In urma cu cateva zile, s-a anuntat faptul ca "The Technicians"(The Con Artists), filmul din 2014, va avea un sequel. Pentru cei ce nu stiu, filmul a avut un succes moderat la box-office (nici macar nu a fost o mare lovitura financiara pentru producatori), reusind sa vanda 2,5 milioane de bilete in conditiile in care s-a folosit de imaginea unui tanar star in ascensiune cu priza la publicul tanar, Kim Woo-bin, si a avut un scenariu mai degraba modest, in stil american, despre niste spargatori smecheri ce induc impresia ca banii se pot obtine usor doar datorita agerimii mintii si iutimii mainilor. Ce tema superficiala pentru un film coreean ! Cine credeti ca se afla in spatele acestui sequel ? Alibaba Group, o companie chineza, ce a investit aproximativ 12 milioane de dolari in producerea lui. Banii au ajuns deja in conturile Trinity Entertainment, aceeasi companie coreeana de productie ce a produs filmul din 2014, dar si "Friend 2: The Great Legacy", si care in prezent se ocupa cu alcatuirea distributiei. Nu se stie inca daca actorii din filmul original se vor alatura noii productii. Probabil Kim Woo-bin nu va avea nimic de pierdut daca va accepta o posibila oferta, ca si ceilalti actori ce oricum nu erau de prima mana in industria coreeana de film (cu cateva exceptii din randul actorilor secundari, ca Cha Tae-hyun sau Kim Young-chul). Luxul refuzarii aparitiei intr-un sequel apartine doar actorilor de top, care nu trebuie sa-si faca o imagine, ca cei aflati la inceput de drum si dispusi sa accepte orice roluri pentru a se vorbi de ei, ci doar sa-si pastreze intacta reputatia, pentru a se mentine cat mai mult timp in elita filmului coreean.
"The Technicians 2" va fi regizat de Park Hong-soo, cel care anterior a mai regizat thriller-ul "Commitment" (2013). Filmarile vor incepe in aceasta primavara, premiera fiind programata undeva spre sfarsitul acestui an sau la inceputul anului viitor.
Articol realizat de cris999 – asiacinefil