Home » DIVERSE
The Exclusive: Beat the Devil's Tattoo (2015) – Cho Jung-seok, jurnalist cu principii și erou… din întâmplare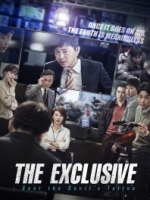 Regizoarea si scenarista coreeana Roh Deok revine la 2 ani de la debutul remarcabil cu "Very Ordinary Couple" cu "The Exclusive: Beat the Devil's Tattoo", un thriller din lumea televiziunii prin care se indeparteaza complet de genul romantic abordat la filmul de debut. Si totusi, o usoara nota de umor – sau mai degraba de ironie parodica – stabileste o punte de legatura cu "Very Ordinary Couple", dar e evident ca avem in fata o cu totul alta abordare, mult mai indrazneata, un amestec de thriller, comedie, drama si intriga politista tesuta in jurul lumii jurnalistice. Protagonistul povestii este Cho Jung-seok, care dupa acest rol a fost distribuit in excelentul "Time Renegades" si in melodrama cu accente comice "My Annoying Brother", un actor in plina ascensiune, care in aceasta vara va reaparea alaturi de Song Kang-ho in "Drug Lord" (colaborand anterior cu acesta la "The Face Reader"). Lee Ha-na din recentul serial "Voice", veterana Lee Mi-sook (An Affair, Untold Scandal, cunoscuta dintr-o multime de seriale tv) si Bae Sung-woo (de aceasta data in rolul unui politist depasit de situatie) completeaza o distributie de calitate a unui film cu un scenariu excelent. Productia a obtinut 4 milioane dolari incasari la box-office si constituie o frumoasa surpriza pentru amatorii de thrillere… altfel decat cele clasice.
Heo Moo-hyuk (Cho Jung-seok) e reporter la un post de stiri, CNBS, ce nu este in topul canalelor de profil din Coreea. Cariera de jurnalist ii e periclitata in momentul in care aduce in lumina reflectoarelor o ancheta jurnalistica despre compania DM, ce ajunge sa fie cercetata de politie pentru ilegalitati. Buyang Group, al carei proprietar e ruda de familie cu proprietarul DM, ameninta ca isi va retrage reclamele de la CNBS daca nu se face o dezmintire publica, astfel ca Heo cade tap ispasitor, fiind concediat. Ca si cum nu ar fi fost de ajuns, acesta mai e si in prag de divort, fiind aproape despartit de sotia lui, Su-jin (Lee Ha-na), ce e si insarcinata. Cand totul pare fara iesire, intamplarea face ca Heo sa primeasca un pont. Seulul e terorizat de un criminal in serie ce a ucis 7 persoane, si care e de negasit. O femeie suna la redactia CNBS si da intamplator peste Heo, pretinzand ca temutul criminal in serie locuieste in acelasi imobil cu ea. Heo speculeaza momentul, vazand-o ca oportunitatea ideala de a reveni in televiziune, mai ales ca ajuns la fata locului gaseste un biletel scris de criminal si o pata de sange pe acesta. Directoarea CNBS, d-na Baek (Lee Mi-sook), ii mai acorda o sansa lui Heo, ce devine vedeta zilei. Ratingurile postului tv cresc considerabil, intreaga natiune urmareste cu sufletul la gura evolutia evenimentelor (mai putin politia…), asupra criminalului e pusa o presiune imensa si lucrurile par a merge in directia buna. Ceva insa va rasturna toate asteptarile, iar lucrurile vor scapa de sub control…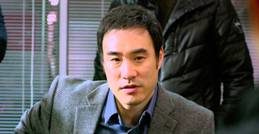 "The Exclusive: Beat the Devil's Tattoo" este, dincolo de un simplu thriller, un film despre goana dupa senzational a posturilor de televiziune, iar mesajul este unul universal valabil, nelimitandu-se doar la decorul societatii coreene. Modul in care o stire aparent fara impact major e transformata dupa principiul unui bulgare de zapada ce se rostogoleste si devine din ce in ce mai mare, pana explodeaza si aduce ratinguri, deci castiguri financiare din reclame, e unul de-a dreptul fascinant. Evolutia, surprinsa in toate fazele sale, are in centrul sau creatorul de "adevaruri", reporterul, principiile lui etice, presiunile la care e supus pe scara ierarhica pentru binele intregii institutii, pentru ca in final, publicul sa dea verdictul, daca rodul muncii unei echipe e un adevar sau o minciuna. Lasarea la latitudinea publicului judecarea faptelor, acest principiu se constituie intr-un argument pentru ceea ce trebuie sa insemne obiectivitatea in aceasta meserie de jurnalist, dar ce faci cand pentru a-ti atinge scopul, uneori deformezi realitatea, cu sau fara buna stiinta ? Mai este adevarul ce ajunge la public un lucru obiectiv ? Sau mai este, macar, un adevar ? Filmul ridica aceasta chestiune a moralitatii manipularii opiniei publice, intr-un context mai mult decat elocvent al realitatii zilelor noastre, in care s-a declansat o veritabila lupta impotriva stirilor false. Heo e un jurnalist cu principii, onest, dar care ajunge intr-o situatie aparent fara iesire in momentul in care isi pierde slujba. E dispus sa faca orice compromis si pontul care ii cade din cer pe nepusa masa e biletul lui spre fericire, sau mai bine zis scurtatura spre a ajunge unde nu a ajuns niciodata prin munca onesta. Lucrurile se complica cand constata ca adevarul pe care il prezinta nu e tocmai ceea ce pare la prima vedere, ca lucrurile sunt interpretabile, ca e posibil chiar sa se fi inselat, iar acesta e momentul si mai dificil, in care trebuie sa decida daca merge pana la capat pe drumul ales sau face o intoarcere de 180 de grade pentru a ramane fidel principiilor sale profesionale. Regizoarea productiei nu ezita sa foloseasca ironia pentru a starni situatii cu adevarat hilare, astfel ca la un moment dat se ajunge in situatia paradoxala sa vorbim de lucruri grave dar sa zambim in acelasi timp cu gura pana la urechi. Scenariul nu este foarte complicat, multe lucruri sunt clare de timpuriu –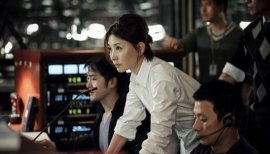 inclusiv identitatea criminalului in serie e deconspirata pe la jumatatea filmului – si intreaga poveste e focusata pe protagonistul Heo interpretat de Cho Jung-seok, ce acapareaza cea mai mare parte a scenelor productiei. Acesta, desi nu a atins inca statutul de mare actor al filmului coreean, reuseste sa acapareze interesul audientei, sa faca publicul sa empatizeze cu situatia personajului sau. Lee Mi-sook, in schimb, desi are un rol secundar, lasa o impresie puternica in ipostaza unei directoare a postului tv ce stie sa manevreze din experienta cazuri precum cel al angajatului ei si sa le transforme in "bici" aducator de rating. Un film, per ansamblu, reusit, ambitios si plin de creativitate, ce iese la un moment dat din tiparele genului, avand multe elemente de originalitate ce sporesc placerea vizionarii. Nici un moment nu te plictisesti in compania lui, chiar daca ii lipseste anvergura unui film de top.
Traducerea si adaptarea au fost efectuate in premiera si exclusivitate de gligac2002 (Asia Team) pentru asiacinefil.
Prezentare realizata de cris999 – asiacinefil