Home » DIVERSE
"Sacrifice" (2010) – pilda Înţelepciunii umane creionatã artistic de Chen Kaige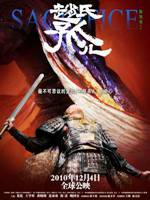 Unul din filmele chinezesti de succes ale sfarsitului lui 2010 a fost "Sacrifice", o productie regizata de nimeni altul decat de cunoscutul regizor Chen Kaige. Figura marcanta a celei de-a Cincea Generatii de cineasti ai cinematografiei chineze, Chen si-a obtinut recunoasterea internationala prin pelicule precum "Yellow Earth", "Farewell my Concubine", "Together", "Promise" sau "Forever Enthralled". La acestea se adauga si grandioasa productie "The Emperor and the Assassin", cel mai scump film chinezesc din toate timpurile la nivelul anului 1998. Atmosfera din "The Emperor and the Assassin" se regaseste din plin in "Sacrifice", o poveste parca desprinsa din pilda biblica despre intelepciunea regelui Solomon. Filmul este inspirat din piesa chineza "Orfanul familiei Zhao" ce dateaza din timpul dinastiei chineze Yuan (secolul III-IV i.e.n), scrisa de un anume Ji Junxiang. A fost, de altfel, si prima piesa de teatru chineza cunoscuta in Europa, tradusa in franceza la inceputul secolului XVIII. "Sacrifice" a avut un buget de 10 milioane de dolari (conform cunoscutului site de filme imdb.com), si 45 de milioane de dolari conform producatoarei Chen Hong (nimeni alta decat sotia lui Kaige). In rolurile principale, maestrul Kaige a avut onoarea de a distribui doar nume foarte cunoscute in China continentata: Ge You (din "If You Are the One"), care in 1994 a castigat premiul pentru Cel mai bun actor la Cannes pentru rolul din filmul lui Zhang Yimou "To Live", Wang Xueqi (a carui figura e cunoscuta in special dupa rolurile din "Bodyguards and Assassins" sau "Reign of Assassins") sau Fan Bingbing din "Battle of Witts", "Future X-Cops" sau "Wheat".
In timpul Chinei antice, in statul Jin, regele aproape debil este o marioneta in mana celui mai influent clan din stat, Zhao. Marele Sfetnic Zhao Dun isi trimite fiul la razboi, regele incredintandu-i acestuia conducerea trupelor. Acest lucru starneste invidia lordului Tu'an, care in trecut castigase multe batalii pentru statul Jin, si caruia regele nu-i recunostea nici un rol in administrarea regatului. Regele motiva increderea acordata fiului Marelui Sfetnic prin faptul ca acesta era casatorit cu sora lui mai mare, Doamna Zhuang Ji, care era pe cale sa nasca un fiu. Invidia lordului Tu'an il impinge pe acesta la a urzi o conspiratie in vederea uciderii regelui si a lichidarii fizice a intregului clan Zhao, format din peste 300 de oameni. In momentul in care planul e pe cale sa fie aplicat, sora regelui naste un prunc, care devine, in perspectiva reusitei planului lordului Tu'an, singurul supravietuitor al clanului Zhao. Un umil doctor care a mosit-o pe sora regelui primeste dificila misiune de a fugi cu copilul nou nascut, ce devine principala tinta a lordului Tu'an in calea recunoasterii propriei sale suprematii de catre supusii regatului. Pruncul trbuie cu orice pret gasit si ucis.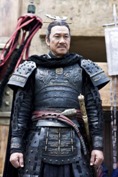 "Sacrifice" a fost un succes comercial incontestabil in China, desi e vorba de o productie realizata dintr-o perspectiva artistica. In prima lui parte filmul este antrenant, cu o intriga ce se intinde pe durata unei ore, urmand ca in partea a doua filmul sa-si arate valentele artistice, actiunea trecand pe plan secund. Filmul a avut si un mic incident de culise, in sensul ca scenariul este scris de Chen Kaige si Gao Xuan, ultima scriind scenariul pentru prima parte a filmului, mult mai reusita decat partea a doua scrisa de Kaige deoarece aceasta s-a retras din proiect din "motive personale". De fapt, Gao Xuan a amanat terminarea scrierii scenariului pentru "Sacrifice" angrenandu-se intr-un scenariu pentru un serial de televiziune, moment in care sotii Kaige au decis excluderea acesteia din proiect. Unii critici sunt de parere ca faptul ca scenariul e scris de 2 persoane este vizibil in realizarea finala a filmului, insa daca e sa privim pelicula ca un tot unitar in functie de ideea urmarita, schimbarea de scenarist e aproape insesizabila.
O poveste despre loialitate si razbunare, intensa si lucida, si o realizare apreciabila, in care costumele de epoca si imaginile sunt pur si simplu fermecatoare. Personajul negativ interpretat de Wang Xueqi aproape acapareaza intregul film, in timp ce personajul pozitiv se aseamana mult cu umilul servitor din productia coreeana "The Servant". Lumea celor 2 personaje e zugravita in amanunt, insa in scena finala a infruntarii Binelui cu Raul parca lipseste sentimentul si pasiunea. "Sacrifice" ramane cu toate acestea un film reusit al lui Kaige, pe care fanii – genului si al regizorului nu vor regrata sa-l savureze.
Prezentare realizata de cris999 – asiacinefil.com