Home » NOUTÃŢI
Ryoo Seung-bum, cuceritorul de trofee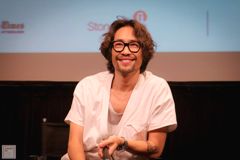 Viata amoroasa a starului Ryoo Seung-bum e una tumultoasa. Cunoscut pentru rolurile excelent interpretate in filme precum The Unjust, The Servant, Over My Dead Body, The Beast and the Beauty sau Perefct Number, in viata personala actorul pare a nu-si gasi linistea. Iar asta se intampla din 2012, cand a recunoscut public, socand pe toata lumea, sfarsitul relatiei cu actrita Gong Hyo-jin. Cei doi s-au cunoscut in 2002 pe platourile de filmare ale serialului Wonderful Days, asta dupa ce presa a descoperit ca in scoala primara, un an de zile au fost colegi de clasa, dupa care Gong Hyo-jin s-a transferat la alta scoala. Relatia a durat doar 2 ani, in 2003 despartindu-se ca cuplu, insa ramanand buni prieteni. Dovada sta faptul ca actorul a aparut alaturi de fosta iubita in mai multe filme si in serialul Pasta, in anii ce au urmat.
In 2012, Ryoo Seung-bum a recunoscut ca relatia cu Gong Hyo-jin s-a terminat in mod oficial, pentru totdeauna. Presa a relatat ca a fost unul din cele mai longevive cupluri necasatorite din lumea filmului coreean, relatia lor durand, cu bune si cu rele, un deceniu. Cei doi s-au despartit de comun acord, cum declara acum 3 ani Gong Hyo-jin: "Daca un cuplu s-a intalnit timp de 10 ani, e de inteles de ce ne-am despartit. Daca ar fi sa spun un motiv putin mai detaliat, pur si simplu am simtit, amandoi, ca voiam o pauza. Nu a fost din cauza ca ne-am fi certat, sau ca unul din noi ar fi zis ca trebuie intai sa ne despartim. Am ajuns pe cale naturala la aceasta decizie. Pentru o vreme am progresat in directia unei prietenii, am discutat unul cu celalalt, si incetisor ne-am decis sa-i punem capat."
Au trecut 3 ani de la aceasta despartire si ieri, actorul Ryoo Seung-bum a dezvaluit faptul ca recent s-a despartit de celebra editoare de moda franceza Virginie Mouzat. Cu 14 ani mai mic decat aceasta, Seung-bum a recunoscut relatia avuta cu editoarea timp de un an si 8 luni, martirisind intr-un interviu dat ieri legat de viitorul sau film "Intimate Enemies" ca "recent s-au despartit": "Ne-am intalnit un an si 8 luni si ne-am despartit de Craciun anul trecut. Acum sunt singur." Reprezentantul agentiei ce-l impresariaza pe actor a declarat ca "nici noi nu am fost la curent cu relatia lui Ryoo Seung-bum. Fiind o chestiune extrem de personala, nu am reusit sa o verificam."
Virginie Mouzat e editor sef la celebra revista Vanity Fair Franta. Ryoo Seung-bum a cunoscut-o dupa ce a plecat acum 3 ani din Coreea pentru a se odihni si a lucra ca model in Franta.
Articol realizat de cris999 – asiacinefil