Home » NOUTÃŢI
Producătorul lui "Painted Skin" va finanţa un nou remake după "A Chinese Ghost Story"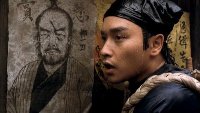 Succesul remake-ului de anul trecut, "Painted Skin", i-a determinat pe producatorii din Hong Kong sa caute prin cinematografia lor filme demne a constitui noi surse de inspiratie. Din nefericire, unul dintre acestia s-a oprit asupra clasicului din 1987, "A Chinese Ghost Story" si a hotarat ca este momentul pentru un remake. Proiectul va fi produs de cel care a produs si "Painted Skin", Ketsarinh Lan. Bugetul filmului va fi undeva la 10 milioane dolari, iar scenariul va fi scris de Tan Cheung, scenaristul lui "An Empress and the Warrior". Nu se stie inca nimic despre distributie sau despre cel care va regiza filmul, insa curand proiectul va intra din nou in atentia presei.
"A Chinese Ghost Story" este o comedie romantica cu accente horror produsa de celebrul Tsui Hark. Inspirat dintr-o povestire traditionala chinezeasca din timpul dinastiei Qing, filmul din 1987 s-a bucurat de o popularitate imensa in Hong Kong si in intreaga Asie, la momentul lansarii sale pe ecrane. Filmul l-a propulsat pe Joey Wong la rangul de mare vedeta a filmului din Hong Kong si i-a adus lui Leslie Cheung o mare popularitate in Japonia. Cu incasari de peste 18 milioane de dolari (un veritabil record in acele timpuri), "A Chinese Ghost Story" a reprezentat scanteia care a lansat moda filmelor cu fantome (de inspiratie folclorica) care inca supravietuieste in zilele noastre (mai putin in cinematografia din Hong Kong, si mai mult in cea a tarilor din zona: Thailanda, Japonia sau Coreea de Sud).
E indoielnic faptul ca inca un remake dupa un asemenea succes ar mai putea constitui o lovitura financiara. Epoca filmelor cu fantome a cam apus in Hong Kong, dupa 2 decenii in care a spus tot ce a avut de spus. Vom vedea cum vor evolua lucrurile.
Articol realizat de cris999 © www.asiacinefil.com