Home » NOUTÃŢI
Primul rol important pentru tânãrul actor Nam Joo-hyuk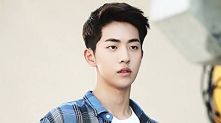 Acest nou rol oferit de producatorii serialului ce va fi difuzat de cei de la televiziunea prin cablu tvN este pentru Nam Joo-hyuk un mare pas in cariera sa. "Bride of the Water God" (2017) are un scenariu bazat pe manhwa cu acelasi nume scrisa de Yun Min-kyung in 2006. Initial, in articolele aparute in presa legate de noutatile serialului nu se mentiona despre confirmarea actorului in rol, dar cei de la tvN au afirmat ca rolul a fost oferit si acceptat.
Povestea originala se desfasoara intr-o lume fantastica. Soah este o tanara dintr-un satuc devastat de o seceta indelungata. Pentru a-l imblanzi pe zeul apei, trebuie adusa o ofranda zeului sub forma unei frumoase tinere. Soah este aleasa sa devina mireasa lui Habaek, dar in loc sa moara in mainile monstrului, aceasta este inexplicabil salvata de el si dusa in regatul sau. Habaek este un zeu temperamental care nu a permis ploii sa cada in satul fetei fara ca satenii sa ofere o ofranda. In timpul zilei este un copil (Habaek), dar devine adult pe timpul noptii (Mui), iar puterile sale sunt aproape anihilate in prezenta caldurii sau a razelor soarelui din cauza unui blestem al primei sale iubiri. Habaek poate sa se foloseasca de ochiuri de apa pentru a vedea totul atata timp cat este reflectat in apa.
Pe masura ce Soah traieste intr-o noua lume plina de zei, este prinsa in tot felul de intrigi ce se tes in jurul lui Habaek si ii este din ce in ce mai greu sa isi dea seama in cine poate avea incredere. Inconjurata de intrigi si de manipulatori, tanara realizeaza ca este indragostita de Mui, fara sa-si dea seama ca aceasta este forma reala a lui Habaek.
Serialul se doreste a fi mai degraba un derivat si nu o noua versiune a manhwa, cu pastrarea personajelor originale, dar cu actiunea intr-o perioada moderna, in Seul.
De productia serialului se va ocupa o echipa experimentata care a lucrat la proiecte de succes, precum scenaristul Jung Yoon-jung al aclamatului "Misaeng" sau serialului "Arang and the Magistrate", iar de regie se ocupa Kim Byung-soo care a regizat si "Bubblegum", "Three Musketeers", serialul fantastic "Nine" si "Queen Inhyun's Man".
Nam Joo-hyuk lucreaza deocamdata la serialul romantic "Weightlifting Fairy Kim Bok-ju" de la MBC in care este plin de amuzament si exuberanta. Dupa un debut in cariera de model in 2013, a urmat si cea in cariera de actor in 2014 cu un rol in "Surplus Princess" si apoi in "Cheese in the Trap" si "Moon Lovers: Scarlet Heart Ryeo" in care nu parea ca poate stapani un rol mai serios. Ramane de vazut daca la 22 de ani a reusit sa capete experienta necesara unui rol principal.
"Bride of the Water God " se va difuza la tvN in 2017.
Articol realizat de chocolate_cleo – asiacinefil