Home » NOUTÃŢI
Primii actori asiatici ce-şi vor lãsa amprentele pe Walk of Fame de la Hollywood sunt coreeni !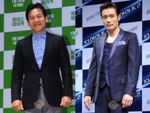 In iunie anul acesta, cei doi actori, Lee Byung-hun si Ahn Sung-ki, vor primi cate o stea pe Aleea Celebritatilor din Hollywood conform unui filmulet de promovare prezentat miercuri la unul din posturile renumite din Statele Unite. Potrivit unui comunicat de presa dat in 26 aprilie de catre conducerea Festivalului "Look East", Lee Byung-hun si Ahn Sung-ki au fost alesi pentru a participa la ceremonia ce va avea loc la Teatrul Chinezesc "Grauman" din Hollywood pe data de 23, respectiv 24 iunie. Cu acest prilej cei doi actori isi vor lasa amprenta mainii si a piciorului pe celebrul bulevard.
In acest fel, cei doi devini primi actori asiatici ce primesc aceasta recunoastere pentru intreaga lor cariera artistica. De la crearea lui din 1927, "Walk of Fame" a strans amprentele a 268 de actori, regizori si producatori de film. Un oficial al Festivalului "Look East" a declarat: "Lee Byung-hun va fi recunoscut la nivel mondial pentru prestatia sa artistica in filme ca "A Bittersweet Life" cu care a fost prezent si la Festivalul de la Cannes si "The Good, The Bad, The Weird", precum si pentru aparitia sa in seria "G.I.Joe". In plus, Ahn Sung-ki a fost considerat o figura onorabila si importanta in industria cinematografica coreeana de catre cateva organizatii in domeniu, si de asemenea va fi recunoscut si pentru rolul sau de succes din film "Unbowed" care a fost lansat recent.
Articol realizat de Alinabv – asiacinefil.com