Home » NOUTÃŢI
O actriţã specialã în "A Special Lady"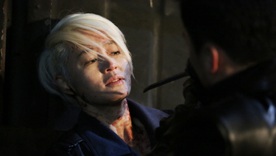 Filmul noir " A Special Lady" a fost invitat la cea de a 36-a editie a Festivalului International de Film Fantastic BIFF de la Brussels, pentru a concura in cadrul unei categorii, festival ce va avea loc in aprilie 2018. Festivalul are in program filme horror, thrillere si filme stiintifico-fantastice. Filmele coreene au avut succes la BIFF, prin "Seoul Station" in 2016, "Train To Busan" din 2016 si "I Saw The Devil" din 2010.
Regizat de Lee An-gyu, filmul este un noir de actiune care are ca punct central personajul Hyun-jung, o femeie care ajunge numarul 2 la comanda unei bande. In film mai joaca Lee Sun-kyun care a jucat recent in "The King's Case Note" si Lee Hui-joon, care are un rol in filmul "1987", film ce va fi in curand prezent in cinematografele coreene.
Hyun-jung a reusit sa ajunga in elita unui grup de criminali, dar cu mari sacrificii. Dupa ce fiul sau se intoarce din strainatate, Hyun-jung spera sa aiba parte de un nou inceput alaturi de acesta. In acelasi timp, Sang-hoon care este garda sa de corp (jucat de Lee Sun-kyun), incepe sa dea de necazuri in timp ce joaca pe doua fronturi, iar dragostea pe care i-o poarta sefei sale devine din ce in ce mai evidenta. Intre grupul din care face parte si Hyun-jung si un grup rival izbucneste un razboi, iar semintele tradarii incep sa incolteasca; planurile femeii pentru viitor si chiar viata ei sunt puse in pericol.
Despre acest rol actrita recunoaste ca desi a mai jucat in filme de actiune, in acesta a trebuit sa poarte o arma ce cantarea 10 kilograme sau sa lupte in scene in care erau mai multi cascadori care erau rivalii ei.
Actrita a dezvaluit ca Lee Hee-joon "a facut mult mai multe". "A avut scene in care a trebuit sa stea in apa, a fost muscat de un caine si chiar mai mult. Lee Hee-joon a lucrat cu cainele inainte de filmari, dar se pare ca la filmari nu a mai mers ca la repetitii. In timpul scenei cu apa, cainele tragea de Lee Hee-joon cum dorea el si actorul a ajuns la un moment dat sa fie rasturnat, dar a jucat ca si cum nu s-a intamplat nimic. A fost un accident pe platoul de filmare, dar a continuat fara oprire." "Dupa filmare, era destul de zguduit si mi-a spus ca incidentul respectiv l-a marcat. De exemplu, eu nu pot sa ma uit la 'The Thieves' pentru ca imi aminteste de o scena in care si eu am jucat in apa."
Kim Hye-soo este recunoscuta ca o actrita ce a jucat personaje puternice in filme precum "Tazza: The High Rollers" din 2006, "The Thieves" din 2012, "Coin Locker Girl" din 2015. Lee Sun-kyun a jucat in "A Hard Day" din 2014, iar Lee Hee-joon in "Haemoo" din 2014. "A Special Lady" devine debutul regizoral al lui Lee An-kyu, care a mai lucrat ca regizor secund in 1998 la "The Quiet Family" si in 2008 la "The Good, The Bad, And The Weird".
"A Special Lady" a avut premiera in Coreea pe 9 noiembrie.
Articol realizat de chocolate_cleo – asiacinefil