Home » NOUTÃŢI
Moon Geun-young a împlinit 22 de ani

Moon Geun-young (Tale of Two Sisters, Innocent Steps, Painter of the Wind) si-a aniversat cea de-a 22-a zi de nastere alaturi de un grup de 700 de fani. Intalnirea aniversara cu fanii a avut loc pe 2 mai, in Seul, la universitatea la care invata in prezent Moon, unde studiaza literatura coreeana. Invitata speciala la aceasta intalnire a fost actrita Moon Chae-won, alaturi de care sarbatorita a jucat in serialul "Painter of the Wind".
Evenimentul a fost impartit in 2 parti. In prima parte aceasta a primit daruri si urari de "La multi ani" prin intermediul unor mesaje de la colegi de breasla, precum Kim Tae-hee, Kim So-eun sau Ryu Seung-yong. Moon Geun-young e cunoscuta drept "ingerul donatiilor" pentru munca ei pusa in slujba actelor de caritate. Multe scoli si institutii de invatamant din mediul rural au fost echipate cu mobilier sau cu diverse materiale de care duceau lipsa, pe cheltuiala modestei vedete. In spiritul eforturilor ei, fanii i-au pregatit o surpriza, strangand fonduri pentru carti, rafturi de carti, jucarii si alte materiale didactice pentru a fi donate unei scoli din Haenam, unde anterior Moon facuse serioase donatii. Copiii respectivei scoli i-au transmis, de asemenea, un mesaj de "La multi ani" printr-o inregistrare video la vizionarea caruia actrita a lacrimat.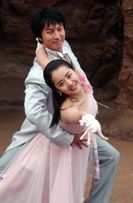 In partea a doua a evenimentului, actrita a pregatit un dans, pe care l-a interpretat alaturi de o echipa de dansatori profesionisti. Este cunoscuta aplecarea pentru dans a actritei, dezvaluita de filmul "Innocent Steps", unde l-a avut ca "instructor" pe Park Won-sang (nimeni altul decat interpretul lui Dojin din "Kingdom of the Winds"). De asemenea, actrita a jucat pentru putin timp si rolul de DJ, impartasind cu fanii cateva din melodiile ei preferate.
Un adevarat exemplu de modestie, la doar 22 de ani, care nu se regaseste decat foarte rar in cazul actorilor occidentali, care de multe ori fac acte de donatie cu scopul imoral de a reintra in atentia presei, a fanilor sau a producatorilor de film. Industria filmului asiatic este cu totul altceva.
Articol realizat de cris999 © www.asiacinefil.com