Home » NOUTÃŢI
Maggie Cheung în "Inglorious Bastards" al lui Tarantino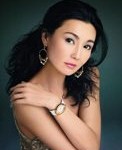 Actrita din Hong Kong Maggie Cheung va juca in remake-ul dupa "Inglorious Bastards" al lui Quentin Tarantino. Cheung, in varsta de 44 de ani, care s-a stabilit in Beijing impreuna cu prietenul ei architect german Ole Scheeren, s-a intors in aceste zile in Hong Kong pentru a promova un brand pe care il reprezinta. Actrita a declarat presei ca va aparea in cateva scene din film, acest rol fiind o provocare pentru ea deoarece trebuie sa-si rosteasca replicile in franceza.
Scris si regizat de castigatorul premiului Oscar Quentin Tarantino, filmul il va avea in rolul principal pe Brad Pitt, liderul unui grup de 8 soldati evrei americani care vor trece printr-o serie de aventuri pline de suspans in timpul celui de-al doilea razboi mondial. Cheung va interpreta o frantuzoaica proprietara a unui cinematograf din Paris. Actrita considera ca rolul din acest film este "foarte interesant, insa e pacat ca nu voi putea juca nici o scena alaturi de Brad Pitt".

"Inglorious Bastards" e programat a se lansa in premiera mondiala la Festivalul de film de la Cannes din mai 2009. Maggie Cheung este de 4 ori castigatoare a premiului pentru cea mai buna actrita la "Golden Horse", marea castigatoare a Festivalului de film de la Berlin din 1992 si castigatoarea de la Cannes din 2004, fiind prima actrita asiatica care a castigat Palme D'or-ul. A jucat in peste 70 de filme in intreaga cariera, cele mai cunoscute fiind "Center Stage" (1992), "Police Story 3″(1992), "Ashes of Time" (1994), "In the Mood for love" (2000), "Hero" (2002), "Clean" (2004) sau "2046" (2004).