Home » NOUTÃŢI
Loviturã de stat în Coreea de Nord, în "Steel Rain"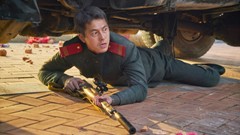 Speculatiile abunda in legatura cu ce noi actiuni va intreprinde regimul nord-coreean, dupa recentele serii de teste nucleare si de rachete cu raza mare de actiune. Thriller-ul politic "Steel Rain" merge un pic mai departe cu un scenariu in care pericolul amenintarii nucleare este iminent in Peninsula coreeana. Cinefilii sunt martori la ce urmeaza dupa ce conducatorul Coreei de Nord, al carui nume nu este mentionat in film, este dat jos de la putere printr-o lovitura de stat, noul lider fiind un comandant si mai ostil democratiei.
"Mi-am propus sa-mi imaginez o situatie de conflict intre Sud si Nord si asa a inceput filmul", a declarat regizorul Yang Woo-seok, care se intoarce pe marele ecran dupa patru ani ("The Attorney" – 2013), cel mai recent film al sau descriind viata fostului presedinte Roh Moo-hyun.
" 'Steel Rain' este noua porecla a sistemului de rachete cu lansare multipla din Statele Unite si se refera la proiectilele care cad din cer precum o ploaie de otel", a specificat regizorul. "Motivul pentru care am ales acest titlu pentru film este pentru ca am vrut sa accentuez ca daca nu ne pregatim, tinand cont de circumstantele actuale intre Sud si Nord, situatia ar putea deveni oricand una terifianta."
Cand proiectilele incep sa cada in timpul unui eveniment in parcul industrial Kaesong, ranind liderul nord-coreean, seful echipei de recunoastere nord-coreene (veteranul Kim Kap-soo) ordona agentului special Uhm Chul-woo (Jung Woo-sung) sa-l ia de acolo si sa fuga catre Sud printr-un tunel subteran pentru a se refugia pana la finalul revoltei. Dupa ce ajunge in Seul, Uhm Chul-woo incearca sa gaseasca un chirurg care sa-l opereze pe liderul nord-coreean, in incercarile sale dand peste Kwak Chul-woo (Kwak Do-won), Secretarul General al Afacerilor Externe si al Securitatii Nationale. Intre timp, Nordul fierbe si are un nou lider care declara sfarsitul armistitiului cu Sudul, in timp ce Coreea de Sud este prinsa cu inaugurarea noului presedinte.
Ca si in cazul multor alte thrillere politice coreene din ultimii ani, anumite parti ale filmului vor parea uimitor de familiare cinefililor. Regizorul nu se teme sa isi exprime scepticismul fata de alianta Coreea-Statele Unite. In discutii, se dezvaluie ca SUA este mai ingrijorata de costurile estimative ale unui potential razboi in Peninsula coreeana, in loc sa faca eforturi reale pentru a reduce la minim pierderile. SUA organizeaza o greva preventiva in nordul Peninsulei, asigurand sud-coreenii ca nu se va intampla nimic rau, in acest timp ei evacuandu-si propriii cetateni din tara.
Apar conflicte interpartidice care sunt clare: regimul conservator actual al Coreei de Sud are intentia de a declara razboiul, in timp ce noul presedinte ales se lupta pentru a opri conflictul.
In ciuda situatiilor turbulente atat nationale cat si internationale, Uhm si Kwak, care au acelasi prenume, dezvolta o legatura frateasca si reusesc sa comunice cu sinceritate intentiile fiecarei parti. Uhm este mai mult decat ucigasul de neclintit si nechibzuit, mod in care deseori este portretizat agentul nord-coreean.
Filmul se transforma in comedie in timp ce descrie relatia dintre cei doi. Cand Uhm dezvaluie ca fiica lui asculta in Coreea de Nord, in secret, muzica k-pop- in special G Dragon, Kwak pune o melodie pe care cei doi ajung sa o asculte cu placere in masina, in timp ce asteapta sa se deblocheze traficul.
In ciuda eforturilor depuse pentru a oferi o imagine realista a relatiilor Sud-Nord, deznodamantul foarte improbabil va uimi pe multi.
"Steel Rain" este produs de Mofac & Alfred si este distribuit de Next World Entertainment, debutand in cinematografele coreene in 14 decembrie. Inca de la premiera, a depasit ca incasari mult asteptata productia hollywoodiana "Star Wars: The Last Jedi", castigand in 4 zile nu mai putin de 12,4 milioane dolari. In 2 saptamani, productia a strans 23,6 milioane dolari incasari. Se pare insa ca recenta lansare a "Along With the Gods: The two worlds" (ce a strans 21 milioane dolari intr-o saptamana) a cam stricat calculele producatorilor, "Steel Rain" reusind sa ocupa prima pozitie la box-office doar o saptamana.
Articol realizat de chocolate_cleo – asiacinefil