Home » DIVERSE
Leafie, a Hen into the Wild (2011) – animaţia coreeanã care a spart toate recordurile !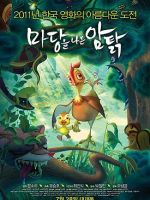 In acest an, surprizele de Craciun aduse asiacinefililor au fost foarte generoase. Pentru a incheia cum se cuvine aceasta sarbatoare, asiacinefil s-a gandit sa ofere fanilor sai o noua subtitrare-surpriza, de aceasta data la cea mai reusita animatie coreeana a anului si totodata din toate timpurile, "Leafie, a Hen into the Wild". Vorbim despre o animatie inspirata din cartea pentru copii scrisa de Hwang Sun-mi, un bestseller la vremea aparitiei pe piata, animatie care a spart recordurile valabile in privinta vreunei animatii coreene realizate de-a lungul timpurilor. Productia a reusit sa atraga in cinematografe peste doua milioane de coreeni, fiind prima animatie coreeana care a reusit sa aiba un numar atat de mare de spectatori de la inceputurile animatiei in Coreea de Sud (1967, prima animatie coreeana fiind Hong Gil-dong). Animatia a adus peste 13 milioane dolari incasari, si a incununat munca de 6 (sase) ani a companiei Myung Films, de producere a ei, cu un buget final de 2,8 milioane de dolari.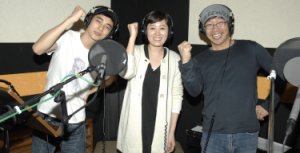 In China, unde compania Myung Films are un parteneriat cu Beijing Dadi Century Limited, filmul animat a fost prezentat in aproximativ 2000 de sali de cinematograf, aducand incasari substantiale. "Leafie, a Hen into the Wild" a fost rasplatita in aceasta toamna cu premiul pentru Cea mai buna animatia a anului la a 5-a editie a Asia-Pacific Screen Awards. Vocile personajelor au fost dublate de actori importanti in Coreea, precum Moon So-ri care o dubleaza chiar pe Frunzulita (Moon So-ri a putut fi vazuta in The Great King, dar si in filme prcum Oasis sau The Housemaid), Yoo Seung-ho (nimeni altul decat Un din "Warrior Baek Dong Soo, recent vazut si in "Blind", ce demonstreaza ca are si o voce inconfundabila, nu doar talent si sarm pe ecran), Choi Min-sik (marele actor coreean, interpretul unor personaje memorabile in Old Boy, I Saw the Devil, Crying Fist).
Frunzulita e o gaina ouatoare care, asemeni suratelor ei, isi duce veacul in gainaria amenajata de stapanul gospodariei, avand o existenta anosta. Prin fata usii deschise de la hambar in fiecare zi trec pui de closca, puii de rata Do Mi Sol Do, Seful peste gaini- un cocos ingamfat si alte oratanii. Viata din curte i se pare fascinanta, iar vederea zilnica a acelorasi figuri familiare a facut-o pe Frunzulita chiar sa le dea "amicilor" ei cate o porecla. Intr-una din zile, Frunzulita ii marturiseste lui Ciripel – o vrabie mereu purtatoare de noutati – faptul ca isi doreste cu orice pret sa ajunga sa traiasca in curtea gospodariei stapanului, fiind dispusa chiar sa e prefaca moarta pentru a scapa din gainarie. Drept urmare, Frunzulita flamanzeste 3 zile si cade sleita de puteri. Planul reuseste, iar odata aruncata alaturi de celelalte surate decedate intr-o groapa din padure, se trezeste libera ca pasarea cerului. Dar gustul libertatii ii aduce in fata si pericolele acesteia, astfel ca nici nu se dezmeticeste bine si nevastuica cu un singur ochi se si napusteste asupra ei. In final, Frunzulita e salvata de chipesul Hoinar, o rata salbatica, si dupa ce este respinsa de toata orataniile din curtea gospodariei stapanului, aceasta se vede nevoita sa-si ia viata in propriile maini si sa porneasca in salbaticie in aventura vietii ei…
O animatie pentru toate varstele, spusa intr-un stil diferit de cel hollywoodian, plina de invataminte si de lectii de viata de o sinceritate rara. Regasim in tematica abordata mitul devenirii, al transformarii eroului central – Verzisor, o rata salbatica adoptata de Frunzulita si crescuta pana la maturizare de aceasta – , cu toate obstacolele si reusitele inerente pe care viata le scoate in cale. Orice personaj din aceasta animatie poate fi privit ca o copie in miniatura a tipologiei umane, portretizand ca intr-o fabula diverse temperamente si comportamente umane.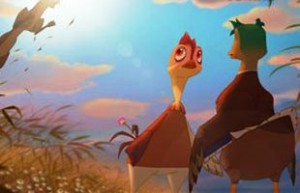 Iar povestea este una simpla, insa spusa intr-un stil pur coreean, aducand deopotriva zambete si lacrimi in sufletul privitorilor.E uimitoare perspectiva din care sunt abordate lucrurile pana si intr-o animatie coreeana, care dincolo de amuzament transmite o lectie de viata, astfel ca dupa vizionare nu ai impresia, asemeni productiilor americane de gen, ca ti-ai irosit timpul fara a fi ramas cu ceva. Realizarea in sine nu are nimic de-a face cu metodele dupa care se fac spectaculoasele animatii hollywoodiene, "Leafie, a Hen into the Wild" combinand tehnica de lucru pe calculator cu metodele clasice de realizare ale unui desen animat. Si de aici farmecul acestei realizari.
Nu mai ramane decat sa va asezati comod in fata ecranelor si sa vizionati relaxati aceasta animate animatie coreeana. Nu veti avea decat de castigat, in conditiile in care Coreea realizeaza un numar foarte mic de animatii anual, industria de gen neridicandu-se la nivelul celei japoneze, unde anime-urile au ajuns o sursa de inspiratie pentru marele ecran. O poveste educativa, o delectare pentru cei mici si mari deopotriva si o lectie de viata uimitoare spusa cu o simplitate dezarmanta de maestrii cinematografiei coreene.
Articol realizat de cris999 – asiacinefil.com