Home » NOUTÃŢI
"Kingdom" intrã în faza de producţie !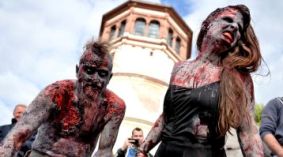 Dupa ce Song Joong-ki a refuzat rolul din noul serial "Kingdom" al carui scenariu este scris de scenarista Kim Eun-hee (care in trecut a scris scenariul si pentru "Signal"), se pare ca producatorii inca spera la o distributie cu nume mari din industria coreeana de film si televiziune, precum Ryu Seung-ryong ("Sound of a Flower", "Miracle in Cell no 7", "Roaring Currents", "The Piper"), Joo Ji-hoon ("Antique", "Asura: The City of Madness", "Mask", "The Treacherous") si Bae Doo-na ("The Host", "Cloud Atlas", "Jupiter Ascending", "The Tunnel", "Secret Forest"). Seria ce va fi difuzata de cei de la Netflix este un thriller plin de actiune ale carui filmari vor incepe de luna viitoare.
"Kingdom" spune povestea unui print mostenitor din perioada Joseon care porneste in descifrarea misterului din jurul unei tragedii ce se petrece in tara lui, o misterioasa boala ce devasteaza populatia. Aceasta boala se dovedeste a fi o epidemie in care oamenii devin… zombi (lucru de asteptat tinand cont ca americanii finanteaza proiectul), printul mostenitor luptand pentru a afla ce se intampla si din ce motive. Daca va accepta sa joace in serial, Joo Ji-hoon va interpreta rolul printului mostenitor al infestatului Joseon si ramane de vazut cum va include scenarista intriga politica in aceasta epidemie.
Nu s-a specificat ce roluri le-ar reveni actorilor Bae Doo-na si Ryu Seung-ryong sau daca vor avea personaje pozitive sau negative. Participarea actritei Bae Doo-na este un pic dificila, tinand cont ca aceasta filmeaza inca la "Drug King". Ryu Seung-ryong nu a mai jucat intr-un serial din 2010 – "Personal Taste".
Netflix planuieste ca "Kingdom", preconizat a avea 8 episoade, sa fie difuzat online pe platform lor la finalul lui 2018. Serialul va fi regizat de regizorul lui "Tunnel", Kim Seong-hoon.
Articol realizat de chocolate_cleo – asiacinefil